Ajai Philip From IIM Raipur Introduces 4 Of His Crazy But Amazing Classmates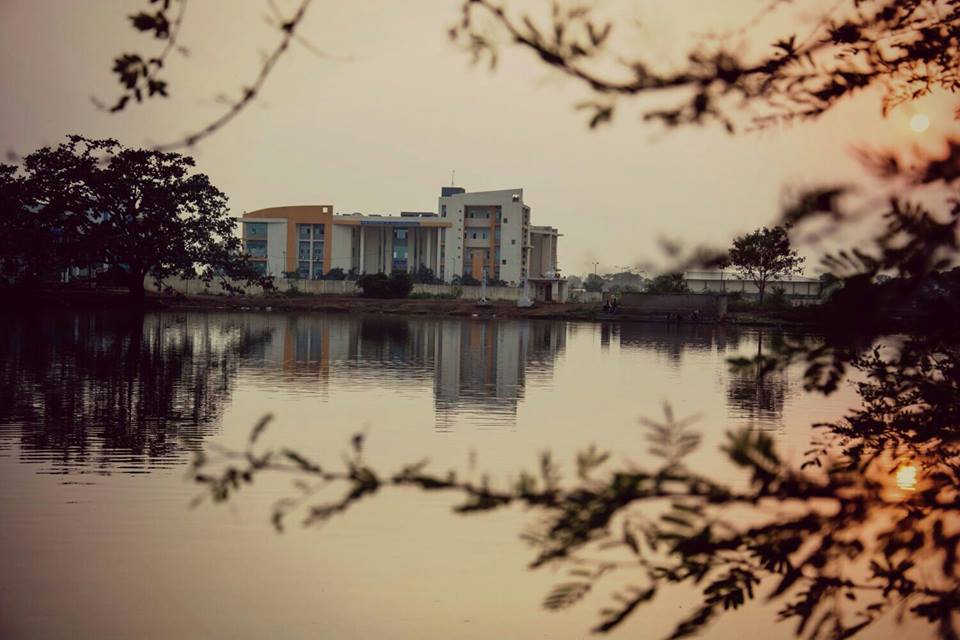 "Prem Swaroop"
"Present sirrrrr…" and you would see his hands straight up in the air from the corner of a class. Prem for us, is one of the most inspiring people on campus. Even thinking about him, brings a smile on our face. Ambitious, fun loving, caring, and hard working.
When it rains, and the batch runs for cover in the corridors, you would see him finding his way to the open area and drenching himself in the cold water from above. He lifts his face to the sky and enjoys the droplets hitting his face, You can see the happiness on his face. He would even splash water on you if he knows you are somewhere in the vicinity. I once had the opportunity to drop him to the railway station and in the conversation, I asked him about his dreams, and what he wished to do in future. "I want to start my business in my village and employ a lot of people. They are very poor. I want to do something for the society and the environment" was his quick response. I was like wow, he really is dreaming big. And then he said, "maybe in about 2-3 years I will have my surgery done and then I will be able to start working on this". To say I felt Inspired does not do justice to the feeling I had.
He knows our entire campus virtually in his head. He doesn't need anyone's help. Everything from all his daily activities, dressing up, grooming, walking to the class, the mess.. for everything he is independent. He knows the exact number of steps he needs to take from his door to the staircase, the steps he needs to climb & the exact position of everything along the way. He has our entire campus recreated in his mind.
The best part of him is that he is ultra-brilliant. If the prof reads out a calculation, by the time we write it down, Prem would have shouted the answer out. He is updated about every news article (he spends 3-4 hours daily on the news), every government policy & every change in the economy. He would have an in-depth knowledge of it all. Why What When Where How. When most of my classmates look all over on social media, news apps, newspapers and still have no clue on these, with closed eyes he Knows it all. I have seen no one like our Prem. #Hero
Priyanjit Ghosh
Mr Ghosh is synonymous with Hard work and Dedication. He is one of the creative masters of our batch. There is nothing the guy is not good at. I don't know one person who hasn't been jealous of him at least once. An artist, an entrepreneur, a marketer, a learner and a person who's extremely good at talking. A pure achiever, he has currently incubated his start-up with the Chhattisgarh government. Every batch has that person of whom the entire batch wonders "How does he do it?" That's him for us.
Unbelievable dedication from him. He goes to sleep at 4 or 5 working on one of his projects and would still be present in class at 9 30 in the morning. All our free time, he's either on the phone discussing with someone or travelling to meet someone. Winner at the Nasscomm Esummit 'Idea to prototype' in 2014 and Runners-up in Texas Instruments Innovation Challenge in 2015, the guy is running his way into fame. He's a marketing freak and I'm sure he would call this article 'PR'. #Hero
Nitin Vasava
This guy stands for perseverance. He's a pillar for the entire campus. A loving, calm and kind fellow whom anyone can walk up and ask for help. He cracked the CAT on his sixth attempt. 6 years of failure and experiences made him the man who he is today. 6 years he lived through the torments of his family and society with a strong belief that he would make it one day. He's an elder brother to all of us. I once asked him "What do you think about failure?" and his answer didn't surprise me "Another opportunity to get better".
Today he's a self-learnt expert in digital marketing – with SEO and Google keywords. He has also found ways to earn money during his free time. At 12:45 PM, when everyone walks out of class for lunch, he stays back to trade on his stocks. He also takes up digital marketing freelance work for clients which he manages to find time for. He knows where he wants to go and how to get there #Hero
Shreyash Sill 
He's the hero of himself. This guy knows what he wants and what his opinions are. "I don't care who you are, what you think, but I'm going to voice my concern". The amount of confidence he has is amazing. He can dance, sing, argue, and do anything regardless of being worried about "Log kya sochenge". He need not be good at any of those things but he's going to do it. That's what I love about him. Yes. "Freedom of expression is my birthright". Many of the times, his thoughts flow against the crowd, but that never hampers his confidence.
Shreyash works more like a consultant, every day after class hours you would see him sitting working either on a project that he has taken up or a competition that he is fighting in. Unbelievable dedication from this guy. He's won various National level competitions in the last year organised by IIM Indore, NMIMS, IIM Nagpur, SIBM, ZS associates, Knappily. He was in the only Indian team to be selected for Kellogg Morgan Stanley sustainable investment challenge. He makes our whole college proud. #Hero
Which Aditya Birla Group Company do I wish to join and why? 
I wish to join the Aditya Birla Fashion and Retail limited Team. I'm a big fan of these brands (Specially LP) and I have felt firsthand the confidence it brings to one. Though it doesn't directly alter his cognitive abilities, it somehow has an ability to boost a man's performance. He Feels better in them. That's the power the brand has created. I want to be part of that team which will be able to spread this feeling to an even bigger crowd. We should make more people feel special about themselves and bring out their power. #Hero-is-within
Ajai Cherian Philip – is a 2nd Year Student at IIM Raipur