IRMA's Step Towards Self Reliance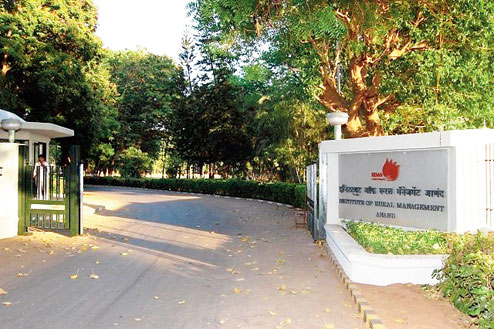 Some years back, it was not the question of missing pass out CQE (Comprehensive Qualifying Examination) for a fellow in rural management, started in the year 2000 but of an entrance examination which could not withstand the brunt of and dependence on CAT and XAT.  It ultimately had to withdraw its erstwhile entrance test but before that obtained a supreme court order allowing it to admit students based on separate entrance test for the academic year 2013-14.
When pursuing FPRM was an option in 2006 I applied for it but received an admit card for it's the then entrance test at Lucknow although having PGDRM, there was an exemption for re-examination through the same test which had been cleared in 1991 at Patna. I wanted afterwards waiver for the due interview from them, but the error was accepted not waiving off of interview process as some stipend along with annual grants are also payable during the course of fellowship in rural management, which I never opted for as honorary fellowships and PhD degrees are also awarded for distinguished service. The reason for erroneous admit card was charge de affairs and Dhara brand of edible oil from its parental organisation.
The entrance test had also lack of logical reasoning and IQ tests, for which MENSA society is better known as. PRM course was pursued through bank study loan.
Anyway, IRMA faculty has long been dependent on grants and research studies for salary and other employee costs rather than admission fees, tuition fees and others but now there is slowly self-reliance achieved through an increase in tuition fees and increased intakes. Good for the growth of all!
IRMA faculty also allows in its campus a sports competition termed Spardha among its donor organizations which are localized including its parental organisation, although its own employees lag behind in competition to others, any co-relation with the erroneous admit card in 2006!
Year

Tuition & other fees

Employee cost

%age

2011-12

47,752,294

83,190,488

174

2012-13

54,196,992

90,301,564

167

2013-14

71,318,316

90,329,276

127

2014-15

112,300,628

121,176,110

108

2015-16

112,048,701

112,582,895

100

Data Source: Annual reports of IRMA, Anand, figures in INR
Ajay Kumar
I am a post graduate in rural management from IRMA, Anand from PRM 12 apart from BA (honors) in Political Science. I have worked with government organisations, MPCDF, Bhopal, Bhopal Milk Union and NDDB, Anand. I have been placed at Patna also apart from Anand. During last sixteen years, I have been associated with twelve NGOs and Civil Society organisations directly and with several others indirectly. I have worked in various development areas in Uttar Pradesh, Bihar and Madhya Pradesh. My accomplishments can not be adjudged by financial returns to me or newspaper based recognition but will and motivation to perform and excel with whatever little learning and knowledge I have.