Jagriti : A social initiative of Mridang 2014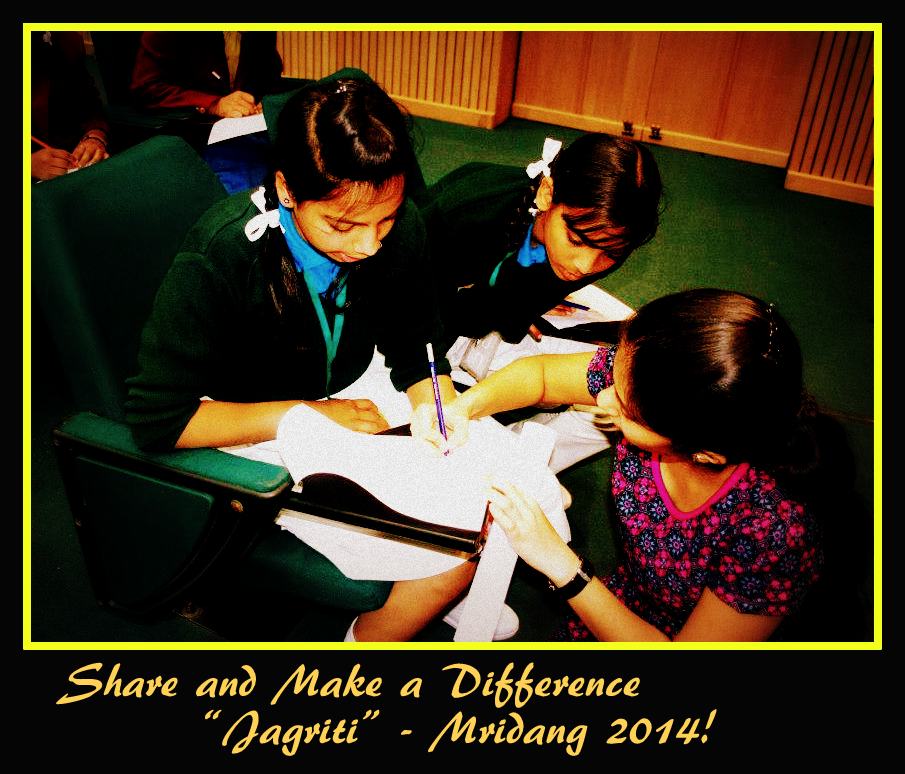 "Education without values, as useful as it is, seems rather to make man a more clever devil." – C.S. Lewis
"Jagriti" the social sensitivity arm of 'Mridang', the largest cultural festival of Central India attempts to imbibe the values of sharing, caring and respect among the young students of urban and rural schools. Based on the concept of 'A Fist full of Rice and Heart full of Love', given by late Sri Sathya Sai Baba, the event helps in sensitizing rural and urban school students about the importance of education and facilitates interaction between students from urban and rural schools.
The event will be conducted in two phases. The first phase was successfully completed during December 5th and 6th 2013 and the second phase would be beginning in February. In the first phase, in the opening event of Jagriti, students visited schools in various regions in and around Indore. The schools that were visited are Govt. Secondary School, Dudhiya Village, Nemawar Road, Govt. Primary School,  Sankul Kulel, Deoguradiya Village and Govt. Primary School, Bichauli Hipsi Village . Another set of three to four rural schools will be visited during the second phase of the event in February
These schools were provided with water filters for safe drinking water, school bags, sports equipment, notebooks, stationery and other essentials. The entire event was sponsored by UCO Bank, Indore.
The second phase of the event would include students paying visits to urban schools where workshops on personality development, career counseling and future career prospects will be conducted for students. The rice collection drive for the banner event of 'A Fist full of Rice and Heart full of Love' will be launched under the second phase. On a later date, these students will be taken to the rural schools and the rice collected will then be distributed by them as a sign of love and sharing.
Along with the 'A Fist full of Rice and Heart full of Love' event, fun activities and games are conducted to help students learn from each other. These activities help the urban students to understand the struggles of rural students and attempt to induce a culture of responsibility, care and affection. It promotes inclusive growth by creating a platform for the privileged to extend their arms of help and bring closer the ones that are deprived of opportunities.