JBIMS – A Million Dreams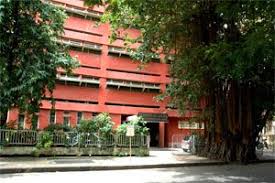 The Dream of every 1 lakh students who appear for Common Entrance Test of Maharashtra state and also Non-Maharashtra students every year, an opportunity which will bring the businessman, a real hero, a real human out of them, these all things converge to form a red brick building which has the legacy of around more than 50 years and it is called as JBIMS. Many of the students prefer not to go to IIM's and other prestigious B schools just to be in JBIMS. One might think of the reason behind it, but there is no one reason rather plenty of reasons which makes this B school what it is. It is a well known fact that JBIMS has a very strong alumni base, its alums in various industries and sectors have achieved what other B school alums only think of achieving. Apart from it the location where the campus resides is in the financial capital of India, many companies have their offices in Mumbai and operational units in Mumbai so it's a great opportunity for the students to interact with these companies.
Apart from all these external factors, the faculty both internal and external have wide and depth experience of working in business industry, they apply all their knowledge and teach students how things work in the outside world, only things in the books will never help you in long run. Interactions with guests from various industries, case studies, lots and lots of presentations all these build the confidence in any student who will go out of school and face the real world. Programs like induction makes a huge impact on minds, irregular schedules prepare students for the uncertainty of outside world, syllabus that is useful not only for the semester end exams but also exams which will be starting when we leave the school and enter the business world, aren't these the unique features of the great JBIMS? In fact you never ask a cricket fan about Sachin's unique qualities, the answer will always be Sachin himself is unique and hence his qualities. Same thing applies for JBIMS.
I think it will be a great collaboration between JBIMS and ABG once they join us in our journey, being one of the biggest conglomerates in India it will surely be a win win situation for ABG to come to JBIMS. Being a marketing student I would love to work with Aditya Birla Retail limited in the beginning of my corporate career. Sustainability is the buzz word now a days, JBIMS and ABG can create this sustainable relation in order to have a future growth for both the institutes.
-Sagar Ipar
Jamnalal Bajaj Institute of Management Studies
JBIMS Placement Committee
JBIMS was established in 1965 by the University of Mumbai in collaboration with the Stanford Graduate School of Business. JBIMS is considered to be unique in management education as it is firmly rooted in the local soil and capable of articulating the Indian ethos. In the contemporary era, when globalization and liberalization are the buzz words, the institute has (without disturbing the said roots) ordered itself to meet the emerging challenges, sentiments and opportunities that are coming with the new economic order.