JKBS Student to Travel to California University – Thanks to Govind Hari Singhania Global Leadership Award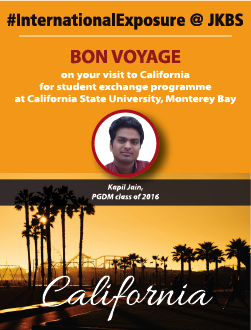 While there are B Schools that talk about offering their students a global education, there are some that truly offer that experience to future management professionals. JKBS is one of them, and it has agreed to build a mutually beneficial relationship with California State University, Monterey Bay to encourage students to explore their academic interests. Student exchange, faculty exchange and joint research are some of the hallmarks of this initiative. As a part of the student exchange program, Kapil Jain has been shortlisted as one of the 4 students to go to California – obviously he is on cloud nine. "I am very excited about the trip because I will be getting International exposure," he tells us. "Not only will I get a chance to study at a well-known and reputable university, but there will be several industry visits as well. This is a one of a kind experience that will help me grow tremendously." He seems to be spot on as the California State University system is the largest university system in the US, and the campus in Monterey Bay offers students a world-class learning environment. Thus, students will get an opportunity to learn from highly regarded faculty and also interact with contemporaries from all over the world.
As a part of the initiative, the students will be headed to CSUMB for full one term of study between the months of June and August. The good news is that the students only have to pay for the airline travel, while the cost of study and other incidental charges will be taken care of by the Govind Hari Singhania Global Leadership Award. "I was interested in this trip right from the first time we were told about it. I knew it was an opportunity I could not miss and was very excited when I learned that I was shortlisted for the trip," says Kapil, enthusiastically.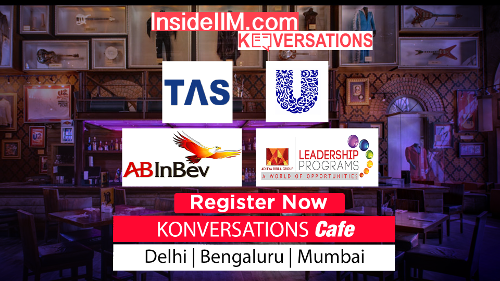 Of course, the students from JKBS will learn from renowned faculty members in the classroom; however, at CSUMB, there will be a lot of outside and beyond classroom learning as well. While the students will be made aware of the best business practices through industrial visits, they will also grow from their experience of living in a foreign country at an early stage of their lives. Kapil admits that he looks forward to this trip because, "I think every day of the trip we will be an opportunity to learn something new. I also look forward to making new friends and gaining an understanding of other cultures and other ways of life."
These are just some of the perks of a foreign stint for young students. And, JKBS has now offered that experience to Kapil. But, he is aware that the biggest benefit of the trip lies in the international exposure he will get at the end of the day. "My expectations from the trip are very high", he says. "This kind of international exposure will be my strong point in the corporate setup in the future. It will definitely be beneficial to me because future employers will know that I am ready for global challenges, which are now a part of corporate world." One of the major benefits of this initiative is that it prepares students for the challenges that they will face in the future. This is especially important in a globalized world. And, Kapil seems eager to begin this journey.