Joka Miscellany – Dr. Garima Tiwari – Doctor before MBA
This is the second in the ongoing series of 'Joka Miscellany'. Here, we meet Dr. Garima Tiwari – a dentist by profession before she joined IIM Calcutta to pursue her Management Career.
Tell us something about yourself – walk us through your career and your academic, extracurricular and co-curricular achievements.
I did my schooling in KV and dentistry from GITAM Dental College, Vizag. I have been among the top 3 students throughout schooling and college. I was awarded the ISP Merit award in college. I received the Best Student Award in school for my consistent academic performance and role in extracurricular activities. I love variety. I have taken part in a variety of activities like extempore, role play, group song, soap carving. I was an active event anchor. Also, I have been involved in organizing various public health dental camps and anti-tobacco rally. I believe in being socially responsible. I was co-founder of Viswas, a social welfare group in our college and alsoa member of the NSS wing of the college. I have a silver medal in chess at the university level.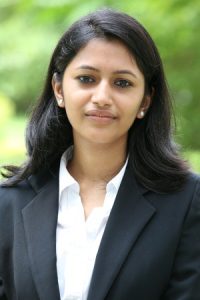 From medicine to management – what motivated your decision?
I am excited about the developments that are happening in the Health Sector across the globe. The challenges on account of the life style changes, changes in the demography and others are presenting opportunities both in the technical side and in the managerial side. I would like to play an important strategic role and have an impact in this sector.
How did you go about tackling the CAT? Did you find Quant difficult? How did you manage?
After not being in touch with math for 5 years, quant was definitely difficult for me. On top of that, I was doing my internship during the preparation, so time was also a factor. But the practice tests and guidance from teachers helped me a lot and I was able to do well in my first attempt itself.
What are your plans for the future? Which field do you plan to make your career in?
I am thinking of working in the consulting and specifically in healthcare consulting field.
Talk us about your experience as a dentist, and your studies in dentistry – what was the highest point of your career in medicine?
Dentistry has exposed me to a variety of situations and a variety of people. It was exciting and after coming here, I realized that my experiences with people have been very different from the other students here.The highest point in medicine was definitely when my patients felt that I did a good job. It was very satisfying when some of them specifically used to ask for me for their treatment.
What is difference between the world of medicine and the world of business? How can the former learn from the latter?
Though both the fields are based on people there is very less focus on 'the people aspect' in medicine. Patients are mostly treated as cases. This is changing now, but this is something that the world of medicine can learn from the world of business.
As a doctor on campus, are you called upon to resolve health problems of the students?
Yes! Sometimes.
Read More
Joka Miscellany – Harishwar Subramaniyam – IIT Bombay, Goldman Sachs PPO Holder
First year MBA Topper Series – The Special Ones