My Journey To IIM Rohtak – Kriti Nagori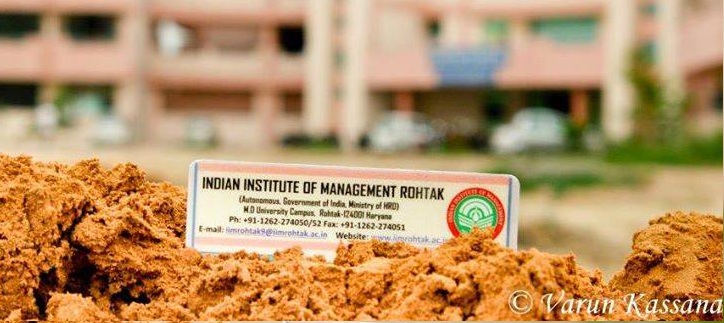 I still vividly remember that day, preparing for my engineering entrance exams, I needed a break and had gone out for dinner with my family and I had told my mom " I may not get a top college for engineering, but I am going to do my MBA only from an IIM!", and here I am five years later, sitting in my hostel room in of one of the best MBA colleges in India and writing this article. It has been a long journey, full of ups and downs, but worth every effort.
Already clear on what I wanted to do after my engineering, I started my preparation quite early. I focussed on the mock tests and then analysed them to find out and work on my weak areas. With the college placement season in full swing, it was difficult to concentrate on both the things, but I tried my best. I got placed early in the process and considering it only as a backup option, continued with my earnest efforts for CAT 2016. Not before long, the D-day arrived. With wishes from my family and friends and trying my best to not get nervous, I walked in the centre in the hope of belling the CAT in the first attempt itself. I gave my best in those three hours and was quite satisfied with my efforts after the exam. It was now time to sit back and relax till the results were out.
9 January 2017: The CAT results were supposed to be out on this day. I had been anxiously checking my portal every few minutes but there was no news. Then finally, a little after noon, the option of 'CAT 2016 Score Card' had appeared on my portal. My heart was racing. I was more nervous while checking the results than I was while giving the examination. I was sitting with my friends in the college canteen when I managed to open the page and the first thing I saw was 90.17 and my heart sank. But on checking the marks carefully, I realised that the 90 percentile was only in English and overall I had managed to get a decent 98.46 percentile. My happiness knew no bounds. I could see that the IIM dream was not very far now. With calls from IIM Indore, SJMSOM and the new IIMs, I again immersed myself in the preparation for the final interview stage. Being a girl who is not a regular newspaper reader, nor having a high general knowledge, I had a lot to catch up on. Even though I didn't have many calls, I was determined to convert the ones I had. But well, God had other plans for me! My interview at IIM Indore turned out to be a disaster, thus also reducing my chances at any of the new IIMs, as the same score was going to be taken. I was waitlisted at IIT Bombay and was not able to convert till the end. I was able to convert a baby IIM later but was not very keen to join and had already made up my mind for a second attempt. My family was not very happy with my decision but supported me anyway.
So, it all began again. Mock tests, practising for quant, brushing up my English skills and brainstorming through DI-LR. But now there was a difference. Along with studies I had a full-time job which took up most of my day. My willpower was tested at times when my co-workers would be out enjoying after a tiring day at office and I had to go home and study, but I pulled through. The exam day came and according to me it went well, and I was expecting a pretty good score. But I was in for a shock. Not only did I fail in getting above 99 percentile, I was not even able to reach up to my last time's score. Though my marks had increased, but my percentile had dropped. It was a bad time. I had already started preparing for my interviews, but then it seemed like a waste of time as I was not even sure if I would get calls. As it turned out, I did get a few good calls and gave quite a few interviews. As the results started coming out it was rejection after rejection and then some more. I had already lost all hope of getting a good college this year when a mail popped up, "You have been accepted for the PGDM programme at IIM Rohtak…." and that was all I needed. After all this effort, the decision to repeat CAT, dealing with low scores and rejections, I had finally made it. I finally had an admit to an IIM and that was all I had ever wanted.
My advice to all MBA aspirants would be: keep working hard and don't think about the result. Don't give up, because who knows, you may be just a step away from achieving your dream!
Kriti Nagori
Kriti is a hardcore F.R.I.E.N.D.S fan and loves travelling. Having completed her engineering from VIT Pune, she is currently pursuing her PGDM from IIM Rohtak. When not engaged in any academic or co-curricular activity, she can be found playing badminton or just chilling out with her friends.