My Journey To IIM Visakhapatnam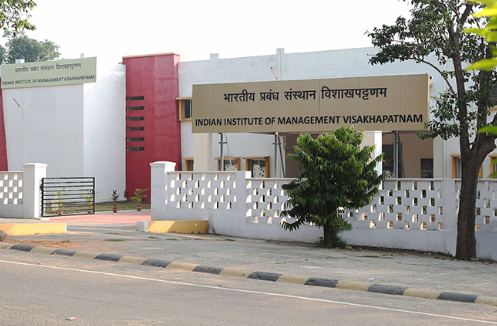 For any individual interested in management, getting into IIM is a dream come true. Fortunately for me I had the luck of getting selected in two IIM's. But, I choose IIM VISAKHAPATNAM. The first thing that got me interested in IIMV is that it is mentored by IIMB, which is well know for its own perks and reputation. Most of the faculty in IIMV are from IIM's themselves, which is good since they can relate to students and help us improve. The behavior of the administrative staff is top notch. I never expected that kind of treatment from an administrative staff which I received during my interview.
I selected VISAKHAPATNAM as the city of my interview, since VISAKHAPATNAM is my native place and I did my higher secondary education from a school in VISAKHAPATNAM too. I was the first person to arrive to the campus on my day of interview, all suited up putting up a brave face and a big smile, in fact was dreading thinking of the day ahead from inside. I was made to sit in the lobby for few minutes because there were just opening up, I guess I arrived early. After a while I was made to sit in lecture hall, when slowly other people started arriving. And for the WAT we were taken into another lecture hall, where the professors who were conducting our WAT/PI mentioned that we are sitting in the hall where all the first years will start their classes. The overwhelming feeling which ran through me is indescribable. I started dreaming myself in that hall someday. But I had to snap out of the day dream as we were handed out WAT papers. Because making the dream come true is different story. Had to concentrate. The interview was awful (according to me). But, as I was walking out of the institute I made up my mind to join IIMV (if I get selected).
The reason I am sharing my interview experience is because the whole experience of the interview and the promising prospects of the institute under the mentorship of IIMB helped me make the decision to join IIMV. The past placement reports, all the news revolving around the institute and the companies which comes for placement all are impressive without any doubt, but all these are changing with time, I want to be a part of that change and development. Yes, it's true that it is better to make these types of decision with full strategy and planning for out future and not with your gut feeling. But, what is the use of all the planning and strategy in the world if you are not satisfied in your heart. It's like a job, no matter how much you are paid or how big a company you work in, what's the point if you are not satisfied with your job.
So, I AM coming and I will do my best to learn and improve all I can and looking for a whole new experience to add to my arsenal.
Which ABG Company would you want to work for and why?
ADITYA BIRLA RETAIL LIMITED.
Aditya Birla Group is known for its huge market in textile, mining, R&D, telecommunication and financial and retail sectors. One of the companies that I am interested in is Aditya Birla Retail Limited, mainly because it's based on marketing, and I am interested in the field of marketing. There is a saying "Every sale has five basic obstacles: no need, no money, no hurry, no desire, no trust" Zig Zglar. I was fascinated that about the hidden truth in this quote and I have every since tried to understand it, and I believe that I can implement the knowledge that I have gained in the last few years and learn new things in the real practical world of marketing being a part of one of the best retail company in India.