K Sowjanya Of VJIM, Hyderabad Wins The Coveted Gold Medal At IMCI Contest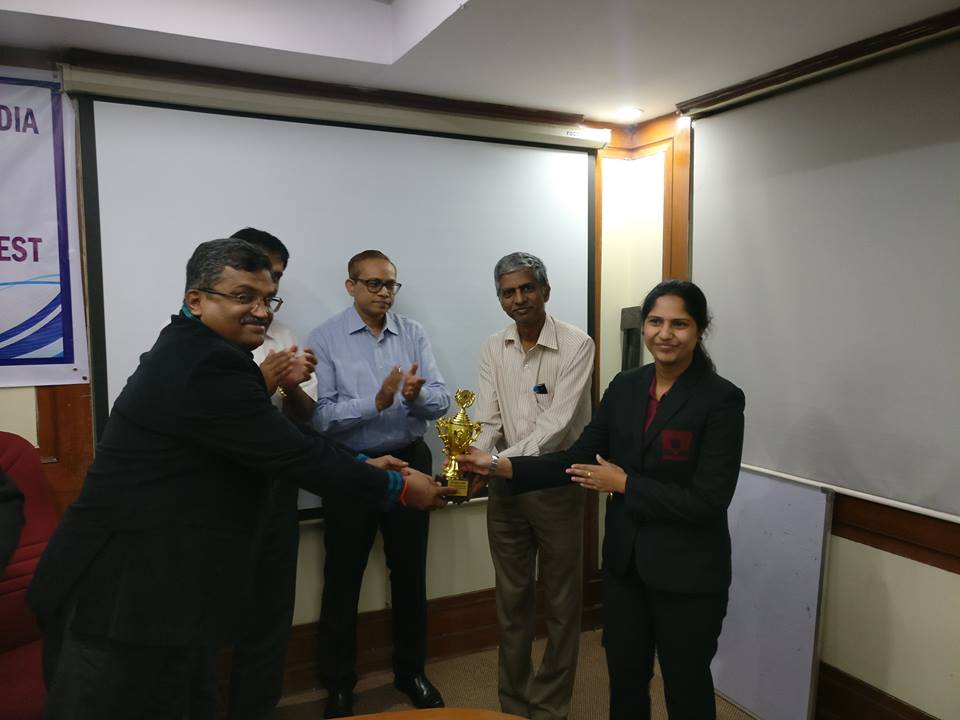 K. Sowjanya of Vignana Jyothi Institute of Management (VJIM), Hyderabad did herself and her institute proud by winning the Gold Medal at the 2017 Hyderabad Business Schools Summer Internship Project contest. The contest is an Institute of Management Consultants of India (IMCI) initiative meant to build strong relationships between industry and academia. Nominations were sought from top B Schools and participants were judged on several key parameters where Sowjana came out riding on top of the event.
What makes Sowjanya's achievement truly remarkable is the fact that over 20 management institutes including NMIMS Hyderabad, SIBM Hyderabad and IBS Hyderabad participated in the contest. Talking about the nature of the event, she reveals, "Based on the report submissions in the first round, 6 students were chosen to make presentations. We had to adhere to a prescribed format for the presentations, which were followed by Q and A session. I am thrilled to have won."
Covering everything she wanted to in a five minute presentation wasn't an easy task. Sowjanya admits to having been nervous but pulled it off with confidence. She attributes this confidence to her B-School training and the internship, which led to this contest in the first place. "I worked as a HR intern with Sun Pharma and it was a huge experience for me. I stayed as a PG in Mumbai, navigated through the city and learned many life skills," she adds with a smile.
The eight week internship had Sowjanya working on the project – 'Attrition and Retention Strategies Analysis of Field Employees at Sun Pharma'. It required her to carry out qualitative research on the attrition and retention strategies and analysis of the exit data. Looking back she says, "Each day was unique as I had to assist my colleagues during recruitment on a weekly basis. I worked from the Head Office but also had to visit different locations for interviews and it was exciting."
Sowjanya asserts that preparing questionnaires and collecting information from the existing and past field employees, analyzing the exit data and interacting with the second level managers for inputs were some of her responsibilities. She believes her project stood apart from the rest because, "It was more of primary data collection and analysis than the secondary data analysis. I could also connect to the problem situation, merger of Ranbaxy and Sun Pharma, easily."
Major responsibilities are followed by challenges. For Sowjanya it was managing time to handle regular tasks, her research and get inputs from employees who had left the organization. But she managed to impress her employers. "It was a huge moment for me when they adopted two of my recommendations. It gave me the confidence that I was doing well in the professional environment," she states. The gold medal should then feel like the icing on the cake.
VJIM Hyderabad
We would like to invite your attention to the following differentiating factors about VJIM: VJIM is ranked as 21st best B-School in the country. (Source: Indian Management – AIMA & Business Standard, May 2013 Issue). VJIM has repositioned business education and hones your skills based on the best global business practices with global curriculum and its application adapted to Indian business environment. VJIM has pioneered the concept of reverse orientation for second year students so as to reinforce the concepts taught in the first year. The institute follows international pedagogy such as Process Oriented Guided Inquiry Learning (POGIL) and Socratic dialogue for teaching and learning. We encourage meritorious students by giving the scholarship for CAT/MAT/XAT/ ATMA The institute is consistently placing students in companies such as Deloitte, Google, Naukri, Info edge, Wipro, Cognizant, DE Shaw & co, Axis Bank, KVB, HDFC, Bank of America, Deloitte, TATA Projects, HSBC etc. We offer sectoral electives in the areas of Business Analytics, Pharmaceuticals and Banking Financial Services and Insurance (BFSI). The B-School has interdisciplinary learning aimed at creating competent managers. The institute conducts Economic Times analysis sessions on daily basis, aimed at wedging gap between theory and practice. We have excellent infrastructure with high end information technology support and state of the art Learning Resource Centre. VJIM has research centric faculty with industry experience and excellent teaching ability. Institute conducts industry immersion program for all faculties for exploring current industry practices and bringing it to class room.