Kaptains of IIM Kozhikode – Somya Barpanda- the Inquisitive Orator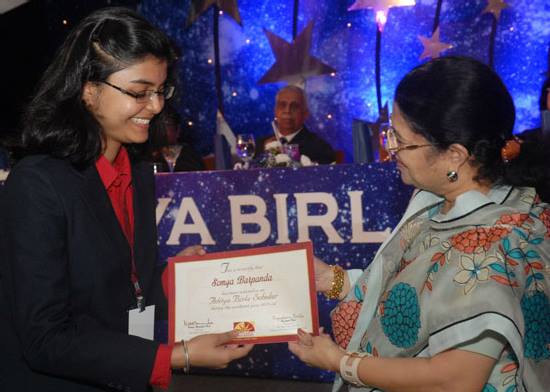 B-Schools house an eclectic mixture of people ranging from different disciplines, diverse age-groups, varied regions of the country who harbour different mind sets and aspirations in life. There are some who are extremely passionate about sports, some others who if they would not have been in a B-School, would definitely have been one of India's most famous rock bands' lead singers. And then we also have one rare species of people who with their impeccable interrogation skills leave one and all, spellbound. In our series of Kaptains of IIM Kozhikode, we talk about Somya Barpanda from IIM Kozhikode – a cycling enthusiast, a skilful painter, a voracious reader, a fervid debater, an ABG scholar and above all, a person who feels that if curiosity killed the cat, it was the satisfaction that brought it back. Here is what she has to say about all this.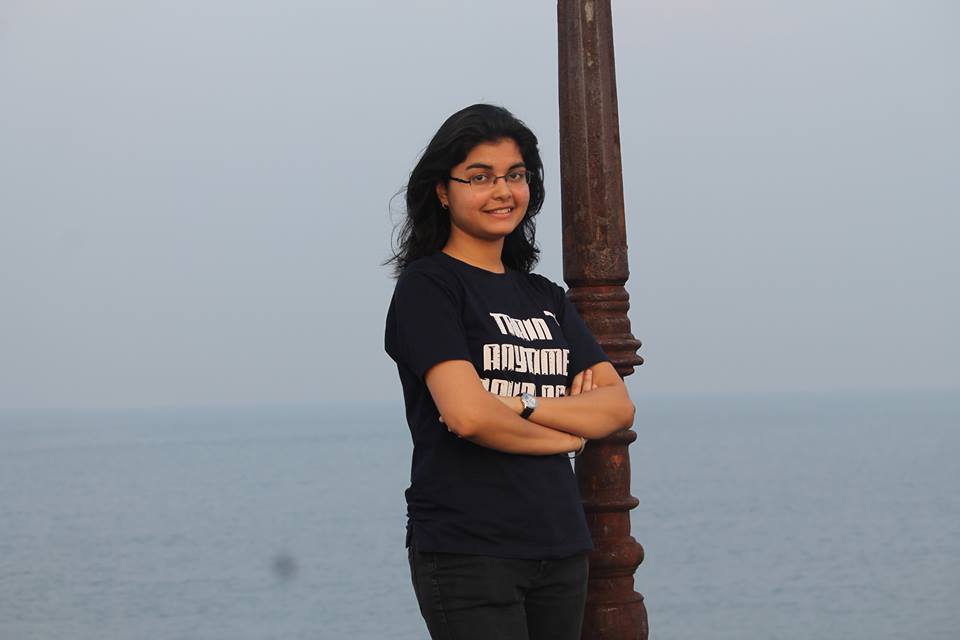 The one line that almost aptly defines you is – "Books are my best friends".  What do you have to say about it? Apart from economics (that you passionately follow), which genre of reading interests you the most and why?
Like Alex Haley puts it, nobody can do for children, what their parents and their grandparents do. I have my grandfather and my parents to thank for cultivating in me the good habit of reading. I still remember how from my very early days, with dewy-eyes I used to sit with my grandfather and read all those beautiful stories from distant lands. Thanks to his wonderful repository of books, as a child, I used to yearn for the summer-break visits to our native place in Odisha just so that I could laze around in that room full of books. I am glad that I like reading since it helps one gain new perspectives and broadens one's thinking bandwidth.
Ruskin Bond has been my all-time favourite but it was Rowling's enrapturing Harry Potter series that made the reading bug bite me. It infused in me the courage to go ahead and read bulky 700-800 page novels! Had it not been for my addiction to Potter novels, I wouldn't have even dared to touch Vikram Seth's beautiful piece of work- "A Suitable Boy". So, as far as genres go, I have always been most fascinated by Fiction. Hosseini's "A Thousand Splendid Suns" tops my list of favourites. Of late, I have developed a taste for non-fiction and the book that I have recently finished reading is Sheryl Sandberg's "Lean In".
You are one of the 16 lucky students from across the elite B-Schools of our country to have received the prestigious Aditya Birla scholarship. According to you what is it that gave you an edge over the other equally adept contenders?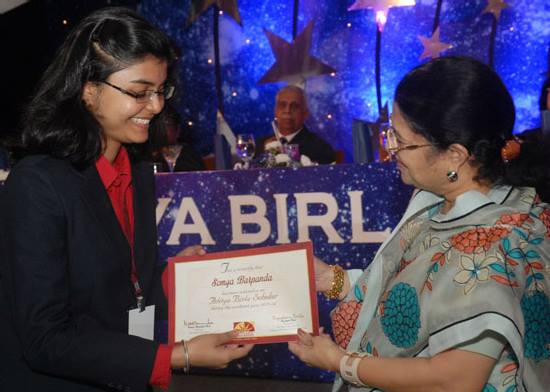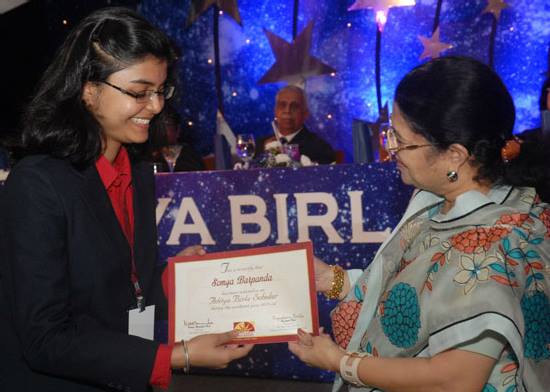 Yes, I do consider myself fortunate to have been awarded this prestigious scholarship and I don't think the other candidates who had been shortlisted for the final round deserved it any less. In my case, I believe it was my commitment to persistently pursue my prime-passion, that is writing – something that the jury wanted to further encourage through the means of the scholarship.
During graduation, I was elected as the Editor-in-Chief of the Economics Journal and newsletter of St. Stephen's College and my team encouraged more students to write Eco-themed articles. In order to share my insights on 'the play of Economics in daily-life', I wrote a personal-column 'SimplEconomics' for a youth-magazine. The idea was to whet the interest of people from a relatively non-Economics background by making them aware of the ubiquity of economic-concepts.
I also strive to write on issues I strongly feel for. My write-up on the plight of the tribes of the Andaman Islands, titled "A Bus Ride through the Jarawa Reserve", was adjudged the best in a national-level writing competition and the paper "Tackling Bureaucratic Inefficiency via Direct Economic Incentives" was a product of my quest for answering the problems plaguing the Indian bureaucracy.
I have always aspired to wield my pen to affect positive change in the society. Though earlier I used to write solely for experiencing that sheer thrill of my writings getting published, however, I have come a long from there. Now, I attempt to write with a sense of passion and purpose.
 One of your lesser known hobbies is cycling. Amidst the hectic B-School routine, do you get time to pursue it? Have you undertaken/do you intend to take up initiatives to promote cycling as a sport or/and mode of transport in India?
I was an ardent cycling freak throughout my under-graduation years and before. Cycling on my bike to school instead of my dad driving me there felt so good. I have always liked the feeling of being in charge! And in fact, it has been often said that the best way to empower girls especially in rural India is to let them ride bicycles. Well, unfortunately, I don't own a bicycle in campus and it won't be much of a practical advantage to have one here given the hilly, sloping terrain. I have never participated in professional cycling events/races, primarily because I never really had the chance, owing to it being a fairly unpopular sport as far as India is concerned. But, I prefer it as a mode of short-distance transport. What I feel is that, urban Indians, especially Delhi-ites fare very poorly on cycling and in general, exercising habits. They have this tendency to take their motor-vehicles out for all big-small commuting purposes. Back in our housing complex, we had formed a cycling lovers club where we used to plan cycling-excursions to nearby places on a regular basis.
I am strongly of the opinion that all cities should develop a cycling culture. This, apart from improving the health of the general masses will also be instrumental in solving myriad problems that plague our nation today. I am very much aware of the fact that the infrastructure in terms of cycling-lanes in existing cities is not very cycler-friendly, but improvements in that respect can be implemented and the new cities can build roads on those lines. And where infrastructure's lacking, it is only after people start showing their willingness to start commuting through cycles that the required infrastructure will follow after adamant public demand. Today, Netherlands is a cycler's paradise. The cycling culture there did not develop overnight. It was a constant evolutionary and conscious attempt made by the Government along with its responsible citizens, to reduce the multitude of problems that were sky-rocketing due to the high levels of pollution and rising fuel prices. India, too should follow its footsteps and work towards making the world a better place to live in.
You are well known for having presented many research papers at National level symposiums and have been an active debater right from your school days. If I were to say that IIM K, like most of the other esteemed B-Schools of our country, provides a platform for extraordinary orators and intellectuals (like you) to showcase their talents, to what extent would you agree with me?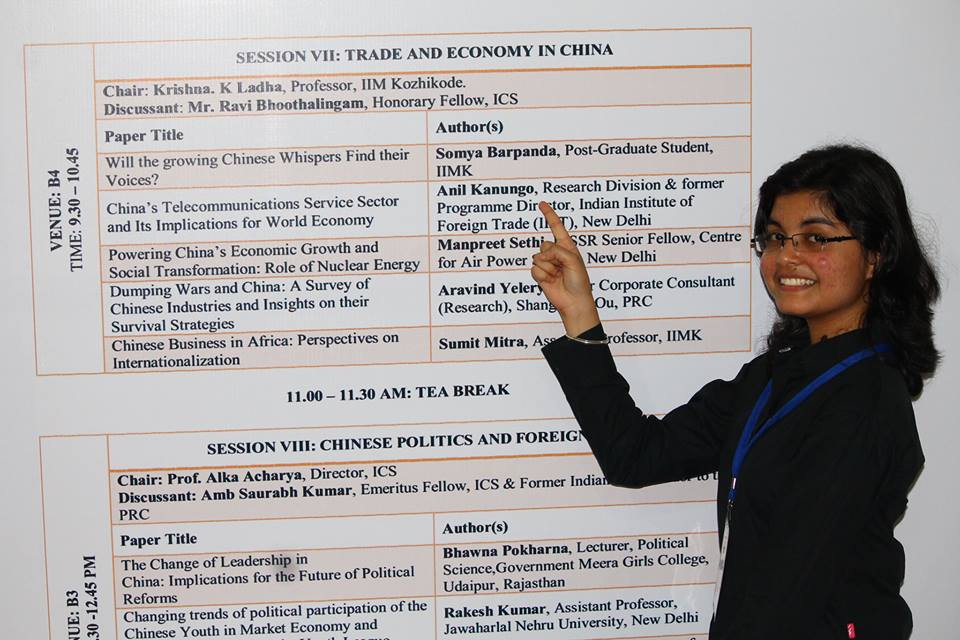 Well, I wish I were actually an "extraordinary orator" and an "intellectual". You have thrust these titles on someone who doesn't really deserve them. I do like public-speaking and am glad that I had had many avenues to hone my elocution skills, thanks to the exposure provided here. The best thing about good educational institutions is that they provide you with opportunities galore to pick up new talents and improve upon your existing ones. You get to learn from talented peers by working with them and at times even competing against them for inter/intra-college competitions. Be it our Panel Discussion held during the Annual Management festival or even the Extempore' contest conducted as part of the relatively informal Roobaroo, all have taught me a lot.
IIMK very recently hosted the 6th All India Conference of China Studies (2013) (conducted by the Institute of Chinese Studies). It gave me the glorious, once-in-a-lifetime opportunity to present my paper on China. I was the youngest presenter at the Conference that saw participation from academia and scholars from across the world and am grateful to the college for providing me with a unique platform to showcase my work.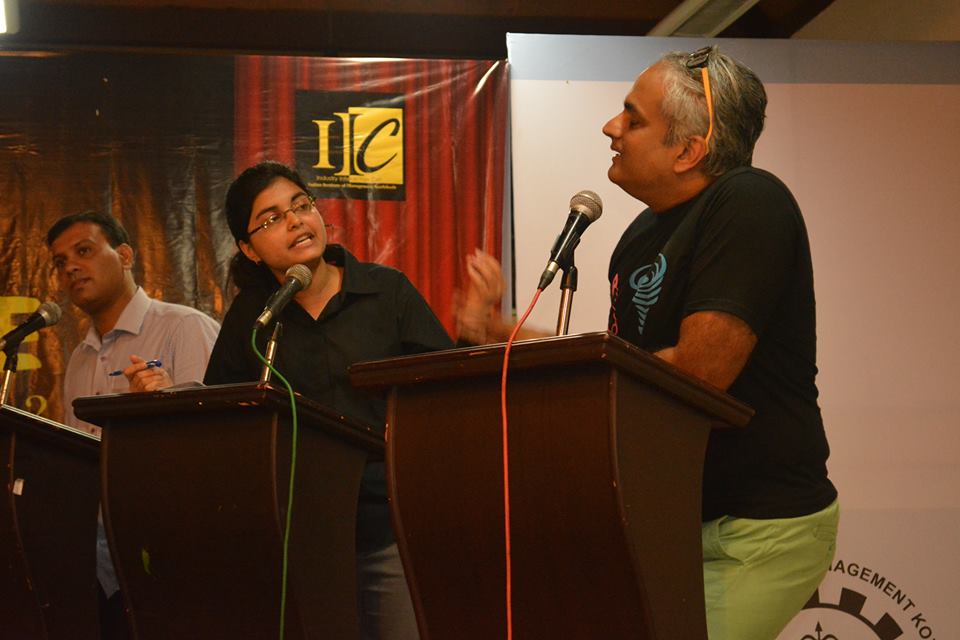 If you are to describe your experience at IIMK till now in a single word, what would it be? What according to you are the factors that differentiate 'God's own Kampus' from other B-Schools and hence, make one's tenure here special and memorable?
If it has to be one word for my experience here hitherto, I would say "holistic". What differentiates 'God's Own Kampus' from other B–Schools of the country is its unique curriculum that makes it live up to its motto of "Globalizing Indian thought". The Indian Business History workshop that was conducted as part of our induction programme was very insightful. Our Business museum is one of a kind and makes one take pride in our business-heritage. IIMK is one of the very few colleges to have incorporated unconventional yet informative courses on Social Transformations of India, Environmental Management and Business Ethics. They lead to the holistic development of the students by sensitising them with the pressing social-challenges facing the country and their direct relevance to the world of business. Also, IIMK goes the extra mile in providing its students a well-rounded educational experience. Conferences like the recently held All India China Conference is usually organised in Arts' Colleges owing to their relevance to the subjects being imbibed there. However, IIMK was the first B-school to volunteer to play host to it so as to arouse students' interest in China-studies. The faculty here is highly supportive in terms of resources when a student wishes to pursue anything that is co-curricular- say research-work or a project.
And lastly, it won't be fair if I don't mention the pristine beauty of our campus at this point. The place automatically makes you fall in love with it. Each day I wake up and drink in the breath-taking morning-view from my hostel-balcony, I feel lucky to be doing my Master's from here. I always had this notion that once one gets into a B-School, he/she becomes so preoccupied with managing grades and trying to fish for PORs (to enhance their employability in the corporate rat-race) that he/she almost forgets how to live life. I had never imagined IIMK would prove me wrong and would help me evolve as a person in such a tremendous manner.
As told to Venu Merh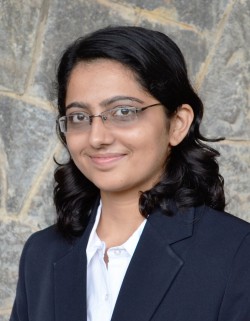 About Venu
An Upantya Visharad in Hidustani Sangeet and in Bharatnatyam, Venu has been the epitome of versatility and consistency throughout school and college life. An EC engineer, she was a member of AIESEC & NU Tech where she managed various activities. She loves micro blogging and working for stray animal welfare. She is currently a management student at IIM Kozhikode (Class of 2015).
Read everything about IIM Kozhikode here. Follow Kaptains of Kozhikode
Follow our series of Gems of Joka and Icons of Indore
Read all Stories by Venu here. Follow her on venu.insideiim.com
Venu Merh
An Upantya Visharad in Hidustani Sangeet and in Bharatnatyam, Venu has been the epitome of versatility and consistency throughout school and college life. An EC engineer, she was a member of AIESEC & NU Tech where she managed various activities. She loves micro blogging and working for stray animal welfare. She is currently a management student at IIM Kozhikode (Class of 2015). You can read all her stories here. Twitter handle - @foodasaur