Key Takeaways From IIM Interview Experiences
Greetings to all the CAT aspirants.
In about a Month from now, you would begin the Marathon exercise called "belling the CAT" – the CAT which remains elusive for a huge majority of the Indian people.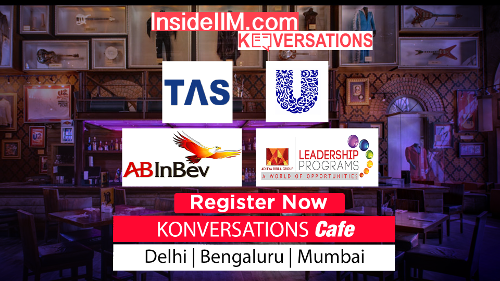 The exercise of conquering CAT does not end with getting a good score in CAT. Nor does it begin with writing the CAT.
It begins "as soon as it should" and ends upon Final conversion to a premier b-school in India.
Allow me to share my experience about the interview I faced during my admission to an IIM. I hope you get a sufficient dose of suggestions and direction to help you prepare for the interviews.
PART 1: PREPARATION
This is a herculean task in itself and often ignored till the last moment. The preparation for IIM interviews should not be left to the very last moment. Rather, the interview preparations should start from the day you start preparing for CAT examinations.
A few suggestions or takeaways from my interview experience might help you score well in your personal interviews:
1. Keep yourself updated about the current affairs, in India as well as abroad. No excuses. It would be nice if you can jot down the important events in a notebook and try to learn about its background or the underlying causes as to why such things occur. In this Age of Google, a few clicks of the mouse and strokes of the keyboard can provide you much of the answers you seek.
2. Have a good understanding of the concepts you learnt during your graduation. While absolute mastery over such concepts is always preferable, don't lose heart if you cannot master them as of now. Just brush up the very basic tenets of the courses you studied during your graduation.
3. People with work experience are specifically required to know inside out of their jobs, the impact it creates towards the organization and quite a few other stuff like their position in the overall organisational hierarchy.
4. Understand the need for MBA, as in why would you like to go for an MBA course? What skill gap would be present if you don't go for an MBA? Answers to these questions can be best got through a thorough introspection.
5. Try correlating the current affairs, your work experience in terms of business, like demand and supply of oil leading to changes in oil prices, exchange rate fluctuations – why they are caused and who benefits or loses out of it (when you read about export orimport-relatedd news) and stuff like that. This will not only help you in the interviews, but also help you in your MBA course itself.
6. If at any point of time, you feel that you have no clue about the answer, just politely admit it, instead of beating around the bush.
7. Be polite, yet firm and confident with your answers. The Panel might try to confuse you based on your answer. It is better to listen to them, analyse their statements and then, if you still feel you are correct, be polite and give them reasons as to why your answer is correct. However, if you realize that you have made a mistake, admit it instantly.
PART 2: MY INTERVIEW EXPERIENCE
Let me now get to the point by sharing my IIM Interview experience.
After the general greetings and pleasantries, the Panel asked me about my work experience post my Engineering studies. I mentioned what all I did over there in different companies, my roles, projects, and their utility for the organisation.
Since I am an Electrical & Electronics Engineer by background, the Panel asked me about the discovery of the basic charge carriers and the story of the discovery of electrons and the formulation of the atomic structure. I had brushed up the basics beforehand, so I was able to answer those questions quite well. The interview further progressed towards Electric Fields, Electrostatic Forces and flow of current electricity. It was quite a confidence booster for me since I had studied about these concepts quite well in the past. One more reason why I had mentioned the need to understand the basic tenets of your under-graduation courses.
The Panel then shifted gears and asked me about a question related to current affairs at that point of time. I was asked about my views on the India – UAE oil deal which was concluded then during Prime Minister Modi's visit to the UAE. Once more, the importance of reading and understanding about current affairs came to use. I answered the question quite well and had a round of discussions with the Panel on the given topic. You can expect to be cross questioned, so it is recommended that you prepare well and not just skim through the headlines.
Post the lengthy discussion on current affairs, I was asked about my image of a typical day in an IIM Student's life. I told them about whatever I thought about the same. There were few genuine points which I did not know, like team exercises which a student must undertake during the course of his study in an IIM. The Panel gladly informed me about such aspects.
The interview then concluded shortly afterwards.
The takeaways from my experience would be the ones I had shared in Part 1 of the story. I would however like to point out that you need to have a diverse set of opinions about the Interview experiences from your contacts, friends and peers who have cracked CAT. No two interviews will ever be the same and the more depth and diversity you have in terms of interview experience information, the better equipped you will be. The takeaways I mentioned are just indicative and not exhaustive.
Wish you all the very Best for CAT and the Interview process.
Abirbhav Mukherjee
Abirbhav is curious about the details and the logic behind the things around him. He also loves travelling, photography and exploring the uncharted territories. Abirbhav is an alumnus of IIM Trichy (MBA 2016-2018 batch) and is currently working with L&T Hydrocarbon (Corporate Strategy). Passionate about the world of automobiles, Abirbhav has worked in various roles in Cummins, Keihin and Mitsubishi Electric prior to joining IIM Trichy. Abirbhav was also a member of the InsideIIM Student Team 3.0. He has also won L&T OutThink 2017 B-School competition and has represented India as a Youth Delegate in Sri Lanka. He would love to hear from you on Facebook, LinkedIn or Instagram.