KIAMS Director Dr. C.N. Narayana shares his views on the KIAMS differentiation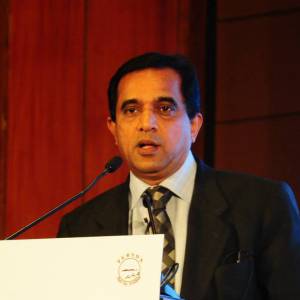 "In KIAMS vision of 'Excellence', my focus is primarily to build the academic rigor to give KIAMS students the skills needed to succeed in the competitive world and to reach the pinnacle of success", says Dr. C.N. Narayana, Director KIAMS, who has recently joined the institute. He was sharing his understanding of the vision of KIAMS is to provide society a center of learning that excels in Management Education, Research, Training and Consultancy. His efforts are directed towards encouraging the faculty members to bring more output on research and publications. "Training and Consulting will automatically follow once we excel in Education and Research", he adds. KIAMS has the Centre for Executive Education, which is clearly focusing on Executive Education.
KIAMS, Director, Dr. C.N. Narayana believes KIAMS offer an edge over other institutes: "With KIAMS, students have the option of choosing minor electives like Marketing, Operations or even Finance, along with the major electives. This gives them a better opportunity to succeed at the time of placements". KIAMS also has a unique Industrial Study method, wherein the students are expected to look into the excellence model of specific organizations under the framework of CII and they are encouraged to learn how ratings are done in manufacturing and other industries. In addition to this, it has an 8-week summer Internship across various industry sectors. This gives every student a deep understanding of how various industries work on a day-to-day basis before they begin working toward final placements. KIAMS continually upgrades its curriculum to meet the industry norms. Beginning in the next academic year, the institute is migrating to a semester system and a 4-month LIP (Long Internship program), which will further strengthen opportunities for both the corporate and student community as a whole. These changes have been implemented with industry inputs to make them more relevant.
Dr. C.N. Narayana shares his opinion on PGDM, saying that the program has a stronger focus on industry and student needs, vis-à-vis MBA programs. It has a highly dynamic curriculum focused on industry inputs. PGDM also includes better evaluation methods, case-study teaching and application focused delivery. These Diplomas are recognized by AICTE and commands better acceptance in the corporate world and amongst the student community, as the education and placements are better, too. He believes PGDM has and will continue to have its edge over university offered MBAs.
Work opportunities are growing today with the economic growth of the country. Employability, however, is a function of a student's performance. Explaining the grading system at KIAMS, Dr. Narayana said that in Management Education, especially in PGDM institutions, both relative grading and CGPA is widely used. KIAMS uses a CGPA out of 4 for every subject. A+ denotes 4 grade points, A denotes 3.75, B+ is 3.25, B is 3 grade points, and C is 2 grade points. Finally, a D is 1 grade point and an F is 0 grade points. According to Dr. Narayana, this shift in grading makes sense: " This is undoubtedly better than the 35 percent pass marks of the university grading system. The evaluation criteria is different – if you look at passing, which is equivalent to a "D", this will be more than 45 total marks. CGPA indicates better educational performance in terms of quality. But from the organizational perspective for the recruitment of quality students, it is just the first filtering criteria." In addition to CGPA, employers also look at aptitude and attitude when making recruitment decisions. Dr. C.N. Narayana is looking forward to leading the institute towards excellence and meeting the challenges of the dynamic world of business. "KIAMS strongly believes in shaping future leaders with holistic development apart from building budding managers. KIAMS has a consistent record of placement and has an edge over others in terms of corporate relations with the backing of Kirloskar Group." These words, coming from an evidently sure leader and visionary, set the stage for a new way of looking at education in the 21st century.
KIAMS Harihar & Pune
OUR STRONG TRADITION OF EXCELLENCE CONTINUES! We live in the world where winner takes it all and there's no place for the second best. Not only do you have to beat intense competition, you have to be at the top of your game and race ahead of time. The forethought of our Director is evident today and his vision is refelected in our main aim: "At KIAMS we aim to provide an outstanding education, academic, social and extra curricular, which give opportunities for all students to excel, thus developing their ability to benefit themselves and others." You need to step up and take on the challenges, consistently hone your skills to be at your best. At the same time you need to keep yourself refreshed and rejuvenated to stay motivated and focused on your goals. Nestled on the banks of river Tungabhadra, is a 6 acre setting that promotes all this and more. Welcome to KIAMS, where idyllic setting meets intense learning atmosphere. A place where you will feel inspired to think creatively, and where the scope of your mind will be broadened so that you can unleash to its optimum potential. A BRIEF PROFILE Kirloskar Group Of Companies, one of the largest industrial conglomerates in India, has been growing and enriching lives for more than a century now. KIAMS was conceived as a training institute and knowledge hub in 1991. It was envisioned as a learning centre where Kirloskar Group Managers shared their expertise, experience and kept up with the latest concepts and movements in Management. In 1995, the training institute was opened to managers all over the country. ACTIVITIES • Management Development Programs - training and consulting education for industry executives • Consultancy - in India and abroad • Research