KIAMS organizes a highly engaging conclave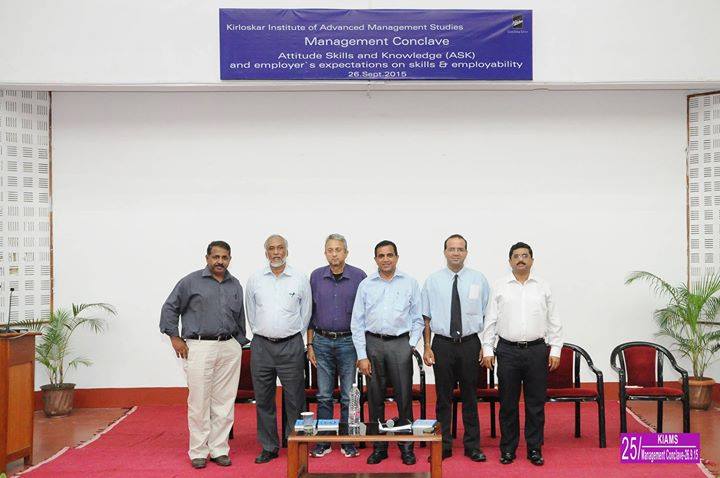 Kirloskar Institute of Advanced Management Studies recently held a conclave focused on taking the Management Education experience to the next level for the benefit of its students. "Attitude Skills and Knowledge (ASK) and employer's expectations on skills and employability" was the theme of the conclave that was organized on Harihar campus on the 26th of September. Since it is the Silver Jubilee Year for the institute, several initiatives will be organized throughout the year. The conclave, conceptualized by the Director of the institute and a result of his discussions with faculty members, kicked off the Silver Jubilee year events on a high note.
According to Dr. Narayana, "A Conclave is not like a guest lecture; you have to make sure it is a value addition to the student community, faculty and all participants. And the key to the success of a conclave like this is getting the best people on board." With his own years of corporate and academic experience, he managed to do that by bringing together eminent personalities like Dr. Mathew J Manimala, Professor, Organizational Behaviour and Chairperson, OB & HR area, IIMB, Mr. Swami Nathan Krishnan, Vice President and Head – Marketing, Coach and Mentor – Sasken Communication Technologies, and Mr. Shankar G. Rao, Chief Information Officer, BOSCH, Bengalur in the midst. Along with Dr. D. N. Murthy, Area Chair and Professor – Marketing, KIAMS, the Director helped students stay abreast with the latest in the corporate world, while making them realize what corporations and businesses expect out of them.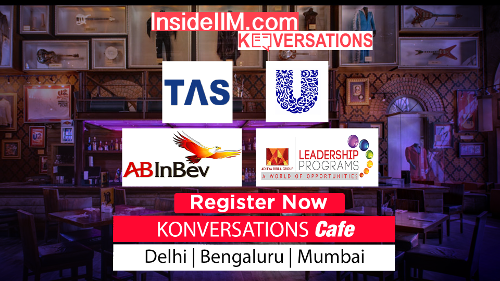 The interactive panel discussion, which was ably moderated by Dr. Narayana, was the highlight of the event as he managed to keep things engaging and relevant for students in the gathering.  During the discussion, Mr. Srinivas made an interesting point about SMART objectives for employment. According to him, "SMART includes S for specific, M for measurable, A for achievable, R for realistic, and T for Time-bound. Your soft skills are imperative and should lead your resume. Communication skills, honesty, integrity, flexibility persuasion skills and being a team player are some of the other abilities you need to possess to make an impression."
The conclave also saw Mr. Rao make a presentation on 'Next Generation IT in Manufacturing'. It was an eye-opening experience for students as it made them aware of the impact of IT today and in times to come. He drove home the point saying, "The world is changing at a very fast pace with everyone working with mobile devices. It's imperative that you keep up with the changes around you." Mr. Krishnan also made a presentation on "Employability or Employment" where he stressed on the importance of 'x-factors' when he said, "You have to develop your own 'x-factor' to stand out and boost your prospects."
The audience already stimulated by the discussion was further impressed with Dr. Manimala who focused on the key aspects of Attitude, Skills and Knowledge and revealed how important these three pillars are for any management graduate. The conclave, which according to Dr. Narayana was conceived to keep management students in tune with management and corporate practices globally and in India, had lived up to its goals. This further boosted the Director's resolve as he reflected, "We have realized that when you talk about changes in management education, being connected with the industry is of utmost importance. We will also go through our own transformation process to keep up with market changes."
The conclave left students yearning for more and Dr. Narayana did not disappoint with his planned pipeline, "I hope to hold at least three conclaves in this academic year. They will deal with different topics like perhaps Marketing Research, Operations or Finance for that matter. We want to take things to a higher level and set our own benchmark so that we progress effectively." The students at KIAMShave much to look forward to.
KIAMS Harihar & Pune
OUR STRONG TRADITION OF EXCELLENCE CONTINUES! We live in the world where winner takes it all and there's no place for the second best. Not only do you have to beat intense competition, you have to be at the top of your game and race ahead of time. The forethought of our Director is evident today and his vision is refelected in our main aim: "At KIAMS we aim to provide an outstanding education, academic, social and extra curricular, which give opportunities for all students to excel, thus developing their ability to benefit themselves and others." You need to step up and take on the challenges, consistently hone your skills to be at your best. At the same time you need to keep yourself refreshed and rejuvenated to stay motivated and focused on your goals. Nestled on the banks of river Tungabhadra, is a 6 acre setting that promotes all this and more. Welcome to KIAMS, where idyllic setting meets intense learning atmosphere. A place where you will feel inspired to think creatively, and where the scope of your mind will be broadened so that you can unleash to its optimum potential. A BRIEF PROFILE Kirloskar Group Of Companies, one of the largest industrial conglomerates in India, has been growing and enriching lives for more than a century now. KIAMS was conceived as a training institute and knowledge hub in 1991. It was envisioned as a learning centre where Kirloskar Group Managers shared their expertise, experience and kept up with the latest concepts and movements in Management. In 1995, the training institute was opened to managers all over the country. ACTIVITIES • Management Development Programs - training and consulting education for industry executives • Consultancy - in India and abroad • Research