Kishore Kumar with pre-MBA experience of 8.5 years joined Adani Institute of Infrastructure Management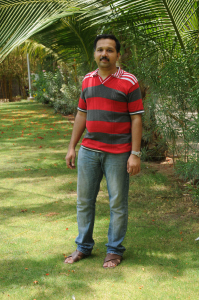 When you have the kind of experience that Kishore Kumar has, a regular MBA is quite unnecessary. With 8.5 years of focused work in organisations such as Bharat Electronics, Bangalore, Visakhapatnam Port, Mumbai Port and Megasoft Ltd., – where he was setting up the Fire Control Radars for Indian Navy K-class & B-class warships – only a highly-specialised Executive MBA would do.
"My initial inclination was towards Civil Services primarily because of interest in Rural infrastructure development. During my brief stint with Rajiv Gandhi University (AndhraPradesh- Rural IIIT) as Assistant Professor, I realised that I should put my industrial experience to good use for Rural India. That's when I decided to get into a Core Infrastructure Program. Adani Institute of Infrastructure Management was the obvious choice."
A B.Tech from NIT Pondicherry and M.Tech from NIT, Delhi, Kishore Kumar enjoys the immense flexibility built into the AIIM curriculum.
"At AIIM we get to choose the Adani Infrastructure vertical we'd like to have our industrial guide from. I've chosen an internship project that takes a look at the maritime agenda of the Ministry of Shipping proposed in 2010. The Ministry of Shipping had projected goals for 2020. I am reviewing the same for Container business, in the light of the current industry capability and whether the ambitions of the government can be achieved in the timeframe."
Kishore Kumar is happy about the fact that the internship roadmap begins in the 2nd semester, as opposed to earlier, when it was initiated in the Final Year. He singles out the faculty as the greatest strength of AIIM.
"We get real time industry inputs, and we are able to directly associate developments in the infrastructure domain with the subjects. Dr. Ravindra Dholakiya, an eminent economist working with IIM-A and the Indian Government and Dr. Indira Parikh, former dean of IIM-A and one of the pioneers of organizational development & design and Institutional building, are really impressive. Then there's Prof. Arabinda Triphaty, former dean of Vinod Gupta School of Management, IIT Karaghpur holds Ph.D (Operation Research) from London School of Economics. Prof. DeeptiRanjan Mahapatra, an alumnus of IIM-A is exceptional in his grasp of infrastructure policy regulation, Infrastructure Development, Oil & Gas Business and energy economics & policies and Prof. Pramod Yadav, also an alumnus of IIM Ahmedabad, is amongst the finest teachers that I've learnt from. Prof. Preeta Vyas is truly gifted when it comes to simplifying the Marketing & Business Development aspects of Infrastructure. Dr. Amit Shrivastav, professor in finance & accounting makes one of the most dreaded subject child's play"
Kishore enjoys the fact that the pedagogy at AIIM is entirely case study based. The cases are directly from Harvard and focus on the fundamentals and concepts of Infrastructure business in real situations.
"The practical nuances taught at AIIM are not taught in any other B-schools in the country. We get 2 industrial visits in the course, and one of them is at the largest Private port in the country, the Adani Group's Mundra Port in Adani Port SEZ. We actually stayed there for 5 days. We've seen the complete end-to-end vertical integrated infrastructure business model – from mining coal to ports and shipping to power generation and transmission – including the state-of-art solar 40 MW power plant and other is GIFT city Gandhinagar visit. The kind of exposure I've had here in just 1 year is unheard of."
Kishore Kumar believes that a PGPIM from AIIM is a long-term investment, one that is good enough for him to take a 6 Lakh loan along with few of his savings to fund the executive programme. He knows that while he'll be starting his career as an executive/Manager in an infrastructure company – possibly Adani – he will be growing at the same pace as the infrastructure industry.
"We are only the 6th batch and many of our seniors are already doing very well as consultants, Managers and Executives to CEOs, not only in India but in the Middle East as well. The market is well aware of our credentials now."
Kishore believes that while AIIM is uncompromising when it comes to the quality of its students, faculty and infrastructure, the institute has to increase its current in-take and let more aspirants and passionate professionals gain from the course with peer learning.
"The PGPIM from AIIM is the best course you can do if you have about 3 to 4 years in the Infrastructure field or feel passionate about the domain. It is not available anywhere else in India. You can conveniently claim that this is as good as any premier b-schools in the country."