Konversations Curates – Placement Edition #4 – Powered by Aditya Birla Group Leadership Programs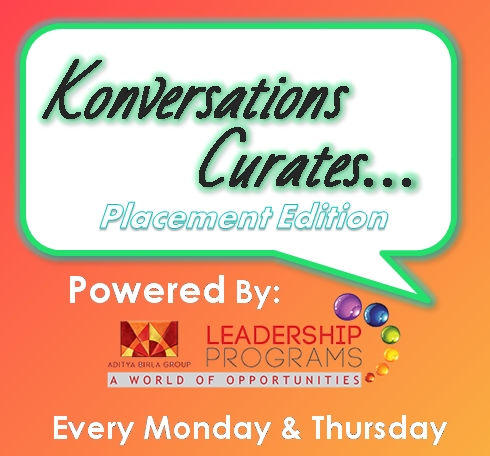 At Konversations, we always want you to keep learning and improving.
Speaking of, we bring you Konversations #Curates – The Placement Edition in association with ABGLP.  In this special series, we focus on the #placement season, with some special resources to help you. We know that you have worked hard over the years to reach the level where you have. While getting a great job is far from the finish line, why hold back right now?
Every week we shall cover :
One article around the interview process.
One article on a key sector and its overview in India,
One article on current affairs that can come up in the selection process.
One article on a great case study you can refer to during your interview/GD.
One article on helping you choose the ideal job.
Here is the next installment of Konversations Curates – Placement Edition!
1. It is a common misconception that since extroverts like talking, they do better at impressing the panel during interviews. With good planning and practice, introverts are capable of nailing the toughest of interviews. Read on to find out how an introvert should prepare for interviews. https://theundercoverrecruiter.com/introverts-interviews/

2. Nearly 70 years after gaining Independence, agriculture and allied activities are the source of livelihood for more than 50% Indians. Read on for an analysis of Niti Ayog's recently introduced Three Year Action Plan with the goal of doubling farmers' incomes by 2020. https://thewire.in/133387/mission-2022-ails-indian-farmer/

3.  "Mom, Sanjay has a brand new bat that's not even better than his old one! In fact, it's bulkier, but I sooo want one toooooo!" This was exactly my thought on finding out that Ola purchased FoodPanda and is investing heavily in it to compete with UberEats (which, btw, is not doing well at all). Here's what we know about it. https://techcrunch.com/2017/12/18/ola-foodpanda/

4. The Samsung-Apple debacle is among the top favourite debates in the millennial world. However, there's something that few people know – Apple needs Samsung in order to exist. Intrigued? Check out this video – https://www.youtube.com/watch?v=o5xxIciBSME

5. A common but effective advice for most youngsters is to find out their strengths and capitalise on them. But how do you distinguish between what you think might be your strength (just coz it's something you enjoy it) vs what is your actual strength? Clifton Strengths Finder is one of its kind online test which gives you a better idea of your strengths and weaknesses, enabling you to choose a field of work accordingly. http://strengths.gallup.com/help/general/125525/Clifton-StrengthsFinder.aspx
Want to read more such stories and excel during placements? Check out the previous editions here.