A Letter To MBA Aspirants From A Non-IIM Student
Dear aspirants,
I'm pursuing my MBA and neither do I have any IIT tag with me nor do I belong to any IIM. Believe it or not, but yes, I and much more like me exist in this world of b-schools.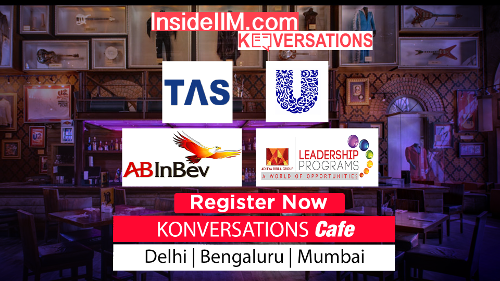 I'm a non-IIT engineer pursuing a non-IIM MBA and in tandem, breaking the highly merchandised and stereotyped existing bubble of IIT-IIM. I'm a student of a non-IIM yet a premier b-school. And the value of my MBA is as same as that of an IIM.
So how do my non-IIM MBA and non-IIM life look like?
Alike IIMs, classrooms here, wake up at 9 AM and on a side note –  the roosters and hens wake up at 8.45 AM after they hit to hay at the time when the sun unfolds itself amid the moon's escape. Mouths crammed with breakfast, the formally-dressed marathon to classes, eyes going through kindle case studies are few common morning scenes in the campus.
Everything that happens at an IIM, happens here too, at a non-IIM. Podium meets several professors, marker converse with whiteboard in sixteen different languages, brand and advertisement talks, people-focused conversations, market and monetary calculations, surprise evaluations, club-committee-forum work amidst assignments, senior-junior cricket matches, Krish-Ananya tales, case presentations, pizza parties, corporate leader's interactions, festivities and celebrations, nocturnal discussions, exchange of notes, CSR events and many more.
Talking about my MBA, it is no less in value than an IIM MBA (better it be called PGDM!). Industry exposure, live projects, knowledge material, apposite guidance, internships, discussions – everything is on the similar lines. The only differentiating factor is that IIMs enjoy established legacy while non-IIM b-schools enjoy establishing the legacy.
And at the end, it's about learning and making most out of the MBA program and I believe it's not the institution one belongs to make one but it's ones' only efforts that define one. It's the passion and intellect that revolutionise and build up one's personality. All the resources are equally available to everyone – be he/she is an IIMian or non-IIMian. The only thing is how one makes use of these resources in the best way and achieve the breakthrough. The onus of delivering performance is on oneself and not on the b-school one is studying in. As said by the director of one of the IIM that an MBA does not mean a career in business – it means excellence in whatever you do. So, stand, start and shine. And remember one thing, b-schools shine for their students shine and not vice-versa.
Therefore, alas, if you can't make it into an IIM then don't worry, even thousands of us are studying in premier non-IIM b-schools and excelling in our respective disciplines.
And on the concluding note, "If IIMs have Chetan Bhagat, Harsha Bhogle, and Indra Nooyi, non-IIMs have Sona Mohapatra, John Abraham, and Chanda Kochhar!"
With love,
A non-IIM MBA student