Life at a Business School!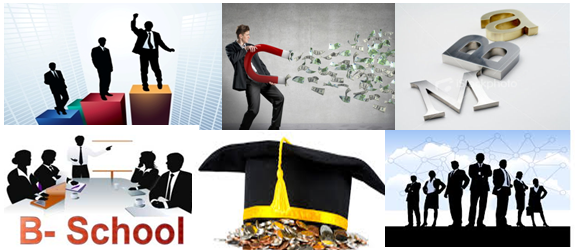 When a fresh graduate walks through the enormous gates of any of the premier management schools, he or she will be geared up to face a new challenge in their lives. But what they fail to foresee is that there is an all together different set of challenges that awaits them there.
Here is a quick guide to what you can expect at a b-school.
CP ( DCP)
All those guys who have come up through the 'traditional' educational system are in for a pleasant shock.  The people in b-schools are not just happy with you being somehow present in the class (at least physically) but you are supposed to talk and contribute in the class. This is called the case based method of teaching and is incorporated so as to increase the peer learning.  And in order to motivate everyone to take part in this, there is an evaluation component called CP (class participation).
I am sure everyone is fine with whatever I have said till now. But now it starts to get tricky!! Being a competitive environment that a b-school is, this particular component makes people do weird things (rather say weird things). This makes the discussion interesting/irritating depending upon the kind of person you are. Now you know what DCP is – Desperate Class Participation.
Trust me, whether you like it or not, this is going to be one of the significant parts of your b-school experience.
POR
You would have had to fight it hard to overcome a lot of competition in order to get into a b-school. But well, that's just the beginning of things to come. There are a lot of clubs, committees, events and what not.  You will be expected to compete with your batch mates, do 'pre-processes' 'so as to get into those bodies. In your undergraduate college, the aim of getting in to those clubs and committees would be either because you love it or you have someone whom you love in it. But this is a business school. So the aim here is different. Here it is because you can write down those PORs in your resumes at the time of placements. Still wondering what a POR is? It stands for Position of Responsibility.
Group assignments
I am sure everyone would have loved group assignments in your schools days and your college days. It is one opportunity to hang out with your friends and do interesting stuff. Please do not carry those images to a b-school. At the risk of being sounded repetitive, I say again. This is a business school.
Here, more often than not, group assignments can be a painful experience. Have you ever heard of the term free-rider? Well, it refers to someone who does not actively take part in group assignments. I wonder why I never heard this in my undergrad college. So, if you are not active or you don't know much about the group activity, then you will be labelled a free-rider. And trust me; it sticks with you throughout your life.
Globe
Disclaimer: This has nothing to do with the spherical object that was introduced to you in your geography class.
I am finding it a bit difficult to explain to you what globe means. Suppose someone wants to explain to you something. He or she explains it to you in simple language. But you don't understand it, now you have every right to say that he or she just 'globed'. Take another scenario, the very same person explains the very same stuff in a very complicated way. Stiff you don't understand or you feel the explanation is too generic. Now you know what to call that person-'Glober'.
Still you haven't understood what globe is?? Well, just look at the explanation that I gave you in the above paragraph. That pretty much sums it up.
Jargons
This is what you finally learn from the two years and couple of lakhs of rupees that you invested in a management education. You learn a lot of things in these two years- ranging from economics, finance, marketing, strategy etc.  But finally what sticks with you is a few words of the trade which we call as jargons. These are words that people before you have learnt and are what people after you are going to learn. And this is all management education is. It is all relative grading. You learn jargons that your boss knows and what your future subordinate is going to know.
I don't want you people to think that b-school is all bad. You just got only a minuscule picture of what happens at a b-school. You are all welcome to come over here and see the full picture for yourselves. And trust me; you all will definitely like it because b-school will open up a new world for you.
All the best!!
Mathews Mathews
PGP '16 | Indian Institute of Management Indore