Life @ MICA – From the eyes of a Newbie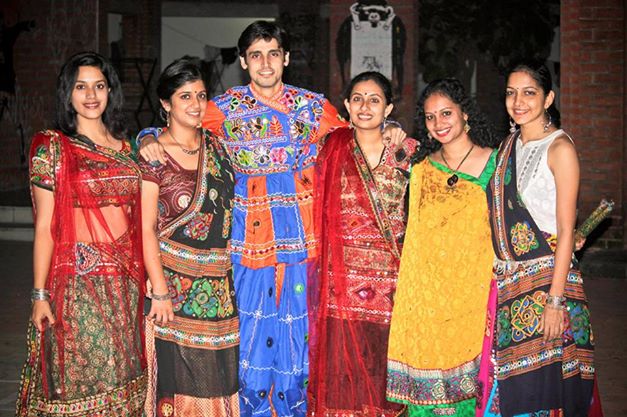 I wrote this post Sem 2; should be useful if you plan to make it to MICA/ are already one among the 'chosen ones'.
It is not a school….MICA is an experience.
(I wish I wasn't a part of Team Interface so that you trusted me to be doing this because I genuinely felt so. If you don't, you are invited to the museum and visit me and the other unique residents MICA proudly attracts, displays and cherishes. )
Now, let's begin the museum tour.
The People: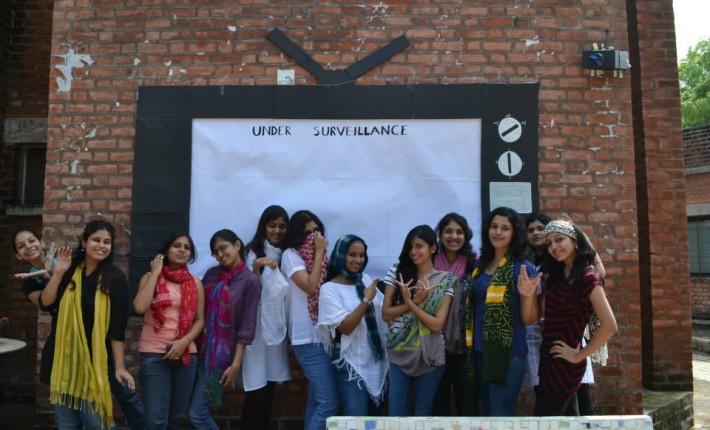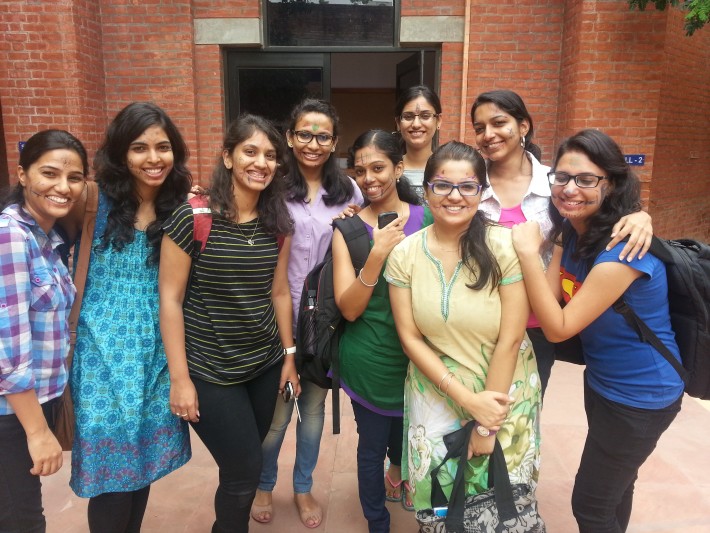 All said and done it is questionable if students have learnt more about Marketing Communications from books or people. It almost as if MICA chose music, dance, art, athletics and academics as parameters for selection. You never think of people as the spot offer ones or ones that cleared CAT/XAT and MICAT (and now thou shall commence the battle for marks) but for the distinct talent/s that these individuals brought along with them (along with their culture and accents).
PGP has stars…no really! Listen to Varchas play the drums or Ankur sing or see Balaje play football or Akhil's superbly edited videos or or Siddharth and Yash's photography or Megha's dancing or see Kumar Aditya's doodles or see Meera's acting on stage…you know these people take their shit seriously…very seriously. As time passes, a few more hidden rough books of shy artists will become public. And of course, there are seniors who reinforce the tradition of talent MICA has- Nigel who covers the football field like Ussain Bolt, Sukaran whose CV still gives me the shivers, Sanket who can make anyone laugh till they drop and so many more (err…who might be pissed at me for not mentioning them)!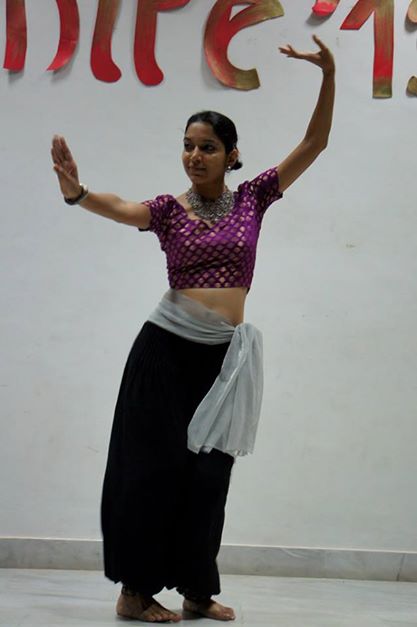 In our batch, we had two people who fractured an arm respectively and you don't see them whining. You see them playing badminton against each other while the rest cheer and laugh in amusement! One of them even coached the football teams before the tournament. You see red, swollen eyes in the morning and you know they were as likely to be practicing their art as they were to be studying.
One can only imagine the herculean task the placement committee has whilst representing the batch and pitching to employers. I wonder if they (employers) can gauge what kind of people they are looking at seeing us on a pie chart or when PlaceComm declares 'We are different…. MICA is different'.
The 52-48 sex ratio makes me very proud. And we are a good looking bunch too (Courtesy: Remarks made my engineer friends).
The Classes:
Like every student I have my favorite- Prof. Rohit Trivedi. Other than the fact that he possesses dilated pupils (because of his passion for the subject) like me (because of MICA in general), his enthusiasm and knowledge is absolutely infectious! I can't think of a better teacher for marketing, my favorite subject in the MBA gamut. His experience in case study solving and teaching is phenomenal- I can only compare it to my experience at Harvard when we solved cases on social entrepreneurship. He always backs up concepts with examples…apt, memorable examples (courtesy: KEIC's phenomenal collection of really ancient and contemporary ads…more on this later) and detests a passive audience. We are literally put in the throats of the characters/managers and almost-lawsuit follows that gives us more to reflect on, more insights. Being a BBA student I wasn't expecting too much novel learning but whoa! I was so wrong! It actually feels good to see him after you're back from vacation, home sick, dissatisfied about waking up on time and nostalgic. Need I say more?
Each professor has his/her own USP that makes them stand out and make an impact on our understanding of the subjects. Most have oodles of degrees and teaching experience and baffle us with half-hearted-work-proof, pfaff-proof and plagiarism-proof assignments and tests. So much so that when some of us were discussing 'their ways' whilst returning home during vacations in the train a fellow passenger exclaimed "You are talking about Prof. Panda, aren't you?" and you can't help but be amazed with how their USP travels far and wide outside MICA. If we forget to place our name tags before us we are likely to be called 'Phulan Devi' or 'Amitabh' or whatever comes first to the mind of the professor when he/she sees us.
It only makes me more eager to learn and grow when I listen to a senior talk about how wonderful his neuro-marketing, semiotics and consumer insight class were (many B-schools do not have these new and insightful subjects [shakes head in dismay]). Marketing as a management and creative function is evolving but so is MICA's curriculum. Also, any kind of stereotyping at MICA is a strict no-no.
Marketing Beyond Class:
Right from pitching to get selected in a student committee to marketing MICA events to the various competitions that fill your mailbox- marketing at MICA never ends. As a part of Team Interface, we are learning how to manage MICA's branding and relationship with stake holders in real time- be it Press, Social Media or Admissions. For SCAM, CulComm, Sankalp, Jagriti, MLS and Studio7 marketing to and connecting with the internal audience is as important.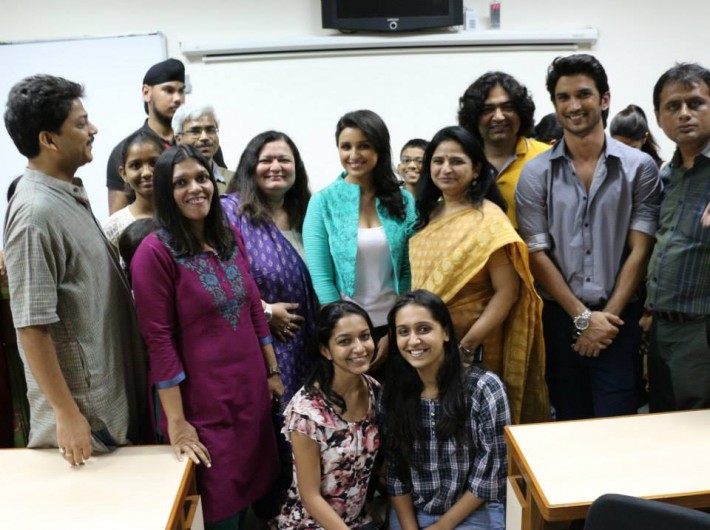 KEIC- The four letter acronym stands much more than a notion of a regular library for a MICAn. The head, Mr. Shailesh Yagnik, with his absolutely pleasant demeanor and personification of 'Always at your service' attitude makes you as reminiscent of Best CRM practices in the industry as much as he reminds you of your selfless grandpa (Did I hear an "Aaaw…"?). KEIC with its enormous amount of marketing, advertising, communications and general literature first intimidates you. Soon, your dilated pupils find solace turning page after page of an interesting article from HBR, Afaqs, Vogue, Visual Merchandising or even a Psychology journal- KEIC is a subscriber to every world renown marketing /advertising / communications journal, magazine and website you can think of .  You can download literally the very first print/TV ad of a company or brand to the present radio jingle. With so much information at your beck and call, awareness, research and in-depth analysis of categories and brands is made much easier. If you are genuinely interested in the subject, it would be a shame not to immerse yourself in KEIC's offerings during the 2 years and make the best use of it. I am already experiencing FOMO (fear of missing out) as I type this! This is superlative compared to all our under-grad experiences.
The Events:
Besides committee events, every birthday is an event. Dunking the birthday boy and girl, excuse me, men and women with water, toothpaste, cold drinks, (and the rest I shall leave to your imagination) is inevitable. The roommate (and if you are unlucky, then the committee he/she belongs to) is dunked too.  Those whose birthdays fall during vacations or summer internships have the privilege of being dunked twice. Every Culnite (Cultural Night) and Sankalp play witnesses enthusiastic and passionate artists, dedicated behind-the-screen volunteers and an engaged audience. Like I mentioned, people take their shit seriously. I acted on stage for the first time during Mareechika. My character was supposed to laugh, howl, cry (twice and literally) ,blush and scream (besides remembering 250 odd dialogues) in the span of 2 hours! Now that I have tried it, I want to do it again. MICA gives you a lot of firsts.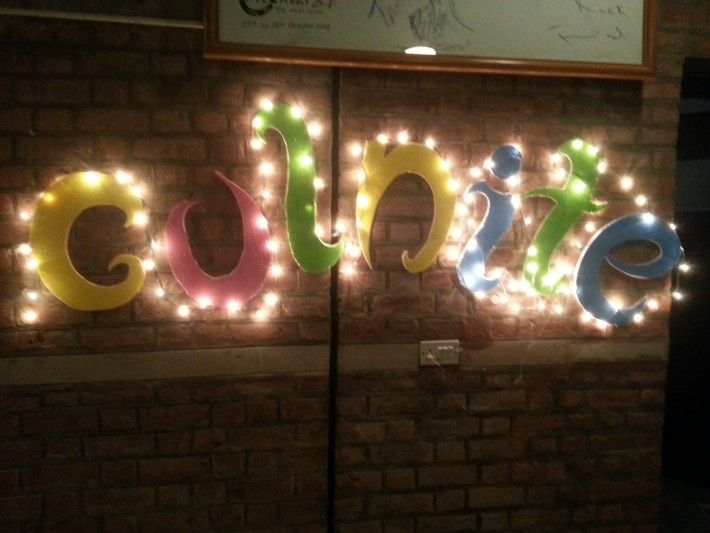 And I don't know which other B School other than MICA would have a quiz on the Big Bang Theory series!  MICA Lecture Series organizes talks not only by eminent corporate head-honchos but also people from whom we have a lot to learn as individuals and marketing communications students of India e.g. talk on UNICEF India's communication by Ms. Caroline Den Dulk, talk on 'Gender Identity Crisis' by Prof. Shreya Lalwani, etc. Culcomm attempts to make every festival special. MICA had its first Jewish New Year celebration this year and I couldn't be happier.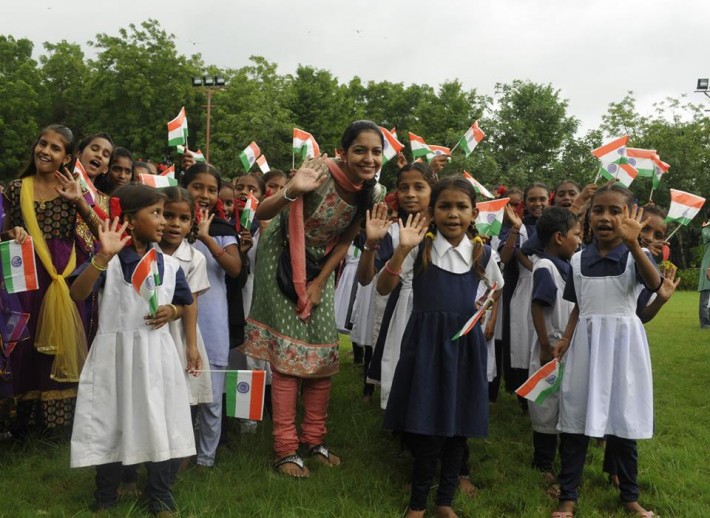 Living at MICA: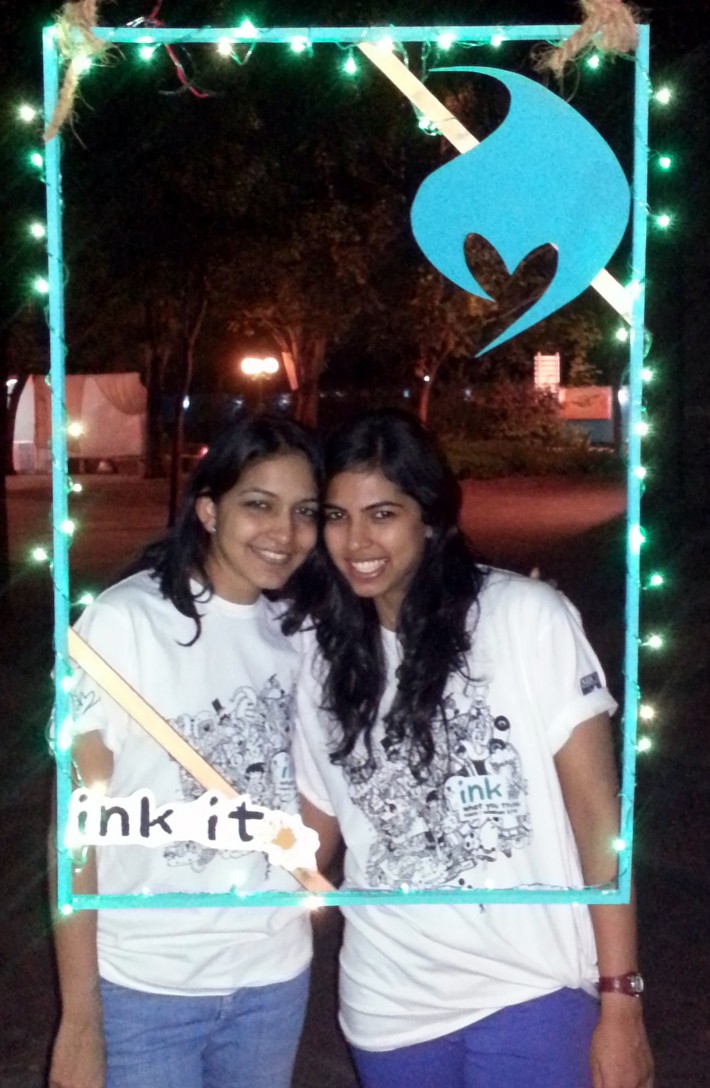 So, I have a friend at premier engineering institute whose ends-where-it-begins room had scared me and I was expecting a similar arrangement at MICA. To my relief, the rooms are decent for twin sharing. What's more exciting to a PGP-1 student is having a room to him/herself next year. We paint our rooms as per our imagination and interest and rice lights are the second most common thing MICAns possess after the MICA ID card (Double sided tape is the third). Students actually go to the Bopal market to pick an appealing shade, online for posters and to traditional-goods stores for colorful pillows, handicrafts, bed sheets and so on.  I am unfortunate to have the thermocol-coated wall (I live next to the bath room) but I made mine into a picture collage.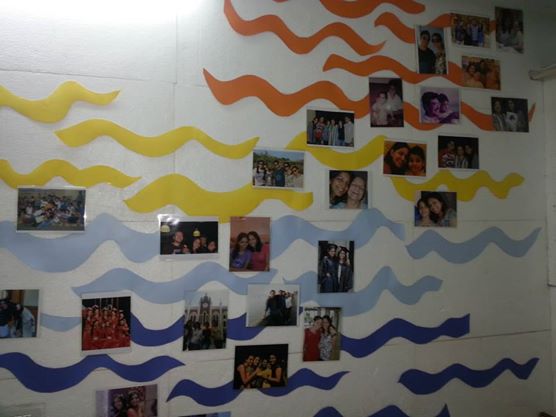 The afternoon can be quieter than 4 AM in the morning. Students might just be star gazing or randomly singing a song of the play they witnessed last evening loudly or even finishing their assignments. The CMS (Campus Management System) is our go-to site for attendance, fees formalities, scores and time table. Even my previous employer didn't have such a sophisticated employee management system. All this is updated by the admin and we are notified every time an update is done. Memes are common and so are 'terminations' on email and Facebook or whatever your friends deem will be more embarrassing for you. The JMCSA (mostly referred to as jump-sa ) is student led democratic committee that oversees everything that may concern a MICAn and acts as an interface between us and the admin.
You can get a 360 degree look at some of the popular sites at MICA here:
https://plus.google.com/u/0/photos/116928878146740544662/albums/5916731070443896145
This is my first hostel experience and the learning is phenomenal- about living on your own and the logistics at home you took for granted, understanding your roommate's preferences and sleep cycles (you know them so well in 2 months it's as if you were married to them), managing finances  and of course the toughest one- time management. The mess recurrently serves ice cream, Chaas, Italian (once they even tried their hand at Hungarian cuisine and it was decent…I've been to Hungary FYI), coke, gulab jamun, kheer & other sweets and chicken/egg at least twice a week!
So there. I hope I've put all the carnivores' apprehensions to rest.  And since I am from Mumbai, home is just 7 hours away if I am home sick (MICA is strict about attendance so I am referring to the free weekends, if any). If anything, I miss my dance classes. So now I learn from videos that my teacher sends via Whatsapp and I am still going to be a part of the 25th stage show this December, when we have holidays. Jagriti's initiatives enable me miss my NGO-related work less. For example, last week we had kids from the Prabhat Foundation (that aids children with special needs) come over and I had a great time dancing with them (P.S. The picture below is not indicative of this line but the next).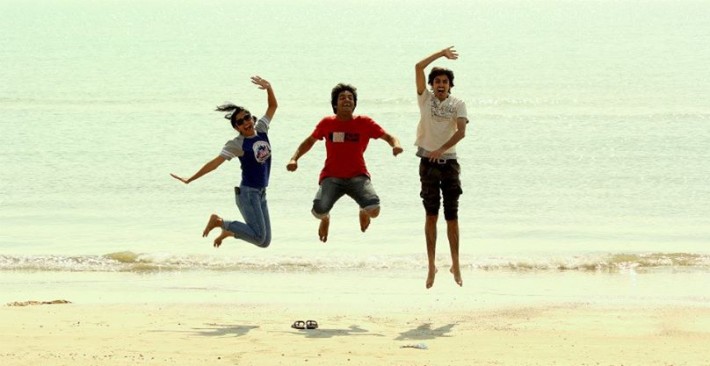 And of course, you can make a trip to the Rann of Kutch that dazzles in the night (not as much as they show in the Amitabh ad, but it does) and Kala Dongar to see the border in a 2k-per-person budget (if you own a mode of transport).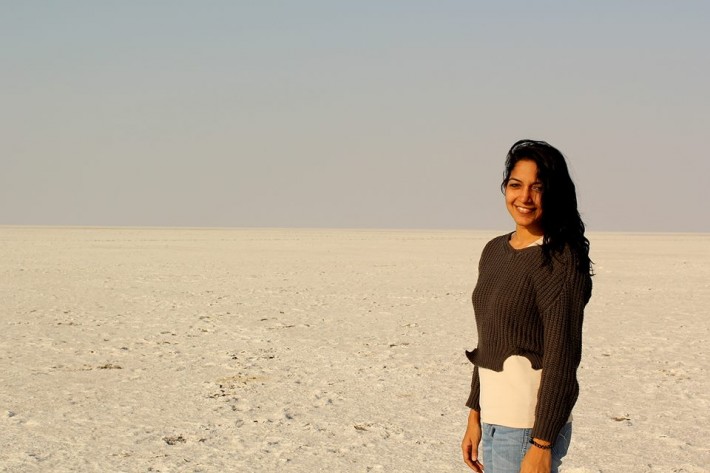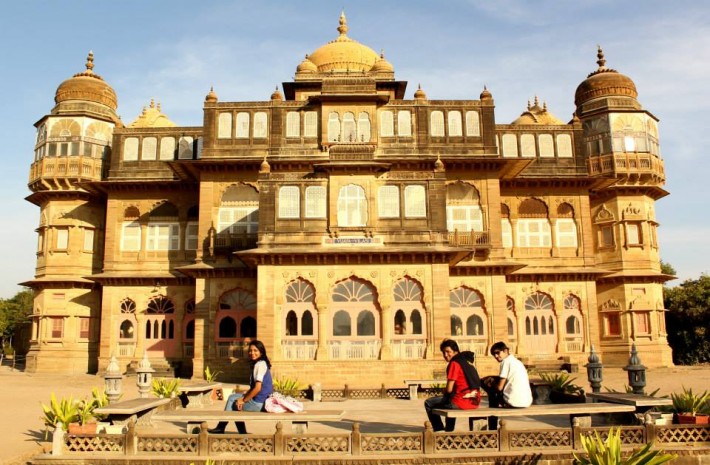 However, traveling to the city can be costlier than the food you eat the restaurant itself (Rs. 170 to get to Alpha One mall from MICA) but a great up side is the 15% discount for MICAns at Marriott for breakfast…which is elaborate and scrumptious! You also shouldn't miss cupcakes from Buttercup at Sandesh Press Road (any MICAn can swear by their consistent quality and taste) and Magic Chicken if you are a die hard tangdi lover! You can also pick your favourite ricksha walla out of the 4 popular ones, who charge reasonable rates and wait till you shop/eat (depending on your frequency of business that you generate for him and PR skills). We also have Parasbhai who operates the in-house laundry service if you are too lazy or busy to wash or iron your clothes for a nominal charge of Rs. 7/clothing item.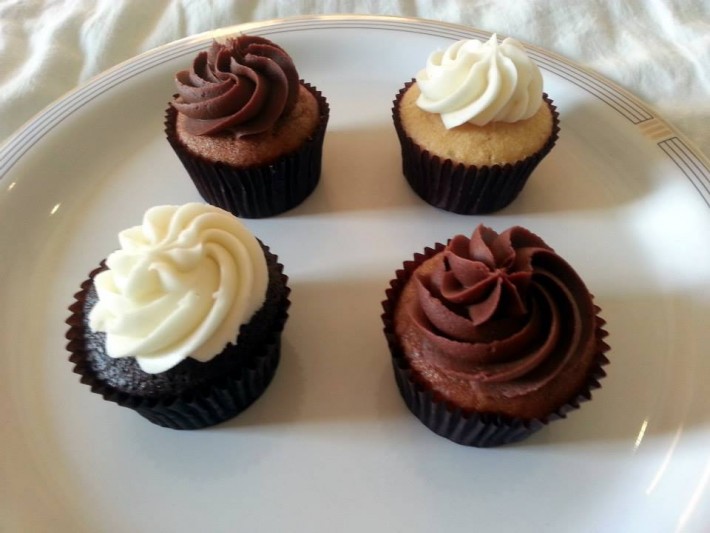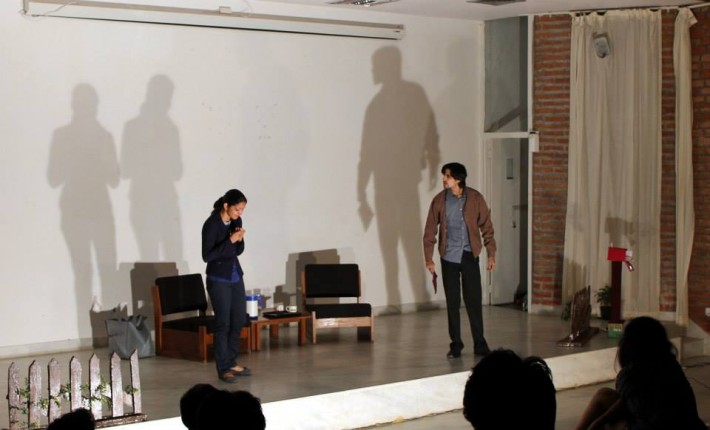 I believe what MICA, being from an entrepreneurial state such as Gujarat, embodies is innovation and a focus on relationships that businessmen- right from rickshawallas to CEOs- deem imperative for business. Coming from a city like Mumbai where time tends to emerge more important than relationship-building and the focus is shifting to efficiency, my first visit to Ahmedabad was a good change. It brought back old times when people who provided goods/services in return for your money would engage in a casual conversation or help you with additional information, not necessarily about their offering. And it's often this additional interaction that ties you with them and keeps you coming back.  MICA's focus on communications with a strong consumer focus and getting into the very intricacies of the art of marketing reignites my passion for marketing as a career and has reinforced my decision of choosing MICA over other B-Schools.
Jennifer Jacob is a second-year student at MICA. You can follow her on InsideIIM here.
Read about Jennifer's summer internship experience at Lóreal.