Life Of An IIMU Student In MLSU : The Last Chapter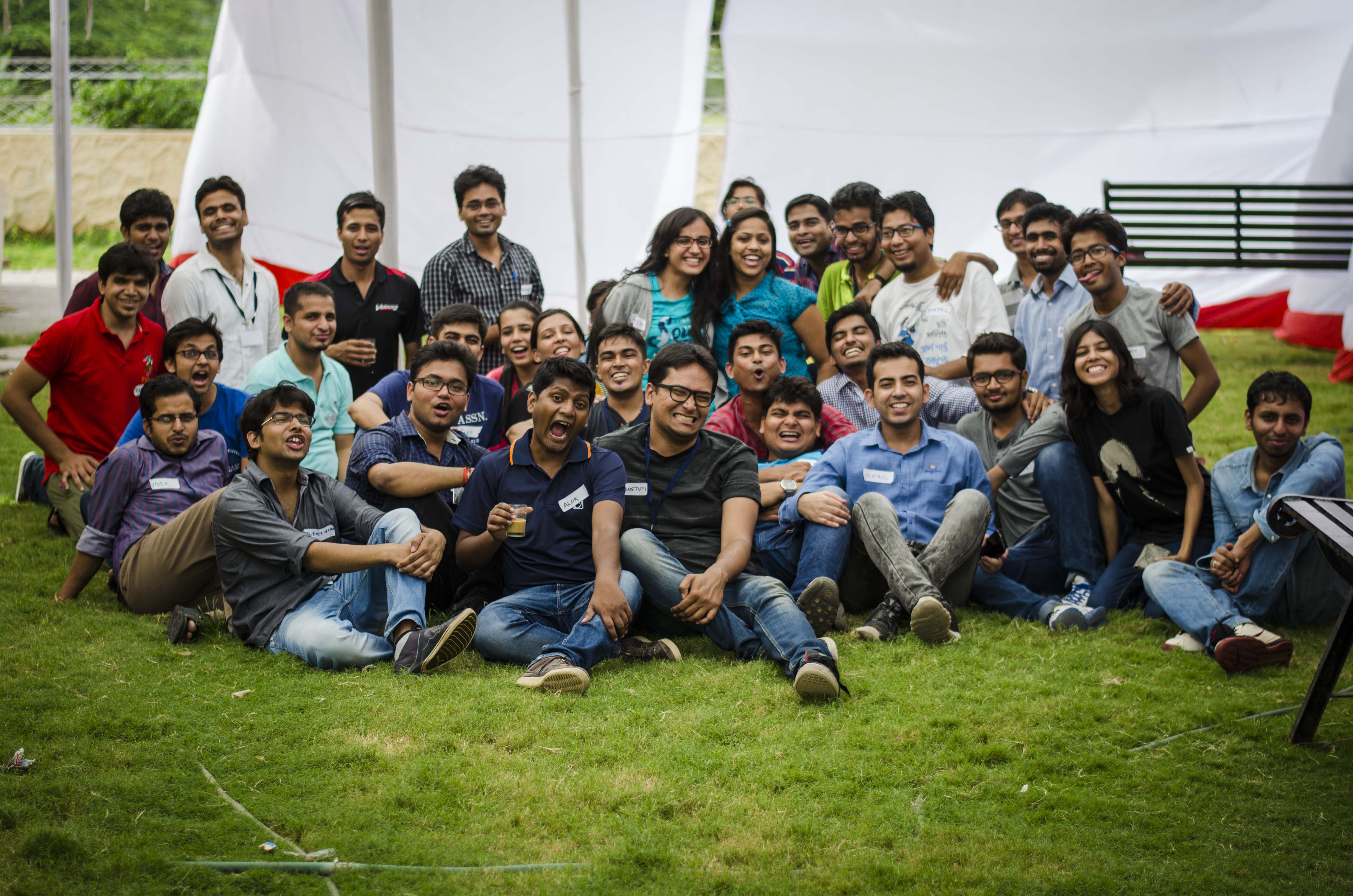 Excerpt From the Diary of a masked Vigilante under cover at IIM Udaipur : They have not discovered my identity yet. I am therefore uninterruptedly learning the IIM ways. The last encounter with my mortal enemy Bane had left me injured and broken. I am gradually recovering now. I have been here about nine months now, nine strange months. Time tiptoed, and when no one was looking, it sped. Some days found them pouring over assignments, skipping dinner to avoid the reprimanding mail that arrives from the professor if the submission is late by twenty three and a quarter seconds. Some days found them partying hard and waking up the next day with blurred memories of the night before. Yes, they indeed have a good time here. I am gradually learning to balance it all. They seem to all know me here, and frequently wear TShirts bearing my mark. I feel encouraged to reveal myself sometimes but I don't want to disappoint the forty odd kids who pretend they are Batman.
Mornings here do not start inside the campus, but a little way off. Some steps away on the benches beside "Deepak's Thela" or "Himmat Bhai" shop. Dewy eyed morning tea and sometimes other 'refreshments' wake up the sleepy heads inside hostels. But this privilege is on days you do not have a morning class. In case you do have one, begins the eternal struggle between hunger and sleep. Sleep usually wins. The more resolved ones walk determinedly to the mess and queue near the Parathas.  The four minute walk from mess to the campus is a special one.  That shortcut has seen them run on emergencies to beat the digital clock and lonely and slow sometimes. That road has seen the occasional regal strut of missing a class when they walk away with the poise of Poison Ivy, sipping on an Appy from Mahesh's tuck shop, as classmates look on in jealousy. Some try to convince them to stay with the mannerism of Alfred asking me to settle down and get married. Of course, they don't wait, unless there is an assurance from the other section that today's class ended twenty minutes early. They just love those professors who treat them with an extra twenty minute of chilling around! Nothing, however can take away the pain of staying in class an extra five minutes. The subject CR for the next class is suddenly the celebrity as everyone gathers around the poor fellow with extension requests. Mahesh's lonely canteen is suddenly bustling with one fifty customers all at once. Chay, coffee, samosas delicately balancing sauce get passed around. The hands of the clock eventually snail their way to the 1:15 mark. Now time for the Lunch at Mess or Lunch Outside conundrum. The free birds summon a cab by invoking the holy word 'Ola' and go off to 'Paaji's. In the last five years, so many IIMU students have frequented this eatery that a special discount is in place now, on food and 'beverages'. I was planning on bringing the Batmobile here as well but there is a speed limit and I don't think I can wear a helmet over this mask ! Morning trips are frequent here but I can't go because the Batsuit heats up too quickly in the Rajasthan sun. That reminds me, I need to call Lucius Fox for some improvements on it.
Come evening, and it is club activity time. The stretch of road between hostels is busy with people carrying laptops migrating to a more preferred location for club meetings or group activities. Common rooms are booked by people pretending to do really important stuff. Well, it is indeed done for about thirty minutes. The rest thirty are spent in laughing, teasing the peers and seriously discussing the latest hot topic of discussion. Dinner time is special. The mess comes alive with laughter as age old songs with weird dance moves come up on the LCD and everyone cheers Sunny Deol clad in red pants and panting to match steps with Karishma Kapoor who seems to have caught the 'pink wearing fever'. On some days, The Dark Knight is playing and there is an unwritten code that nobody changes the channel. This makes me happy. I had plans to start a Crime fighting Special Interest Group here but the Council for Student Affairs might not agree. The other day Placement Committee caught me for not submitting my CV for review on time. They don't seem to be impressed when I tell them I have a butler and own an empire. Also my training under Ra's Al Gul needs to be certified by him. Where do I get that from now ! They just handed my resume back to me to me with plenty of underlines.
Team meetings after dinner are tough. A part of you just wants to sit around and tell them about your adventures and the angel side of you whispers "No son, you have a group presentation tomorrow. Prepare it or you shall suffer in class". Team meetings do happen eventually, at around 11PM. They are quick enough! These guys seem to be as crafty as Joker. As you wrap up, whatsapp squeaks from your pocket "Night canteen?" "Yes" The nightlife at IIMU begins! 12.30 at night in IIMU night canteen can easily be mistaken for 9PM. Everyone is calling for Parathas and queuing for Maggi while small groups sit around chatting unto wee hours. Ideas float around like party balloons waiting to be pricked and taken up and many an entrepreneurship venture has had its roots in these sessions.
MLSU is not their own, but still very much theirs. From the roads to grounds outside hostels, the bike rides to the night walks, they carry the essence of our life here. Friendships formed, the parties and the moments that made them weak and moments that made them strong and united – the hostel walls are witness to all these little stories that began as individual but got entwined with that of so many others. They would soon move and make a home out of the much awaited campus at Balicha. MLSU will remain a happy thought.
And me? I will return to Gotham and take on Bane.