Life At SIBM Bengaluru – Richa Deuri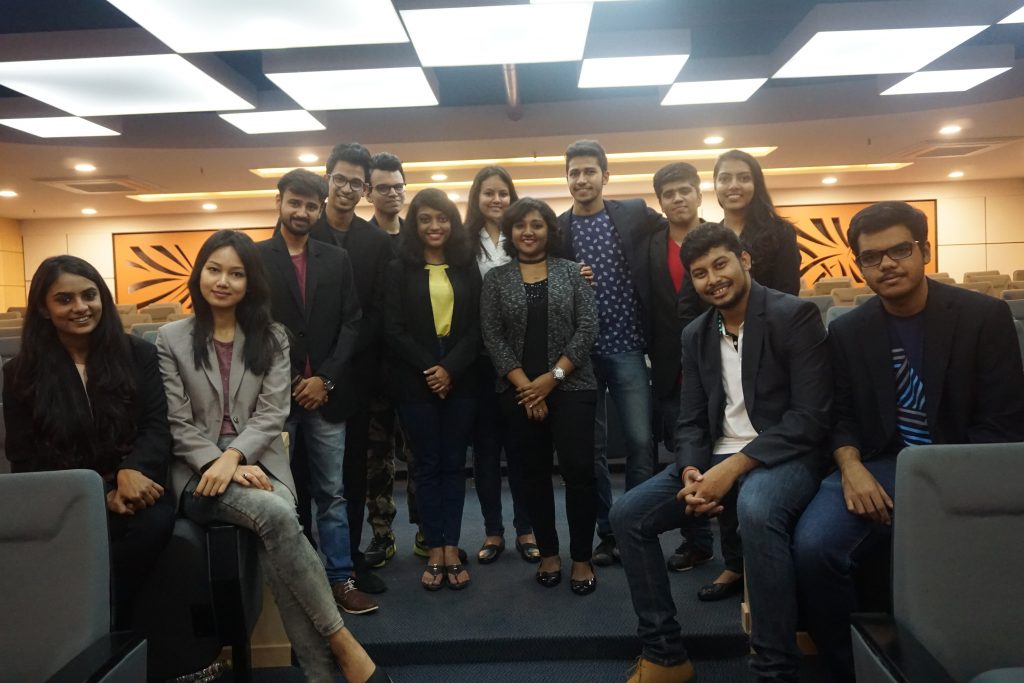 "We are what we repeatedly do. Excellence, then, is not an act, but a habit." – Aristotle.
As I wake up in the morning, I realize that I have little time left to get ready for the day which lay ahead. I witness my roommate sleeping and call out her name to wake her up while trying to put inside my bag – the books and my copy of that day's Harvard caselets. I always make sure that I have my special notebook in it that is just meant for penning down the work related to the Public Relations and Media Committee of SIBM B, the committee that I can proudly say I belong to.
Multitasking is a part of our life at SIBM Bengaluru, and by now, it has become a habit – a habit worth being fanatical about. A typical day here, starts at 7:30 A.M. in the morning (around 6 A.M. for the gym enthusiasts!), with students sitting down and consuming the delicious breakfast (YES! You read that right), before attending the classes which usually begin from sharp 9 A.M. to 4:45 P.M. From Pav-Bhajis of the West to Aloo-Poori of the East, from Dosa-Idli of the South to Aloo-Paratha of the North, we have it all. Few of us, who are the late risers, swiftly manage to grab a Sandwich, and hurry towards the classes.
We have been provided with state-of-the-art infrastructure and the best faculty. They provide attention to the qualms of each and every student, not just inside the classroom, but in their respective cabins also. Regardless of what background one has come from, by the end of the day, knowledge of present-day real happenings in the business world is gulped down by every student. The Harvard Business School case studies that we have been provided with, help us understand and solve real-life industry problems. Apart from the regular theoretical knowledge, these give us a practical glimpse towards business scenarios. The teachers here bring a 'Quantitative Difference' by focusing on data analytics too. From the library to the Bloomberg terminal, the institution has made sure that the students can reap the benefits out of the up-to-date infrastructural facilities.
We have various MNCs coming for our Summer Internship, which lets us encounter a real-time organizational culture. Being a fresher, an opportunity like this is what I had sought after.
As I stand holding my first call letter, I receive a congratulatory wish from one of my seniors, who is leaving for London on the Student Exchange Program organized by the college.
With 12 committees and 14 clubs, SIBM Bengaluru perfectly knows how to kill the dreariness from academics. The best part about a student-centric college like ours is that the sense of duty, teamwork, leadership, etc. is imbibed in the students. There is, in fact, more than one activity for everyone to relate to, by which they can take a break from a mundane day. The campus is always filled with the vivacity and the vigour of students hanging in and around the campus in groups, either in the cafeteria, the amphitheatre or the classrooms, discussing and preparing till late night for the upcoming assignments and having some chit-chat in between.
Life here is not just about people. There are two Labradors – Birr and Baht, who are the source of joy for anyone who loves pets. Someone rightly quoted, "A house is not a home without a pet." SIBM Bengaluru is a home to all, where one finds a family for a lifetime. When we witnessed "Samaagam – the Alumni meet", I realized the strength of bonds formed here. A family waits here for everyone. SIBM Bengaluru is an institute that witnesses and accepts the raw you and transforms you into a polished one.
As I walk past the academic block, heading towards the mess for dinner, I decide to go out for a stroll with my friends and breathe in the fresh air that surrounds the college as I get ready for the next day's schedule that awaits me.
About the Author:
Richa Deuri, a first-year MBA student (batch 2017-19) at SIBM Bengaluru is an active member of the Public Relations and Media Committee of the college. She comes from a major riverine port city, Guwahati, Assam and aims to build a strong career in the field of Human Resources. 'Jack of all trades' is how she describes herself and is always in seek of learning something new, by taking part in events and competitions. Holding a Bachelor's degree in Commerce, with honours in Management, Richa also has a keen interest in modelling and believes that she can create the magic of merging the two – Passion and Career.
SIBM Bengaluru
Ever since its inception in 1978, SYMBIOSIS has been synonymous with progress. The trend of progress has been continued by setting up of SIU's first campus outside Maharashtra at Bengaluru in 2008. SIBM Bengaluru is now one of the leading B-Schools of the country. The focus, now, is on matching global standards of management education. SIBMB instills a work culture which is unparalleled among various institutions. It provides a holistic approach to management which goes a long way in creating a dynamic identity. Vibrant student associations and committees complement the program with a number of activities involving institute-industry interaction.