Live Chat Transcript Of IIM Trichy Students On Preparation For PI And WAT
IIM Trichy shortlist is out now. Some of you will have done really well to get the call. We thought it would be a great opportunity to meet the soon-to-be senior batch at IIM Trichy to ask them about tips to prepare for WAT/PI and quiz them about Life at IIM Trichy.
Here are some excerpts from the chat: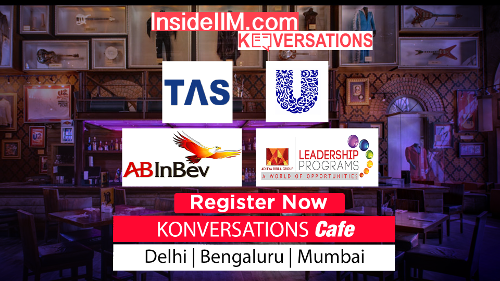 How should a fresher prepare for a PI?
You should focus on preparing the concepts of your graduation especially your specialization subjects primarily. They may ask you questions regarding subjects you were interested in and about your final year project/internship. Additionally, we urge you to think about some specific domain you are interested to get into in case you join a programme this year. Also, prepare for the Question ' what would you do in case you are not doing your MBA this year?'
Could you please shed some light on how the interview process would take place? as in what is the panel looking for (in a fresher specifically)?
Every panel comprises of individuals of different backgrounds; there can be an industry expert, along with Professors from various IIMs. So you can get a diverse array of questions depending on their breadth of experience. Last year, the panel comprised of 3 people and stress interviews were common. You should be confident about your answers, don't make any wild guesses and relax!
How is the campus at IIM Trichy? What about extracurricular activities?
We are currently based out NIT Trichy Campus and have a Sports and Cultural Committee to coordinate various cultural and sports events that are held throughout the year to keep us engaged. Believe us, when we say, our unofficial motto is : Work hard, Party Harder.
We have all kinds of amenities here through the NIT Campus, and have a football league here called the ITFL and a Cricket tourney called the Beryl Cricket League which even have their IPL Style Auctioning! The Cultural Committee is extremely active and conducts events year around! We have celebrated loads of festivals ranging from Onam to Diwali. Once we move into our State-of-the-Art new campus, we expect to have scope to conduct even more such events!
What about the companies that come on campus? what is the placement scene at IIMT?
There are a wide array of companies that come to our campus for recruitment. The placement reports can be perused at your leisure and our available on our website.
In short, I would like to tell you that we have a diverse array of roles available across variety of domains and functions. We have got excellent offers for marketing, consulting and finance across FMCG, BFSI, E-commerce and Consultancy
By when would the shift to the new campus happen?
We plan to move in next academic year!
Can you please shed some light on how to prepare for WAT?
With regards to WAT preparation, we urge you to be as prepared for the most important topics as possible in the last 6 months. The most important funda for WAT, is structure, flow and content. You need to structure your thoughts. Utilize PESTEL framework to add dimensions to your writeup. It should have a logical flow. Additionally, try to base your arguments on facts and numbers. It will help your points feel a lot more noteworthy. And finally, keep it short and simple!
In general to prepare to WAT you could look at topics which have been popular in the past like Make in India, Smart cities in India, new RBI policy , Digital India, the JNU scenario, etc. There are high chances of the topics being abstract too, so its best you practice writing a few essays and time yourself.
I can imagine a lot of these things seem easy but doing it all in less than 15 minutes will be the challenge. Do some mock write-ups and time yourself!
What about entrepreneurship at IIM Trichy? Is there an E-cell for that?
We do have an E-cell and they look forward to organizing even more events in the coming academic session, to energize the entrepreneurial spirit within students.
Is the batch mostly comprised of IITians/engineers? What is the diversity like?
The batch has engineers primarily, but we do have a number of people from Arts, Science, Commerce, BBA and other fields.
Is PGPM is a trimester one?
Yes PGPM is a 3 term a year course, with 6 subjects every term in the 1st year and you have electives that you take up in the 2nd year.
I was an intern for one year but in the form it was mentioned that the training cannot be treated as work experience so now how do I prepare for the interview?
I would suggest you be well prepared about topics regarding your specialization/subjects during your degree.
I do have some work experience in a company. So what I should do prepare specific to my work experience? In which topics will I be drilled down for being a Non-fresher? What reason I should give for leaving the company? Roughly I have one year work experience.
Well, they can ask you questions regarding your work- ex specifically regarding your domain. Panelists try to see your understanding of business functions beyond what you do – facts about your company, etc. Sometimes for IT applicants, they like to focus on technology and the kind of competitors in the markets, etc.
Unless you have already left the company, they shouldn't ask you that. If you've left your company, prior to the interview, you can mention the reason being preparation, if that was the case. Just focus on being forthright and they should appreciate it! In case they ask follow up questions, be prepared for those!
Any suggestion for PI? Am a fresher basically. Now am completing MA this April. I have two years of teaching experience which was voluntary. Do I need to include that?
Try to focus on your hobbies and interests, they tend to ask more of these questions to freshers, and about what you want to do after you get into MBA, which specialization, etc. Additionally about what you'd do in case you don't get into an MBA Programme this year. Don't mention hobbies and interests that you aren't confident about.
I have around 18 months work ex and I am almost out of touch with any engineering stuff that I studied.Would it be wise to spend time to brush up a few things or should I focus more on other things right now?
Try to focus on the basics of the subjects that you specialized in. If you were in Electronics Engg, they could ask you about flip flops and how they are different from latches, etc. They just want to test, if you are aware and how you primarily react to it.
I am a state level chess player and I have 1831 FIDE elo points but currently, I am not playing Should I state this point?
Do mention the fact you're a State Level Player in case you are asked to talk about extracurriculars.
Everyone – It's not possible to have the answer to every question, that the panelists will ask you. It is very important that you stay relaxed and composed in case you don't know the answer. You can tell them you can't recall or don't know the answer. Don't get fazed by it.. Be confident!