Mahindra War Room – SPJIMR Chapter By Aditya Singh

In the dilapidated corridors of the boys' hostel, I was minding my own business. Assignments. Deadlines. Food. Sports. While I was walking, my phone buzzed. Placement committee mail for launch of Mahindra War Room. "Embracing the paradoxes", was the tagline. As if my life wasn't paradoxical enough (low sleep due to assignments and constantly being picked by professors of the same subject in the following class), I thumbed the date on my to-do list and moved on.
Dinner time and I see a barrage of wallpapers all over the hostel. 7th August, Mahindra group would come to SPJIMR. While I was looking at the poster, a group of seniors, post their football session turned up and had a look at the board. "Sahi yaar, its live!" they said and left. Befuddled, I thought might as well check what is it all about.  A quick glance on their website made me familiar with few brands I knew and few I didn't. Not sure of what to make of it, I decided to roll in. Old habits die hard, they say.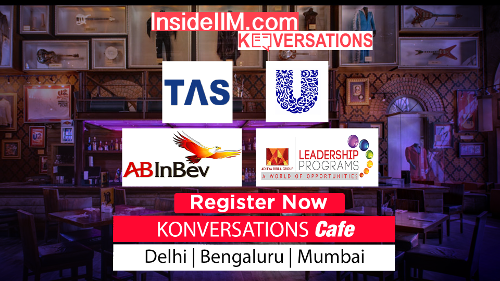 7th August. Light drizzle masked the dusk as we young lads walked our way to the event area. A huge placard greeted us and we quickly sat down. A light banter amongst us went on for a while till the official delegates entered and the presentation commenced.
The presentation was done by our alum and it started with a bang! Few rounds of debrief of what Mahindra Group is all about made the muddy slate clear with its markings. The group stands for its entrepreneurial ideas; Mahindra Finance which started with a modest sum of INR50K and two people to become a behemoth worth INR2000 crores screams for itself!
The main crux of the event was revealed. War Room. 2 things to note. Firstly, it has gone international. That means we have friends beyond the country to compete with (If only Mahindra knew the stifle in home ground is as-is ceiling high, but then they like to put up a tough fight and we as gladiators would not have it easy too!) Secondly, the ideology of this season, embracing the paradox. The concept dwells on the fact that there are many facets to the solution itself. What is right for one set may not be valid for another scenario. Then the case studies were disclosed wherein the nuances of it were discussed. At this point one could write off these cases to be a figment of imagination but beggars belief.
The case studies in question are actual problems that the company verticals are facing. Mahindra believes in a holistic view, even coming from a student community who doesn't have a significant real world experience. To quote Anand Mahindra himself "This is one even I make sure not to miss". Enough said!
Happily surprised to mention, Dr. Pawan Goenka, Executive Director of Mahindra and Mahindra was on campus!  His tenure in Mahindra (23 years) was probably more than the age of many of us. The session moved on to the supposedly light Q&A session with him. The students decided otherwise. Dr. Goenka was flooded with various questions and he was more than happy to answer each of them in detail. Unfortunately, the session went overtime and someone had to intervene to restrain the inquisitive minds.
The event left a burning desire in me to take a shot at these cases. It's once in lifetime event. The race track is set. Rules declared. People are revving their cars at the start line. Let's burn some rubber and get cracking!