How To Make The Right Career Decision As An MBA Aspirant?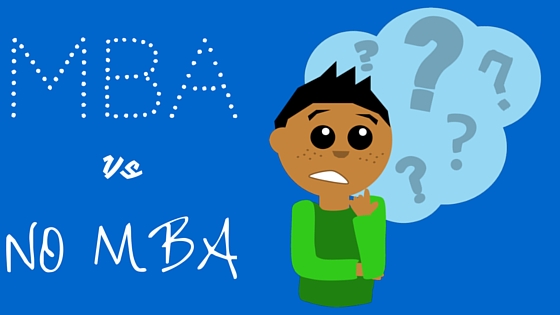 Everyone has a story and so do I. I am here to share my story with all of you and especially those who are in the same state of confusion that I was in while making the "right choice" for my career. The intention of writing this story using the platform of Inside IIM is to be able to reach out to a wide audience and tell them that it is okay to be confused! It's okay, not being sure about the career path you want to take. It's okay to start late. And, it's certainly okay to question and try out new things and fail and then try again.
Being a fresher, I often come across this question that whether it is a right decision to go for an MBA without work experience. I don't have the right answer. Personally, I believe, all of us take decisions and somewhere we find our right answers. To sum it up, it is a personal call that we need to make for ourselves, after measuring the pros and cons of the other options.
This takes me back to my personal dilemma where I was trying to figure out for myself that which path I should choose. It took me months to make up my mind and apply for MBA entrance examinations. In the process of making my mind and taking a decision, I reached out to numerous people and took their opinion on the choices I should make. It helped me to understand multiple perspectives and therefore make an informed choice for myself.
As a young engineering graduate, college was much more than academics. It was my first time out of the protected atmosphere of my home which meant unlimited liberty. I enjoyed my non-academic time and therefore ensured a lot of great experiences. That being said, listed below are three important experiences that I believe have contributed immensely in shaping my life and the decisions I took.
 1. Power of Extracurricular
I was actively involved with extracurricular activities within the campus. This was one way to spend my time. And that is how my experience with community service started. The team dedicated to NSS in my college actively organized different events and activities. It was a great experience for me which sensitized me to the ground – level requirements of the bottom-line of the society. I met people with a strong belief system and people who were extremely driven. This experience empowered me to take up challenges in life and give it my best shot. Similarly, throughout my college, I was actively involved with extra-curricular which ensured, lots of friends, great debates and discussions and in turn a wider perspective on issues.
2. Experience with Leadership
One year down the line in my engineering journey, I was presented with an option which was both an opportunity as well as a challenge. I describe it as a challenge because this experience was nothing like the ones I had taken earlier. The scale and scope of the roles and responsibilities were entirely different. The stakes were higher and the pressure to perform was one of the most important factors that contributed to its complexity. However, looking back it was an excellent opportunity for me to learn, to fail and rise again. I was selected to lead a team of approximately 800 people in the role of the Student Coordinator of the NSS Cell of my college. This experience instilled in me the confidence and courage to undertake challenges. At the end of my tenure, I made a lot of friends, learned tons of valuable lessons and most importantly realized failure is a part of learning.
3. Role of a Mentor 
A mentor is described as someone who gives a younger or less-experienced person help and advice over a period of time, especially at work or school. In my case, I had personally pestered one of my professors to mentor me. And finally, he took me under his wing. Having a mentor helps you shape your thought process and leverage the experience of the other person. I was blessed to have someone like him in my life. He guided me throughout my academic year and later even supported me when I chose not to continue my conventional engineering path. Even today, I am indebted to my mentor for all the knowledge and experiences, he has enriched me with.
Steve Jobs once said, "You can't connect the dots looking forward; you can only connect them looking backwards. So you have to trust that the dots will somehow connect in your future. You have to trust in something — your gut, destiny, life, karma, whatever.
Personally, these three experiences have shaped my life the way it is today. I should acknowledge here that when all these events were becoming a part of my life, I was not aware how it will benefit me or even add value for me in the future. It is only looking back I am able to make sense and chart out the benefits of having these experiences early in my life. Like Steve Jobs said, you cannot connect the dots looking forward, you have to look backwards and connect things.
These experiences helped resolve the career dilemma I was facing in one way or another. This is definitely not a secret elixir for success. However, every story has one or two lessons for the readers. I have tried not to dramatize any of the events that I have described in order to ensure that the reader is able to take all this in the same context as I have experienced it.
In the management jargon, we talk about, target customer groups. The target group I am addressing to through this article is very specific: MBA Aspirants facing the dilemma of right career decision. However, it would give me immense pleasure if it is helpful to others too.
So usually people ask me and more importantly, sometimes I ask myself, did I make the right choice? Oh yes, I did. Indeed I did.
In the end, if there is something I would like to leave the reader with, it is with the thought that, every experience has its own power and every story has its own lessons. Enjoy each experience, take risks and experiment with the options that you have. Eventually, everything makes sense.
TISS was everything I wanted to do and everywhere I wanted to be. TISS is not your usual b-school. It's a campus with people with varied experience, a small batch of 67 with people with diverse knowledge and skill-sets, ranging from Corporate Lawyers to Social Science graduates. Spending two years of my life with such amazing people is a delight in itself. Moreover, TISS as an institution has a legacy in itself and the added perk is you get to meet such amazing people not only from the field of management but from all the walks of life: from Medha Patkar to Moheet Nagrath. To sum up my experience at TISS, it's a dream come true for me and I couldn't be in a better place for now. I will be sharing more details about TISS in the next article I will publish on InsideIIM.
Lastly, the story is just a presentation of a personal dilemma, which I was facing at one phase of my life. I have overcome my dilemma now and I am sure you will too. Please, feel free to reach out to me in case you have any queries/ questions that you feel I can help you with.
Pratik Raj
Pratik Raj is a second-year student in Tata Institute of Social Sciences, Mumbai. He is pursuing M.A. in Human Resource Management & Labor Relations from TISS. Born and brought in the capital city of Bihar, he has completed his undergraduate from Tezpur University in Assam. He is an avid reader and loves cooking in his leisure time.