What Makes Our Campus Unique? – Sanchit Gupta, IIM Udaipur
Indian Institute of Management, Udaipur was also known as IIMU was established in the year 2011 in 'City of lakes' along with six other IIMs. As a new institute, we don't have to follow any old legacy and can build our own culture and legacy. We can incorporate the best practices of other established institute and make IIMU a unique and best in the class institute. Following points make our institute unique:
Values: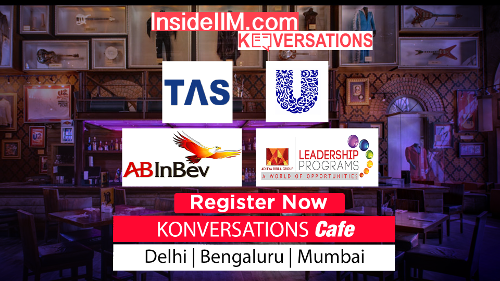 Albert Einstein once said, "Try not to become a man of success, but rather try to become a man of value." Our college also believes that without values success has no meaning. Excellence, Integrity, Transparency, Mutual Respect, Inclusion, Environmental consciousness/ecological sustainability are our core values, which are followed by every individual.
Rural and International Perspective: 
As a Future Manager, it is imperative to have a clear understanding of the global market as well as the rural market. IIM Udaipur provides both the rural and International exposure.
Rural Immersion, where students gain an understanding of rural India by spending a week in a village where we work closely with NGOs to understand on-the-ground realities and challenges faced by Rural India.
International Immersion is provided by Student Exchange programme (STEP), internships and International Business in Practice (IBP).  International Field experience helps in nurturing cross-cultural learning, working in diverse teams and challenges of the business economy different than ours, which cannot be understood without on ground understanding.
Student-driven campus:
In IIMU, students take ownership and responsibility of critical aspects of student affairs. All students work as per guidelines provided in student constitution and code of conduct.
In IIMU, students run various club and committee to hone their management skills and learn to work in a team and facilitate outside classroom learning. The college has multiple professional and function clubs, social clubs, committees, Special Interest group (SIGs) which organize various activities to facilitate learning.
Academic Excellence:
IIM Udaipur curriculum is designed in such a way that every student has a transformation journey during two years of management. All the classroom activities are designed in such a way that promotes theoretical as well as practical knowledge.  Top 5% of the batch is awarded Director's award and Rs 1 lakh as a reward.
Entrepreneurship:
Walt Disney once said, "All our dreams can come true if we have the courage to pursue them." IIM Udaipur provides the institutional support and freedom to pursue his or her career in Entrepreneurship. The institute assists in procuring seed funding, flexible placement options and mentoring during the programme.
Which ABG company would I want to work for and why?
I always wanted to work in an Indian Multinational Company. What will be a better place to work than Aditya Birla Group? Aditya Birla Group is in among Fortune 500 companies and one of the best place to work. I would like to work for Aditya Birla Capital Ltd (ABCL) one of the largest financial service players in India. ABCL is India's top five diversified Non-Banking Financial Company. The company has a wide range of products in protecting, investing, financing and advising. I am interested in working in the finance domain, and ABCL is the perfect platform for starting my career. I want to make the impact by providing best in class services to the customers.