What Makes Our Campus Unique – Vishal Singh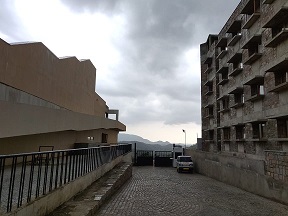 What makes our campus unique
Located amongst the huge mountains, covered by a vast sea of clouds and surrounded by the magnificent beauty of nature; IIM Udaipur's campus is truly a unique place to be which must be experienced personally to realise its true beauty.
IIM Udaipur's campus is a result of excellent selection of location as well as the planning & design efforts take by the officials. Right from the moment, you enter the campus you start to have an overwhelming feeling of joy and satisfaction about it. The place makes you forget about all other things that you have/had in your mind and your heart just melts down into saying that 'this is the right place to be.'
You can gaze continuously for hours at a particular view and still not feel content over appreciating the beauty around the campus. The campus is surrounded by mighty mountains from all four directions. The mountains covered with flora tell you that there is a real, breathing world around you and you are a part of it. Try to look a little further and you would see the peak of mountains covered with a misty layer of clouds and it makes you wonder what a beautiful world we live in. Situated at a height in the city of Udaipur which has a rich history of rulers and kingdoms, the campus compels you to believe that you are living in a great fort surrounded by mountains & valleys and you escape the reality by believing that you're on a watch to protect your kingdom and must maintain the code of honour to protect all the values, the mission and vision for which IIM U stands for.
The nature engulfs you into its beauty and you start believing that this is truly a home away from home. The architecture and planning compliment the natural surroundings and that is what makes our campus a truly unique experience. I call it an experience because it requires all your senses to appreciate the magnetism of this place. The best thing about this experience is that we get to live it each and every day; while going to classes, coming back from our classes, during the class breaks, discussing and preparing assignments/tasks/presentations sitting at the peak of a mountain along with your friends and that is a feeling which cannot be justified by mere words.
IIM Udaipur's campus is truly a unique experience.
The ABG Company I want to work with
The company that I want to be a part of is Aditya Birla Fashion and Retail Limited. There is a lot of potential in the retail sector that we see mostly as an offline market for now, but with the advancements in technology and the changing behaviour of consumers the retail industry would soon move in to be perfect integration of online and offline services and offering where one field would complement the other and I would want to be a part of this new development. Also, pantaloons has been a store that has facilitated my clothing needs for so many years so I already have a connection with it.