Management Lessons from My Trekking Escapades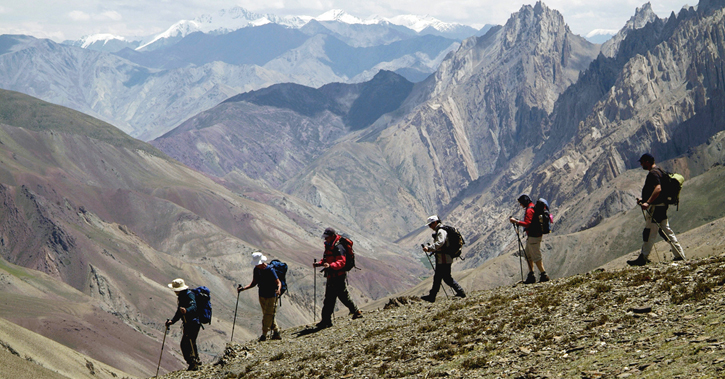 10th October,2013 -The sun had long disappeared behind those mighty Himalayan ranges and we were still 1.5 kms away from the secluded village of Kedarnath. It was snowing heavily and there was no shelter I could find for my parents who were sapped of all their energy. Spurring them on with the same phrase 'We are almost there' for the last 3 hours, I felt stupid to have succumbed to my parent's stubborn wishes of walking the entire stretch of 14 kms through treacherous terrains. We kept on walking towards the abode of Lord Shiva undeterred by the inclement weather with the chant of 'Har Har Mahadev' on our lips.…….
Finally when we reached Kedarnath and were enjoying hot milk tea on the temple premises, I asked my father on how he felt trekking all the way up. What he said still remains etched somewhere in memory and probably explains some of my inexorable love for trekking. 'You must be feeling guilty that you made us trek all the way but let us assure you that although we felt exhaustion and pain, the experience was something which we will cherish forever. You see it made us feel alive and young after so many years of mundane existence, it made us feel after all we have a purpose in life. It cleared our minds of all the clutter of day today life and made us focus on a goal which itself was self-encompassing.' Even after we returned back to Kolkata, I somehow found my father more cheerful, composed and revelling in those experiences of 10,000 ft and above.
I have trekked extensively across Garhwal Himalayas; my eyes have been witness to the most stunning vistas that Mother Earth could offer, I have experienced failures, life threatening situations and also the immense joy of hugging your trek partners on reaching our destination. It has been something which is integral to my life and Devbhoomi Garhwals through its intimidating presence has moulded some of my key personality and character traits. It has made me understand the various aspects of my life and has helped me probe deep within myself to understand my passions and beliefs.
a)      A cohesive team can work out wonders while a group of brilliant individuals may fail– My trekking leader always used to reminisce about his vast trekking experiences. Whenever we had doubts regarding our capabilities on any particular trek, he used to say, 'Help each other out and you will succeed'. He used to cite various expeditions having seasoned mountaineers which failed due to lack of cohesion among the team members and the absence of a good leader. Similarly in life and in business, having a good team is of paramount importance for any success driven venture.
b)      Success rarely comes without repeated failure-It was August of 2012 and we had to return unsuccessfully from Vasuki Tal trek due to poor visibility and incessant rains. It would obviously have been foolish and perhaps fatal to push forward in such inclement weather conditions. Back home, we tried to understand the reasons why we failed and realised we had taken a series of wrong decisions like choosing the wrong window for attempting the trek, making wrong strategic decisions about the route we took, the formation in which we progressed and the lack of acclimatization which posed serious issues . Taking cue from our mistakes, we successfully completed the trek in the very next window. Similarly, majority of successful businesses have learnt from their mistakes. It's human to err but it's foolish to be ignorant and repeat those mistakes again.
c)       Fear is natural while complacency can cause issues- Statistics show that majority of accidents in trekking and mountaineering take place on easy trials where people become too casual and forget to observe the basic safety guidelines. While fear is natural when climbing or trekking, I feel it actually enhances our sense of taking the right path or getting the right foothold and acts as a signal to possible danger. Complacency actually makes us shut our eyes to impending danger and has serious consequences. Kodak is a live example of a business failing due to complacency.
d)      Networking and Networking – It happens again and again that we fall prey to inclement weather conditions, run short of medical supplies, someone in team falls really ill, we have to spend the night in some ad-hoc Sheppard's cave. Having interactions with the local people can really work wonders in those conditions. Similarly in business, having networks is the key to success. Knowing the right person at the right place and of course at the right time can work wonders
e)      The ultimate feeling is sublime and is difficult to express unless one experiences it 🙂  – The feeling of being at the summit or the destination is a mixture of various feelings shooting back and forth and most of them are difficult to comprehend. What I have felt is that most of the barriers in our life are self made and society stereotypes us in such a way that we are unable to take the risks which will propel us to the next rung of the ladder. All those barriers which used to scare us seem so miniscule when seen from the top. Yet it is not the feeling of arrogance but humility and acceptance which suffuses our entirety. The focused pursuit of the summit makes us realise the need for a proper direction in our life, the need to align one's interest and passions with the efforts made. Finally the euphoria of achieving the goal with a team to revel in the same success story is something incomparable.
Saikat is a first year student at IIM TRICHY and loves to dream about mountain trials .His dream is to summit Mount Everest and to take a parachute on his way down.. 😛