Management Summit On Industry 4.0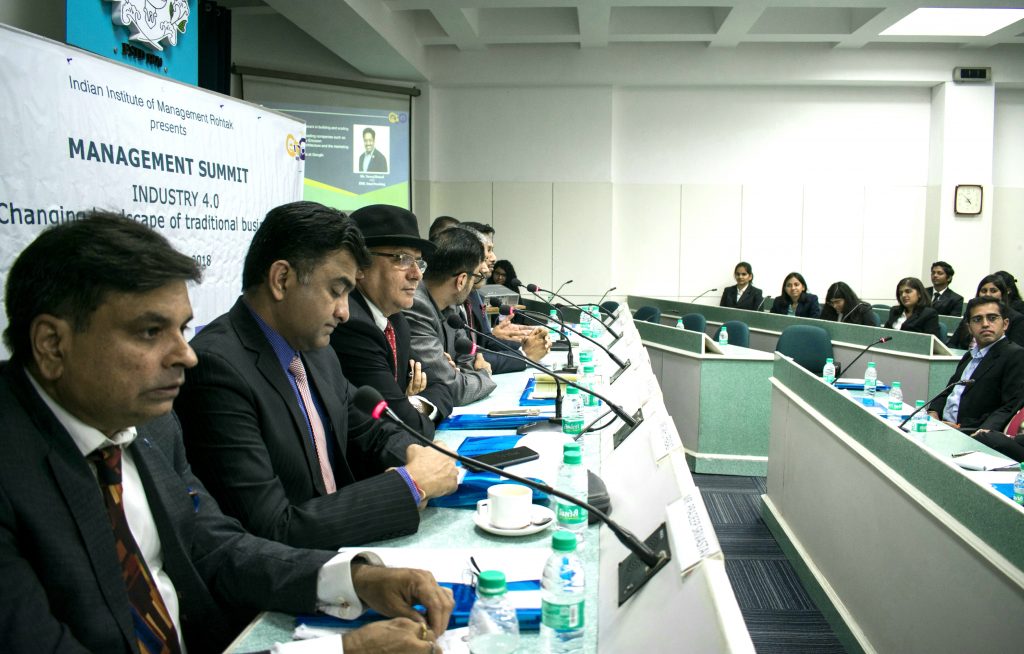 The fourth Industrial revolution dawned in 2013 when the German government released a memo outlining the plan to computerize its economy to eliminate human intervention. A wave of digitization took over the world in the subsequent years with notable advancements in every sector of the economy.
In an attempt to understand and measure the impact of this wave of digitization, Indian Institute of Management Rohtak organized a management summit on the 27th of October, 2018. Representatives from multiple sectors of the economy discussed the challenges and opportunities that analytics, cloud computing, and artificial intelligence are posing on their businesses.
Quoting Mr. Sriram Gopalaswamy (Head – Commercial Marketing, Lenovo), "The fourth industrial revolution is about intelligent transformation where we try and measure concepts which were considered as abstract in the past."
The panellists, unanimously, affirmed that information has become a strategic asset for their businesses. To stay relevant in the VUCA world, businesses will have to keep reinventing their business models and their offerings. Alluding to this point Mr. Arvind Bali, CEO, Videocon (Telecom) noted, "The pace of change we are experiencing today is unprecedented." This is also true for the workforce. As Mr. Ashok Wadhawan, President – Manufacturing business, Punj Lloyd Group mentioned, "Our skills are to be updated on a daily basis. Up-skilling and cross-skilling should be the most important objective of any individual".
With new technology come new challenges. The biggest challenge today is that of Cyber-security. As we move from a physically driven economy to a cyber-physical one, data security will become a matter of utmost concern. The experts agreed on the fact that as we move forward, security will become one of the major investment areas for every business. "It is eminent that we develop a strong culture of cybersecurity and cyber-immersion in our institutions. To do so, we need to develop a stronger campaign to echo the significance of security training, the safety of online transactions, responsible social networking and ethical data mining.", Said Prof. Dheeraj Sharma, Director IIM Rohtak. Mr. Neeraj Narang, Director – HCM Product Strategy, Oracle said, "IT has become the driving force of every business. The major differentiating factor for businesses in the coming years will be based on how they internalize data, securely & strategically".
It was also noted by Mr. Rakesh Dayani (Director, Outgrow Consulting), that it will take a few years from now to accurately gauge the impact Industry 4.0 will have on businesses as well as on the lives of individuals.
The conference ended on a positive note as the experts agreed on the plethora of opportunities that this industrial revolution brings along and how technology has begun to change the lives of people in ways previously unheard of.