Marico Over The Wall Winners – Team Jumpers From NMIMS Mumbai Share Their Experience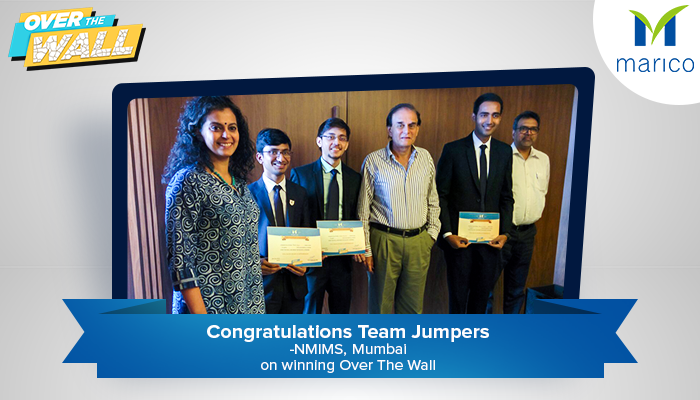 Journey of How Team Jumpers Rose Over the Wall
Marico is a celebrated firm in the FMCG industry and this year Marico launched it's "Over the Wall" challenge across leading B-Schools which comprised of three different live business problems pertaining to functions such as Sales, Marketing and Operations. Our college, NMIMS Mumbai was a part of the Sales pool and the campus round was launched in grandeur by Mr. Ramprabhat Yadav, Regional Director, Marico. He conducted an engaging session and briefed the students on the case details, sharing his insights gathered through years of industry experience. The case revolved around building a rural distribution strategy for Marico, and we, team Jumpers were enthralled by the challenging case. We decided to approach the case with enthusiasm and vigour.
As one of the Top 3 Teams qualifying through campus, we were ecstatic to present our solution to Mr. Yadav. The memory of that power-packed 10-minute presentation on a cloudy Mumbai evening, will remain fresh in our minds for a long time to come. Our mission was to be sharp, focused and to deliver our central idea with clarity. The engaging Q&A session which followed the presentation, witnessed questions pouring in from both the panel and the audience. The most memorable point of the evening was when we were unanimously crowned as the Campus Round Winners by Ms. Saee Jadhav and when the audience celebrated our victory by deafening applause.
We entered the Corporate Round with determination to impress business heads and attended a welcome address by CHRO, Mr Ashutosh Telang, who gave us a glimpse of Marico and its values. This was followed by a session with Mr. Mukesh Kripalani who heads the business transformation and IT unit. We presented our solution to Mr. Sanjay Mishra, Chief Operating Officer (India Sales and Bangladesh Business). We were competing with teams from XLRI, IIM Indore, and IIM Kozhikode. During the Q&A session, we were questioned on financials, factors that contributed to our strategy and the business model we had suggested. We celebrated our victory in this round through a celebratory take-off jump from our chairs, symbolising our team name, Jumpers.
We finally arrived at the third leg of 'Over the Wall' challenge. The next task seemed even more intriguing and we were given live projects with actual enterprises/NGOs, which were associated with the Marico Innovation Foundation (MIF). There was a formal induction for the third round by the MIF team, headed by Ms. Priya Kapadia, who briefed us about the enterprise and the challenge for each of the top three teams – IIM-B from the Marketing pool, SP Jain from the Operations pool and NMIMS Mumbai from the Sales pool.
Three enterprises. Three Teams. Three Challenges
Our task was to formulate a B2C Channel strategy for a product which aims to save millions of liters of water every month. We were given around five weeks to present a value proposition for this disruptive product, to identify a target segment and to suggest an implementation strategy. This was a task of paramount importance with real-time business implications. We conducted primary research by interacting with various stakeholders such as cleaners, owners, automotive showrooms, and retail market owners to collect insights. We provided Marico and the NGO with practical, feasible, and implementable solutions.
The final round of Marico Over the Wall challenge was held on December 2, 2016 at the company head office and judged by Mr. Harsh Mariwala himself. It was a privilege for all teams to be presenting in front of the legend himself and we were all grateful for having been given this opportunity. Team Jumpers from NMIMS Mumbai were declared as the winners of Marico Over the Wall challenge. The final wall was crossed and the Jumpers could finally retire in peace; until called for again!
The three months of journey from the campus round to the final round was an enriching enduring experience, which resulted in a prize money of INR 5,00,00 and PPIs for all members. We feel privileged for being given this opportunity and are now more aware of Marico's business and strategies.
————-
About the Author:
Team Jumpers, NMIMS Mumbai
Ketan Munoth
Parth Singh
Revanth Kumar