Marketing Campus Of The Country – Katru Dheeraj, FMS Delhi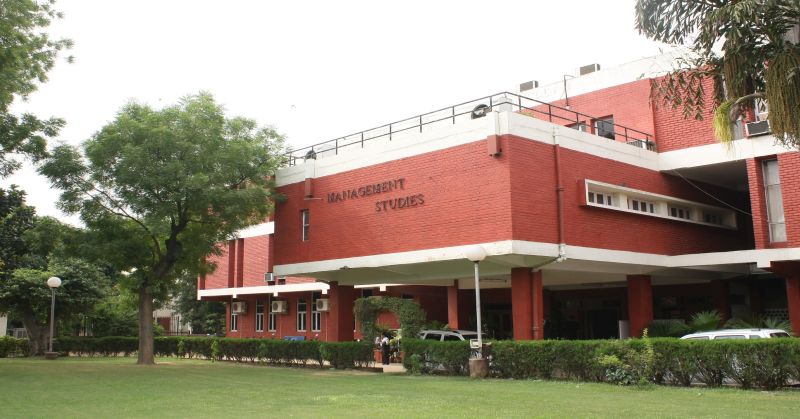 My campus FMS, Delhi which is famously known as Red Building of Dreams, also well known as Marketing campus of the country, With its small campus my college accommodates maximum dreams per square feet, it has a great reputation for its stellar placements, niche profiles being offered by companies, not to forget the handsome packages. Many great eminent personalities have walked through the same doors, which I have been walking for the past twenty days. This Red building has been giving many CXO'S to the industry, made my country proud on a number of occasions. If you have asked me to write the same question, a couple of weeks before I would have mentioned all the above points. But after experiencing a journey of twenty days I understood this campus is much more than those things, in the first place this is not a small campus this is a small family. Yes, you read it right it is a small family of 480 odd people. Three letters have been deeply rooted in the hearts of seniors and faculty members, they are not ABC, and they are FMS. Every time they step out they try to make FMS proud, they carry the brand FMS with pride. Also, one other thing that makes my campus unique is the care seniors take on juniors, you might be bewildered by what you have read, but yes my seniors are showing immense commitment towards our batch, they are taking utmost care on our batch. So that we get aligned with culture of the campus, also get ready for our summer placements. They are working round the clock, they are pushing their limits, so that we could get placed in great companies. This sense of care, this sense of family is what makes my campus unique.
Memorable class room experience in my b-school
Each and every day during the last twenty days have been memorable, all these days have been teaching one thing or the other on each particular day. But one memorable experience in the b-school journey, would be a prank played by entire senior batch on juniors. In fact, this experience will not only be a memorable one not only in my b-school, it will be a memorable experience all through my life. The incident goes this way. Our induction classes have been going on, for the last twelve days till that particular day. A day in induction typically use start at 8'o clock in the morning and use stretch through 1'o clock in the night, even second delay in the morning would attract stricter actions and loss of attendance for that day, after the end of the days at 1'o clock. Just after returning to room after class, a message pops up in the mailbox mentioning that task has been floated by particular society and the deadline is xx:yy:59, not one but multiple tasks use to be floated, ensuring that we don't sleep all night or at max sleep for one hour. So this used to be a particular day during induction. On the thirteenth day, all of a sudden general secretary from senior batch comes in and announces that "some has sent a mail to dean madam, stating that seniors are harassing us in the name of assignments".  All of a sudden seniors started to come into the room in large numbers, shouting that "Why did you sent the mail??", "you could have approached us". Then amid the confusion, pops up a mail to the junior batch from the dean's office stating that on the notice of the complaint, three students from the senior batch have been Rusticated. Everyone was dumbstruck, pin drop silence has taken over the huge classroom, after the mail seeing the batch mates being rusticated, seniors became emotional and started asking our batch who sent the mail, after a 20 min yelling, they all went out saying that they would return in 10 min had the person been not identified, the entire guidance from the senior batch shall be stopped. Everyone started murmuring in the class, leader of the batch stands up and starts addressing the batch, asking the any information regarding who the person was, few other students started uttering the same words, also adding that batch of two hundred people would be suffered for the sake of one student. Then all of a sudden with huge roaring sound, a video starts itself, display of which can be seen on projector. It is a video officially welcoming the incoming batch. Everyone was thrilled to see that. Suddenly seniors came running into the room, shouting "Welcome batch 2020". General Secretary enters the room and announces that induction is officially over. This was my memorable b-school experience.
Profile of some crazy batch mates
We'll all of my fellow batch mates are crazy in one way or the other, but to name a few
Swathi j
I found the profile of Swathi interesting because in a general way we study our under graduation in India and search for foreign opportunities to pursue maters course. But my friend Swathi, has done the other way round, she pursued her under graduation in University of Queensland, Australia. Now she is pursuing MBA in our college. This is very unique, apart from this she has strong foreign accent in her English, which makes me feel that she is a foreigner.
 Sahithi Audi
Well other friend of mine whom I find crazy is sahithi audi, don't get confused by her name she didn't work in Audi, neither she owns one, but looking at her sheer brilliance I guess it won't take her much time to own one.  Sahithi has pursued her b.tech from iit kharaghpur, coming to crazy aspect of sahithi she loves, what most engineers hate. She loves to read books, she started reading from the age of 6, by now she read nearly 1500 books, and she aspires to become a writer. It would be one impeccable journey if her wish comes true. Engineering to Mba, from mba to writer.
Boda Manoj
We all have seen priya prakash varrier, how her one wink stopped the whole nation, how a single wink made her national crush, how she became star overnight. Irony is that the person who owns social media platform instagram has less number of followers than priya prakash. Basically my friend manoj is not as big a star as she is, but he has a story similar to that of hers. His story goes this way, we were asked to write our opinion about sports in just two to three sentences. The quote which my friend wrote was "Well I am not much into sports; the only sport I play is hopping which involves lot of walking, sometimes running too, if there is a sale". This single quote made him a popular face among the batch. He has become an overnight star, whenever I utter his name in future everyone remembers him of the "Quote guy".
Chirag Shah
My friend Chirag shah is one of his own kinds, during the days of induction when we all were trying to accommodate 1-2 hrs of sleep. Chirag used to sleep 7-8 hrs a day. He then comes to class and starts sleeping from the first hour, sometimes sitting in the first row. The craziest thing about him was he won the title of "Best Manager of Batch 2020". What an irony the man was not able to manage his sleep won the title of best manager. This is why he is one of the craziest batch mates I met in the college.
The company that I would like to work
 Given an opportunity I would like to work for the fashion and retail arm of ABG. I would like to work in this sector because, almost 70 percent of Indian population is under the age of 35, which means young people in India are of high percentage, whenever there is young population then there will automatically arise the demand for best apparels, also India is now becoming more fashion conscious, also accepting the new fashions to most of the extent. So, basically I believe that in the coming 15-20 years the fashion industry will be very dynamic and very innovative industry. So working in such kind of industry will be a great challenging and at the same the time it will be a great learning curve for the future ahead.
Placement Cell FMS Delhi
Established in 1954, FMS has been a pioneer in India offering management education. FMS has the unique advantage of being a premier 'B-school' in a University milieu and in the national capital, thus offering valuable opportunities for our students in interdisciplinary learning and to undertake live projects from national/ international organisations. FMS is proud of a long list of illustrious alumni. It has rich legacy and history of producing World Class Business Leaders who are ranking stalwarts in Top MNCs across the globe.