Why Modi is a perfect MBA TextBook- Applying Kotler's 4Ps, Porters 5 Forces and the Guest HR model
This article has two target groups:
– Those preparing for GD/PI rounds and need an insight into current political scenario in view of upcoming general elections
– B-School students/pass outs who are familiar with politics
Marketing: The 4 Ps
– Product: Considering BJP as a company, Modi is the product they are trying to sell to the consumer: The Indian Voter. Hindutva, Good governance, Development are various flavours of the product targeted at different customer segments: Upper castes, Middle class & Youth respectively.
– Price: The price voters pay for acquiring the product are the taxes that they pay in the next 5 years. And BJP's pricing strategy is to keep them low. That is the reason they are promising reforms in tax sector where in the number of taxes would be brought down to 4 from current 34.
– Place: Prime focus of the party is in hinterland. Within this BJP has high stakes in UP market, which is the prime reason why Modi plans to address most of the election rallies in that state. Also, since the machinery of RSS play the most crucial role at booth level during elections, it makes sense for BJP to set its focus on the states where RSS is strong.
– Promotion: This is where BJP is far, far ahead of its competitors. Campaigns like Chai pe charcha helped it garner enormous news space. Like HUL's Project Shakti in which village women were roped in as 'Shakti Ammas' to sell its products, BJP plans to employ the same strategy to sell Modi in the remotest of villages, using people from those areas. For the youth, noted actors like Smriti Irani are roped in to engage youth through the program 'Sapnon Ka Bharat'
Strategy: Porter's 5 forces
Politics/Elections is the industry, BJP is the company, and Government is the product
– Threat of new entrants: There exists high level of threat on this front. Simple: it's AAP. Apart from AAP, there is also a potential threat in the form of new alliances that constitute either Congress and/or other regional parties. Just when the action begins, rebels might play the spoil sport with even meagre vote share, in a multi-cornered fight in many states.
– Threat of substitute products or services: Thanks to our strong democracy, this threat is low. In the foreseeable future, India will most likely be ruled by an elected government. Neither there is possibility of a military coup nor are the Maoists strong enough to take over. BJP need not worry about this.
– Bargaining power of customers: It's very high. Because in India, voters are gods (during the elections). Parties paying for crowds, distribution of goodies for women & youth, announcement of sops have all become norms in Indian polity. Latest developments like new reservations, status of special category for a state are a reflection of high bargaining power of voters.
– Bargaining power of suppliers: It is moderate to low. During elections, campaign material makers, logistics providers act as suppliers. Since elections are held only once in 5 years, suppliers have to make the most during the same. Switching costs for parties being negligible also lowers the bargaining power of suppliers
– Intensity of competitive rivalry: Extremely high. Being in opposition for a decade, it's a do-or-die for BJP. To insure the future of its Prince, Congress is going all out to minimize its damages. Meanwhile, regional parties are not letting it go easily for the biggies. BJP should thank the competitive rivalry between Mayawati & Mulayam, Nitish & Lalu, Chandra Babu & Jagan, Mamata & Left for ruling out a large non-BJP, non-Congress front.
HR: The Guest Model
– Differentiation: To stand out from all the other competitors, the BJP has employed publicity firm to have a clear distinction in its campaign. From 3D projection of Modi's speeches to Red-fort like replica for his dais, a professional team continuously works to come up with innovative PR strategies.
– Focus: To draw best results, BJP has deployed few of its task masters in the crucial areas. Amit Shah, the trusted lieutenant of Modi is the in-charge of UP and his only goal is to maximise returns from the state. Right from Candidate selection to campaign management, his focus is completely on UP.In the back yard, the job of stitching alliances is entrusted to an MP Naresh Gujral holds hectic parleys for potential partners.
– Cost: With a heavy media based campaign, BJP is bound to incur high costs. To offset this, they have come up with one note-one vote. Through this, they are making people a part of their campaign and aiding their costs simultaneously.
– Sasi Kanth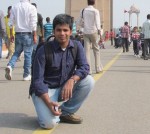 Sasi Kanth Pingali is a 1st year PGPM  student at MDI-Gurgaon. Previously, he worked as Sr. Business Analyst in one of the world's largest pure play analytics companies. His interests are Analytics, Consulting & Marketing. He is a wannabe fitness freak and blogs at http://saladthoughts.wordpress.com/
His recent article on Bigdata.
Follow Sasikanth on sasi.insideiim.com
Sasi Kanth
Sasi Kanth Pingali is a 1st year PGPM student at MDI-Gurgaon. Previously, he worked as Sr. Business Analyst in one of the world's largest pure play analytics companies. His interests are Analytics, Consulting & Marketing. He is a wannabe fitness freak and blogs at http://saladthoughts.wordpress.com/