Masters In Finance Cracked The Code Of Deloitte Maverick Season-IV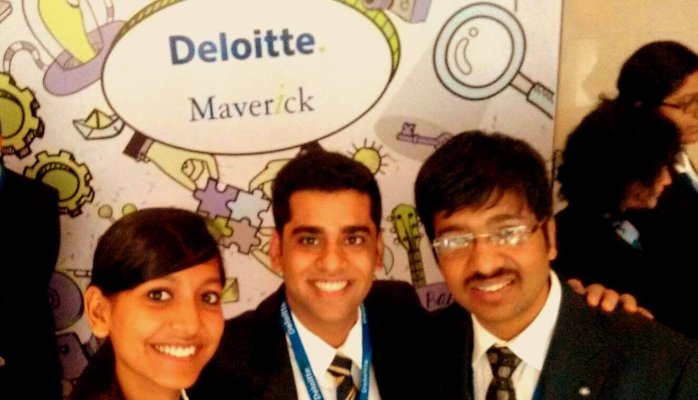 Team RND, from Masters in Finance course at Jamnalal Bajaj Institute of Management Studies, were National Runners-Up in the 4th edition of Deloitte Campus Maverick, the premier case study competition for B-Schools in India. The only first-year team to be selected through to the National Finals comprised of Diwakar Anand, Nehal Saraf and Raahil Dadla.
Deloitte Campus Maverick conducted in multiple rounds and spanning over a month offers students the chance to work on simulated business case studies. Moreover presenting them to seasoned executives prepares students for the corporate environment. The competition reaches out to more than a 100 B-Schools in India including the premier B-Schools and has a reach of around 36000 students. The 4th edition of Campus Maverick witnessed roughly 15500 registrations from 2200 teams and the evaluation was based on unconventional thinking, problem-solving attitude, leadership character, and client service competencies.
The grand finale comprised of twelve teams – three finalists from each of the four zones and it was held over 2 days at the Deloitte Hyderabad Campus on the 4th of September 2015. With senior Deloitte Partners as the judging panel and Deloitte professionals as the audience, the finale was a real test of the corporate world for the finalists. Team RND demonstrated their ability to work as a team and presented a prudent and innovative solution to the business challenges given to them. After several rounds of debates, presentations, and evaluations they secured the National Runners Up position and were awarded INR 1.5 Lakhs in addition to a Pre-Placement Interview (PPI) Opportunity.
Masters in Finance, the first two-year full-time, one of its kind program was started on the recommendation of Dr. Manmohan Singh. The course is uniquely designed to shape "Future Leaders" and prepare students for a gamut of career opportunities in financial industry and business conglomerates requiring strategic thinking, analytical bent of mind, and deep understanding of financial markets and businesses. The program goes beyond teaching financial theories by tapping into the knowledge of professors and industry experts who create synergies amongst statistics, business strategy, operations research etc.
The achievement of the first year students depicts the strong introductory program, industrial exposure through uncountable guest lectures and hands-on practical and live projects that the Masters in Finance course offers right from the beginning of the program, which prepares the students for the challenges of a rapidly evolving business world.