MBA, CAT, GMAT, Placements and beyond – Live Updates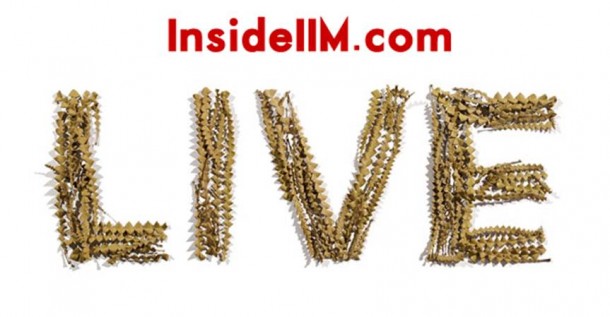 Live Updates for everything around MBA in Top Business Schools. We don't give news. We give perspective.
All Updates for CAT 2013 Results Season and much more is now available in our LIVE feature. You can see the button on the top right on the top bar.
See how it looks below :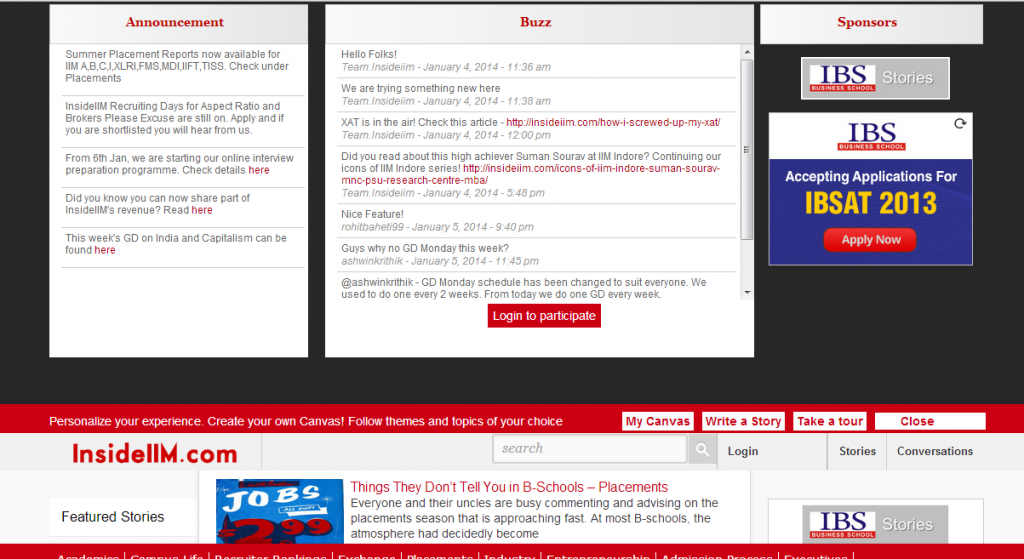 25th September 2013
14:30 hrs – Some PGPX news – IIM Udaipur's PGPX summer placements. It is a dual degree course. Find the report here
15th September 2013
17:00 hrs – We are back after a longish break.  SPJIMR online admissions form is open now. Go here to know more – 18th November is the last date for application.
We also concluded our Recruitment Survey results today with our part 6 on Dream companies. You can see the results for all parts here.
9th September 2013
15:30 hrs – 'My personal sense is that CAT may go all year round but one cannot rule out a single day test (online simultaneously) either' – Prof. Ravichandran. In a rare interview, a director of an IIM talks about normalization of scores, the future of CAT and the satisfaction after making online vouchers available. Watch here
6th September 2013
11:00 hrs – Ankit Doshi tells you what not to do in an interview –  5 Mistakes that will destroy your interview.
5th September 2013
18: 30 hrs – 'If Asian paints was to diversify into 'Interior decor' whom you would choose for the celebrity endorsement?' – Interview question. Read the entire experience here.
16:00 hrs – Firstly – Very important – Bookmark this repository of the News Burger. This will be your best friend one day before that all important interview!
Did you go through the Demystifying each Finance role article ? See it. It will help you.
3rd September 2013
18:30 hrs –  Summer Placement preparations are in full swing now. We bring to you interview experiences at India's most celebrated FMCG company – HUL and one of the fastest growing conglomerates – Mahindra & Mahindra!
2nd September 2013
17 : 00 – Yesterday, we unveiled the new placement prep initiative 'News Burger of the Day'. It is the most healthy burger in the world! We promise. Follow here
31st August 2013
19: 00 hrs – Hope you have started your preparations for Summer Placements. Did you read our article on Pre-Interview Preparations – The Soft Side ? Once you read that, you may also want to read up a Primer on Consulting here
30th August 2013
11: 30 hrs – InsideIIM.com Impact – An IIM Calcutta student does a detailed working of all 4 parts of the Case Study which we were running over the last 2 days in an excel file.  The student did it even before the PPI was announced. We forward that to Aspect Ratio. Impressed by the effort, the CEO (an IIM A alumnus) schedules a call with that student. Hard work is rewarded. The intent was learning. The student will end up getting far more than that.
29th August 2013
23 : 30 hrs – Boss. We weren't joking. We are damn serious about the PPI. Anyway, meet the company which a lot of you could be joining soon! If you like them, apply now! Meet them here
16: 00 hrs – Solve Part D here. This is important because your approach can land you a job with Aspect Ratio in Pune. A straight PPI to someone who can answer well.
10:00 hrs – Hey guys, we hope you like the new case study series that we have introduced. Get cracking now!  We have reached Part B so far in the story. We will introduce you to Part C at 11.30 am!  Solve Part B here
27th August 2013
12:00 hrs – Our mid-year Placement forecast is out. Start-ups and IT may save us. Consulting will be most stable. All this and more in our mid year forecast. Read here
25th August 2013
12 : 00 hrs – Introducing the 14th Indian Business School and the 20th Global School to be featured on InsideIIM.com. It's NITIE 🙂 …. 10 Things that make NITIE special
23rd August 2013
14:45 hrs – New on-site internship with Brokers Please Excuse! Stipend INR 10,000 – INR 25,000. Open to all. Check the latest internship opening from BPE here
8: 30 hrs – "My 2 cents would be just to follow your heart and do what you've always wanted to do. You'll always do very well in what you want to do, as against something you have to do because your family expects you to do that." – Read this detailed interview with the Bangalore Operations Head of FAASOS, Raghav Joshi. Part 1 is here…. Part 2 is here
22nd August 2013
18 : 30 hrs – All your Verbal woes are about to end. A completely analytical and a new incisive approach to verbal and RC that will ensure you score big in your entrance tests! Hemang Panchmatia is here with his brilliant prep strategy. Read here
8 : 30 hrs – Today we will bring you the definitive Verbal Guide for CAT – a 75 Days to CAT approach. Keep watching this space. This might just be the end of all your woes in Verbal.
21st August 2013
12 : 15 hrs – "Do you know how to handle a Social Media Crisis? What is SEO/SEM? How do you measure ROI when spending dollars online? " Know all this and more by going through this short concise and simple course by Garima Jain. Watch/Read the entire course here.
20th August 2013
18:00 hrs – "Over the years emotional quotient has come to share the same pedestal with intelligence quotient as a behavioural model due to the cross-cultural and multi-disciplinary work culture." – IE Business School Alumna, former Entrepreneur and Managing Partner at Antal International India.
19th August 2013
19:00 hrs –  We have gone through a slight makeover! Hope you guys like our new look! Report any issues from the feedback tab on the left!
Most Read Content from Last Week on InsideIIM
1) BCG Offers 10 PPOs at IIM C – PPOs update
2) IIM Lucknow Placement Report – Class of 2013
3) Wolff Olins visits IIM Lucknow
4) Summer Internship Experience at Sony Entertainment Television
5) The Children of the Railway Platform – IIFT Student's article
18th August 2013
16:00 hrs – "20-24 year old Business school students have given themselves the license to gag their fellow mates. Not only do they have the power to gag, they also have the authority to punish." A sad story from a premier school of India. Must Read
17th August 2013
21:30 hrs – People aspiring to go to MDI, please note – Online Application portal is on now. Applications till 15th October 2013 – Check here 
16: 00 hrs – 5 months after IIM Lucknow's convocation, the Final Placement Report for the Class of 2013 is out!
14: 00 hrs – Two highly useful experiences at Johnson & Johnson Medical. One successful and one unsuccessful! One from a Commerce student and one from a Doctor! Read them here
16th August 2013
15:00 hrs – InsideIIM.com is pleased to feature our second Management Education University from Europe, Rotterdam School of Management, Netherlands. It is one of the most sought after schools in the world and Holland's relatively free labour market is a great plus. Over 90% of RSM's class is International! Know 10 Reasons to be at RSM!
15th August 2013
20:00 hrs – 2 New Interview experiences have been posted in our run up to the preparation for Summer Placements 2013.
14th August 2013
20 : 00 hrs – Sorry for the delay in posting here but you must read this heart wrenching piece by Mohammad Haider from IIFT Kolkata –  The Children of the Railway Platform
Also, did you read about Wolff Olins visiting IIM Lucknow?
—————————————————-
The new MBA season has begun. Class of 2015 is now neck deep with work, well into their first term across business schools. CAT 2013 notification is out. Deadlines for applications for schools accepting GMAT scores are fast approaching. And so, we are back with out live blog!
One of the best ways to kick off your preparation would be to make use of our FREE Test Prep Library. Also, read our piece on 10 Questions to ask before choosing a Business School in India.
Watch the Ask the Expert section for the 4 Weeks in July here. Interact directly with our Test Prep experts here
Students in top Business Schools should start preparation for Placements here in our Career Guide.  Also, follow discussions on Interview Experiences and Internship experiences apart from other questions around your career in the Career Junction.
In all the cacophony, do know that our Career Store is just a click away. Get great discounts on InsideIIM.com!
The Live Updates Blog for Last Season is available here. It has some great nuggets of information.
—————————————————————
12th August 2013
16: 00 hrs –  Just in – BCG offers 10 PPOs. Mckinsey & Co. and Bain offer PPOs to all Interns – IIM Calcutta Pre-Placement Offers Update. Read here
15:30 hrs – "Even though my work didn't involve any excel sheets, it did include visits to the agency offices. One such visit involved going to an agency launch event as a representative of SAB TV. So there I was sitting in a film city studio, along with people from around the world, watching a dance show followed by one of the most amazing buffets, as part of my work. I also got to visit 4 different show sets, having tea with one of the biggest poets in the country, high-fiving a cricketer turned commentator in the office lobby, watching an IPL match (albeit only a few balls) with another cricketer turned commentator at the Extraaa Innings set and play catch with a young TV star in the office." Must Read experience by Prateek Jain. Our winning entry from the Summer Saga contest! Read here
12:00 hrs – We are very happy to have Hemang Panchmatia, Head of Verbal department at CREDence running an exclusive thread for your Verbal Preparation queries. Guaranteed response in 48 hours. Visit it here
8th August 2013
20:30 hrs – If you are interested in Operations and Supply Chain, then you have to read this internship experience from Biswarup Das from IIM Udaipur here
7th August 2013
18:00 hrs – It's been a while since we have written about Student Exchange. For all of you interested in going abroad for a short while to study, read this article from an IIFT student!
11:00 hrs – InsideIIM.com is very happy to help Acumen attract best talent for the Acumen India Fellows program. It is a great opportunity and could potentially transform your career. Please read all about it here
6th August 2013
16:00 hrs – Raghuram Rajan, Gold Medalist IIM Ahmedabad graduate from the Class of 1987 becomes the first IIM graduate to become the Governor of the Reserve Bank of India.
Mr Rajan, a former International Monetary Fund (IMF) Chief Economist has been appointed for a three-year period. He is currently the Chief Economic Advisor to the Government of India. Rajan is also a visiting professor for the World Bank, Federal Reserve Board, and Swedish Parliamentary Commission. He formerly served as the president of the American Finance Association
Rajan was a gold medalist in IIT Delhi and IIM Ahmedabad. He received a PhD in management from the Massachusetts Institute of Technology (MIT) in 1991 for his thesis titled "Essays on Banking".
5th August 2013
12 : 15 hrs –  We look at some test cases for admission to IIM A here :
How can I get an Interview Call from IIM Ahmedabad ? – CAT 2013 : PGP 2014-16
10 : 15 am – IIM Ahmedabad has come out with a new and what looks like a very complicated shortlisting criteria. Please read it on page 5 here.
The Big News : If you are in the top 1% (As per your CAT Score) in your discipline in the 5 academic disciplines identified by IIM Ahmedabad, and you have over 90%ile in CAT 2013 you will straightaway be called for WAT and PI. This is clearly an attempt to increase diversity and will help students from disciplines like Humanities to get a chance to get into IIM A who were seriously disadvantaged in the previous selection policy.
50 x 5 = 250 candidates. Normally, IIM A calls about 900-1000 candidates (550-600 general category candidates).  So, Stage  1C in the shortlisting criteria comes into the picture for the remaining 700 odd shortlisted candidates.
If one reads the criteria for Stage 1c, it still has the fundamental flaw which everyone has been crying about for the last 2 years to some extent. Students from boards that throw marks will be benefited. However, the degree of advantage has reduced. So someone with 90+ marks will still be given more marks without any normalization but the degree of weight has been reduced. Application rating is now much more fair.
We look at some test cases here :
How can I get an Interview Call from IIM Ahmedabad ? – CAT 2013 : PGP 2014-16
3rd August 2013
20:00 hrs – IIM Calcutta's shortlisting criteria for PI also remains completely the same for 2014-16. 77% weight to the CAT and 3% advantage to women. The gender advantage given to women gave IIM C over 100 women for the first time this year. Read the entire criteria here
17:00 hrs – " Tough times don't last long …tough people do! " HR Summer Internship experience. 3rd Place Winner – Sampada Kanade from GIM. Read it here.
2nd August 2013
16:30 hrs – Did you know that for the last 2 years running IIM Ahmedabad has 95%+ engineers in its batch?! Find out here
13: 00 hrs – IIM Bangalore's shortlisting and selection criteria is available here. Absolutely no change in the criteria. The weight to CAT is a low 20% for the shortlist for PI and has a basic filter of 90%ile in Verbal, 80%ile in Quant and 90%ile overall. No special weight to women. Only additional points for candidates from professional exams – CA, CS and ICWA. IIM Bangalore's criteria has been pretty consistent for over a decade now and with a slight tweak 2 years back they have been able to admit over 100 women without giving extra points for diversity. (IIM A,B and I are the only IIMs to not relax rules for women from among the old IIMs).
For last year's criteria, go here
1st August 2013
19:00 hrs – IIM Lucknow shortlisting criteria for 2013 is now available here. The criteria remains more or less the same. The only change is that Class Xth and Class XIIth percentile scores will be taken and not absolute scores like last year. It hardly makes a difference as the weight assigned to both this parameters is just 4% of the total for shortlisting and just 2% in the total analysis. Plus, you will never know how the percentile calculation has been done. Is it done based on last 5 years scores or last 3 years? What if scoring patterns changed in the same board in those 3 or 5 years. Our suggestion – Don't fret about it. There isn't much you can do.
Our analysis of IIM Lucknow's criteria of last year is available here. There is no change and hence we have nothing to add. Women will continue to get an easier ride. Non-Engineers get the added advantage too.
Just know that the Class of 2014 and Class of 2015 at IIM Lucknow have over 170 women students (PGP+PGP-ABM combined)
31st July 2013
19: 00 hrs –  XAT 2014 notification out! Please check here. Keep an eye on http://xatonline.net.in/ for future reference. January 5th 2014 is the date!
17: 00 hrs – The InsideIIM Recruitment Survey 2013 is here! Please spare 3-7 mins here. It will only help you take better career decisions!
13: 00 hrs – In news that you should interest you, we are launching the InsideIIM Recruitment Survey for the year 2013 today! Watch this space for more. You can visit last year's results here.
(Promotion : Less than 100 days to go for the CAT. Use our Career Store to boost your preparation from the best in the country. Get exclusive discounts (10 – 20%) as well. Visit our Career Store now : http://insideiim.com/product-category/career-store/ )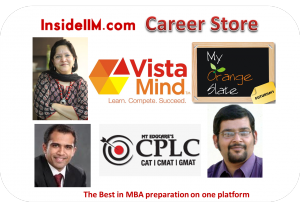 30th July 2013
13 : 30 hrs – Class of 2013 and other professionals – One simple question : Have you structured your compensation tax optimally? Read this and find out – HRA vs Rent Free Accommodation
29th July 2013
21 : 30 hrs – New Live Project by Fitternity India. It is a paid project. Apply now!
18:00 hrs – How about preparing for some Para Completion? Go through this FREE virtual class and get some confidence!
16:00 hrs – Most Read articles on InsideIIM.com in the week – 22nd to 28th Jul
1) Final Placements : IIM Calcutta – Class of 2013
2) Interview with Rahul Mallya – Investment Banker and IIFT alum
3) 20 Office wardrobe rules for women
4) Myths, Dos and Donts about CAT
5) Interview with Country Head of Zomato
CAT 2013 Notification
12:00 hrs  –  The newsworthy items around the CAT 2013 notification aren't so much to do with the Test but rather around administration and procedures. Stung by the CAT scam, the IIMs have decided to take matters in their own hands. It seems unlikely that any agency apart from Prometric will be involved in either the conduct of the test, online operations or the announcement of the results.
Points to Note
1) The website URL has changed  to www.cat2013.iimidr.ac.in from catiim.in. IIM Indore is conducting the test and Rohit Kapoor is the CAT convenor.
2) One will be able to pay online for the registration. The availability of the vouchers online is a welcome step and makes it very convenient.
3) No changes to the format of the Test :  "CAT 2013 will have two sections. The first section will focus on Quantitative Ability & Data Interpretation; the second on Verbal Ability & Logical Reasoning. These two sections will be implemented sequentially with separate time limits. The examination will be for 140 minutes. Candidates will have 70 minutes to answer 30 questions within each section which will have an on‐screen countdown timer. Once the time ends for the first section, they will move to the second and will be unable to go back."
4) Increase in the number of seats by 115 across the 13 IIMs. (As per our information, most of the increase will be seen across the newer IIMs)
5) The press release again talks about women in the IIMs. Clearly, it remains the hot topic among CAT convenors, Admissions Chairpersons and IIM Directors.
Important Dates
Sale of Vouchers Online and at Axis Bank branches : 5th August 2013 to 24th September 2013
Registration Window : 5th August 2013 to 26th September 2013
Know everything about the Selection Criteria of Top Schools in India for the Class of 2015 here. We will keep updating this blog as and when we know more about the criteria for the Class of 2016.
IIFT Entrance Test
The Test is on 24th November 2013
Last date to register online is 3rd September 2013
Register for the IIFT Test here.  Know everything about IIFT here