The MBA Dream Come True At MDI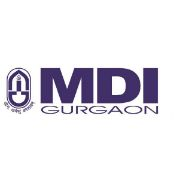 It was my dream to pursue MBA and having landed at a tier-1 college like MDI Gurgaon, I saw it coming true. Still I was not sure that after two years of work experience if I ill be able to cope up with studies and academic rigour. Also I was weary about the tough competition among highly talented bunch of students and was not sure what lay ahead. I can highly relate the day I left my hometown and arrived at MDI with a song by Shaan – 'Tanha Dil' and the lyrics – 'Ankhon mein sapne liye, ghar se hum chal toh diye…Jaane yeh raahe ab le jayegi kaahan'. As I arrived at the campus and registered for the hostel, I was given room 346 on second floor of Change Masters Hostel. Initially, I felt a bit sad as I had heard from other students that it would be too hot on the top floor. However, as I went to my room and met other floormates I was sure that I am going to have a wonderful time ahead. Most of the friends on my floor did not stay in the hostel on the first day and instead preferred to stay with their parents outside. In the evening I went to search if someone was still present in any room on my floor and that's how I met Jason. We roamed around the campus, had food together, played music and had an amazing time. This is how I had a wonderful start at MDI.
Now coming to ADITY BIRLA GROUP(ABG), It is one of the biggest Indian conglomerates with total of  $ 44.3 bn. and having reach in industries like Cement, Agriculture, Insurance, Textile, Telecom, Fashion etc. Having entered a B-school, I have learned the importance of dressing and how one presents oneself. A manager can best present himself in a formal shirt, a suit and a tie. I would like to work for one of the subsidiaries of ABG-  'GRASIM INDUSTIES' which is also one of the biggest players in textile industry and accounts to total $8.6 bn out of total $44.3 bn revenue of ABG. I want to earn more about the working of a textile company and being in HR domain, I would like to understand and refine the work culture and environment in the textile factories as well as taking care that the workers are given proper compensation and benefits.