MBA First Term Ultimate Survival Tips By An IIM Bangalore Student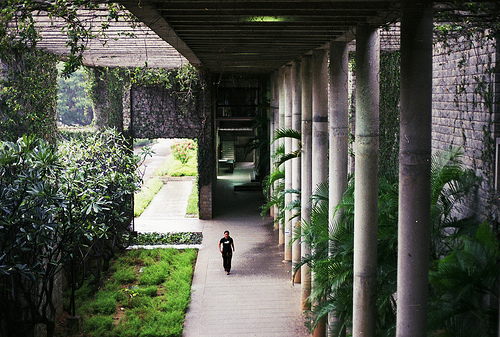 Indian Institute Of Management. A brand in itself. Every person who makes it to an IIM is special in his own way. The day you come to know that you have gotten into an IIM, you feel like you have crossed a bridge. You feel like you have made it in life. This is actually the first time when you actually start believing that this was the last straw in those years of turmoil that the Indian Education System makes us go through. You feel like you have scaled the everest and can now enjoy the glorious view.
Hold my beer. You are in for plenty of surprises. Some pleasant and some otherwise. You have just about gotten into a roller-coaster. Hold tight. Or you may fall off!
Orientation Week
The first few days of your dream B-School. It takes not more than 3 days to realize how hectic life is going to be in the days to come. The Orientation program ensures that. And it actually prepares you for the life ahead. Although it is a very very important part of your B-School life, the foundation if I may, it is important to realize that this is the only time when you can make as many mistakes as you want to and not pay for it. You can fail as many times as you want and you will still get a lifeline. This is also the time when you make some really close friends who will be there for you throughout this journey. The best way to enjoy this phase is to just go with the flow. Don't get too serious. Life is going to try its best to make you serious anyway. Just spare these 10 days!
Lectures
You would have got your pre-reads even before the first day of lectures. This is usually the time when everyone is very diligent about them and understandably so. First Impressions last. You start behind the 8-ball, you will never make it to the front. So make sure you read up before your first day and make an impression. The grades that you get throughout the term will depend on what impression the professor has of you. There will be some professors who will peak your attention every single minute while there will be others you can barely stand. Given the attendance policy, there is not much you can do about this. The 1st term will demand a lot of commitment and it may not be possible to be at your best all the time. So it makes sense to go in with some kind of a strategy. Before your lectures start, there is an important choice you should make. Grades v/s Learning. You may be very lucky and manage to do well on both fronts. But in a majority of the cases, you will be able to maximize only one. And there is no right or wrong choice. It's completely personal. If you decide to focus on learning and value addition, the best strategy is to read extensively on the subjects taught by the professors who give invaluable insights in each and every lecture. The problem arises when these lectures are on the same day as the ones which have marks for class participation (CP) and have not so good professors. If you have decided to focus on learning, do not start pre-reads for the latter subjects just for scoring CP before thoroughly reading on what interests you. The kind of intellectual stimulation you will get in the subjects which have an exceptional professor after you have read thoroughly will amaze you. However, if scoring marks is your primary aim in the 1st term, then the strategy is the exact opposite!
Within the first week, you would be able to identify which subjects need a lot of effort from you and which subjects are your strengths. Decision Sciences is a subject that challenges most people including engineers who have taken Statistics courses in their undergrad. Economics is an unnecessarily made to be a quantitative+graphs oriented subject and might require some practice if you are not familiar with it. Financial Accounting is a must do for engineers. So do not compromise on pre-reads for these subjects when you have a lot of other things to do later on in the term. Make this your first priority and build everything around it. Because trust me, once you lose ground, it becomes impossible to makeup and you are left with no choice but to go for damage limitation.
Projects will take up a lot of your time if you let them and very little of it if you plan them. They are an essential component of your grades and are to be taken seriously. However, most of them will be group projects and you will not be able to control the entire outcome. You should spend only as much time on the projects as is their weight in the ultimate score. It is, of course, advisable to do your part diligently and take initiative to get the work done from others. However, there will be times when you will have to let go. Don't stress yourself over projects. There will be enough things already to stress about!
Exams & Grading
Exams at a b-school are a completely different animal. You will have quizzes (fancy word for exams – do not confuse this with the quizzes you see on TV!), mid-terms, end-terms, etc. If you have done your pre-reads well, you will be half way there in preparing for these exams. And I know it sounds very elementary when I say do your pre-reads. But trust me, to stay disciplined with your pre-reads becomes exceptionally tough as the term progresses. Those who manage to stay disciplined throughout are the ones who can sail through these exams. You will have more than a 1000 pages to go through before the exam day and if you are doing them for the first time, you will feel like killing yourself! So again, stay disciplined throughout. You won't have exam stress.
When it comes to evaluation of these examinations, let me break it to you; the evaluation is highly subjective. The professor decides what is right and what is not. There is nothing you can do about it. Also, there are many people who lose their cool over 1 or 2 marks, over 1 question, etc. The competition is fierce and the relative grading system is a major culprit for this. It becomes very natural to compare oneself with the median score and be dissatisfied despite doing reasonably well. So it makes senses to remember 2 things. It is just an exam which you will probably not even remember about in 5 years from now. And you should compete only with yourself. This is what all champions do. They try to be the best version of themselves. They never compare themselves with others. So if you want to be a champion, stop looking at the median score. See if you have given your best. See if you could have done better. And do better the next time. But never ever look at the median!
The One-Page CV
The biggest monster of Term 1. The reason you will compromise on a lot of things. The CV is very very important; agreed. After all, it gets you the shortlists you desire. You will end up compromising on a lot of things in the process of preparing this one-page document. Sounds counter-intuitive but that is how it is! So it becomes very important to do this in a structured manner. A good CV takes about 100 hours of your time at most. So start this process as early as you can and keep a hard stop of 2 hours each day. Don't exceed it. Otherwise, it starts seeming like a never ending process.
The other part of this process is meeting PGP2's. There are people who meet 25+ PGP2's while there are others who meet only 4-5. In my opinion, meeting more and more people seem to have decreasing returns to scale after a point. And you will realise it when it starts happening. So do not have a pre-set target of meeting "xx" number of people. Meet people as long as they add value to your CV. Also, start meeting people as early as possible. No one has time at a b-school and if you leave it to later, no one would have the time to meet you!
Extracurriculars
Almost all b-schools have state of the art facilities for pursuing your hobbies. However, you end up having very little time for them. You end up pursuing your interests, passion even, only in abrupt phases. Again, discipline comes into play here. You must be willing to let everything else go for 1 hour a day. No matter what the consequences. You should have that 1 hour which is your own. This becomes almost impossible when things start heating up. But you must remember before everything else comes life! Your Life! So have that 1 hour each day where nothing else matters. It will pay rich dividends. You will actually end up having a stress free term 1. And who know, may be a stress free b-school life!
These hacks will not necessarily guarantee success. Nor will they guarantee a perfect life. Because there is no such thing as a perfect life. There is no one size fits all when it comes to success. What these hacks are meant to do is to aid you in making your decisions while figuring out your perfect life. While making your yardsticks for success. And most importantly, for staying calm within the storm that surrounds you!