MBA from an IIT: Is it worth?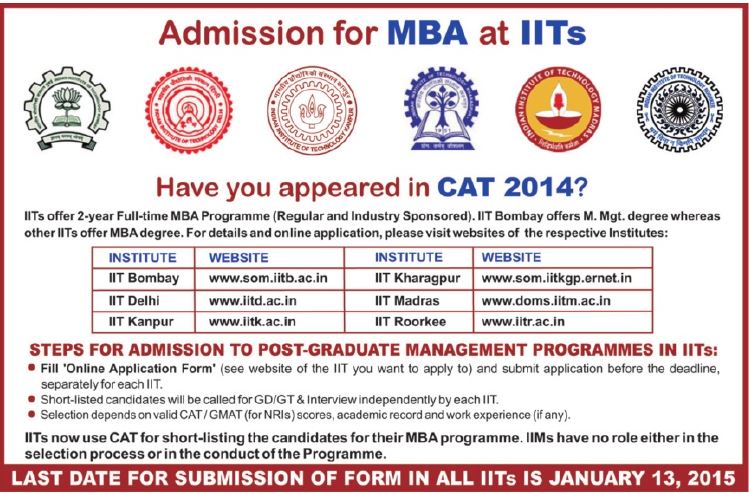 Almost every MBA aspirant in India dreams to get a coveted seat at one of the IIM's, which are considered to be the best places to pursue management education in the nation. The top IIM's offer high quality education and have an enviable placement record. There was a time when quality business education was synonymous with the IIM's, but things are changing. Several colleges in India, particularly the schools of management from various IIT's, with their infrastructure and unique course offerings have grown in stature and are looked upon as centres of excellence.
IITs' foray into management education (in its current form) has been relatively a recent phenomenon. IIT Kharagpur was the first to start teaching management in 1993 and others followed suit over the next decade. Their courses are indeed young compared to many other prominent B schools in the country, but nevertheless, they are starting to get noticed. Starting late has in fact helped the IITs to offer unique courses which usually do not find places in the curriculum of established B Schools for example IIT Delhi offers a two year specialized program on telecommunication systems and opportunity to pursue a month long winter internship in the month of December.
Recently the Indian Institute of Technology (IIT) Delhi has changed the curriculum of their MBA programs as well as the admission criteria. The biggest changes that have been brought to the new MBA programs is that, the two-year MBA in management systems is now open for candidates from all disciplines. "From 2015, students from all the streams would be welcomed to apply for our MBA programme. IIT-Delhi looks forward to students from diverse backgrounds. We believe that knowledge shouldn't be restricted to specific disciplines and students from all fields make a good mix at any institution, especially in terms of cross disciplinary learning," says DMS head Kanika T Bhal
One of the key differentiator in the IITs course structure is flexibility to choose electives and in depth specialization, this also helps in a holistic learning environment created by participation from B Techs, M Techs and MBAs. Being setup in the IIT ecosystem helps student to come across plethora of research and consulting opportunities. A widely integrated alum base shared via IIT tag is one the factors that helps IITs to compete with top notch management institutes. Many a times, final decision on the selection of a B School comes on fees factor. IITs surely score points on this factor with fees ranging from 2 to 8 lacs for the whole course.
Also, being part of the IIT system there other limitations to growth, DMS IIT Delhi has a student cap of 115 students as compared to larger intakes in various IIMs which provide recruiters with a wider diversification. In spite of the goodwill management education in IITs has come to enjoy, they still need to reach at par with Old established IIMs in the eyes of industry and recruiters.
These limitations have not prevented them from producing good management graduates. According to them, the perception gap among recruiters between an MBA from IIT and an IIM is fast narrowing. As it is said management is a marathon. Not a sprint.
Media Cell DMS, IIT Delhi
The Department of Management Studies is a result of the evolutionary process of growth of an idea floated in 1963. What was then a seed, gradually came to life and in 1974, IIT Delhi set up an internal committee to scrutinize the functioning of the management area in the institute. In 1975, an expert committee was setup to formally examine the possibility of launching this area in a more sustained fashion. The result was an M.Tech programme in "Management Systems" in the School for System Studies, (subsequently renamed School for Systems and Management Studies). The year 1978 saw the setting up of the Management Core Group and the core inputs to a full time Management Education at IIT(D) were reconfirmed by an Advisory Committee constituted by the representatives of the Academia and the industry. Since then, there has been no looking back. The School for Systems and Management Studies became the Centre for Systems and Management Studies. This was subsequently renamed as the Centre for Management Studies. In 1993 the Department was brought into existence by amendment to IIT (D) statutes. Clearly, the Department responds to a felt need of the Indian Industry and derives satisfaction from its heavy field orientation in all its curriculum activity. In response to the feedback from the students, alumni and industry, the Department of Management Studies launched MBA programmes in 1997. The department currently runs a two year full time MBA programme (General and with focus on Telecommunication Systems Management) and a three year part time MBA programme (with focus on Technology Management). MBA program in IIT Delhi is designed keeping in mind the changes in business environment and the need of the industry. Our academic program is comparable to the best that are available in the world class business schools for creating managers to face the new challenges of the ever changing market environment. The entire course aims at creating holistic managers trained by a very eminent faculty, which is also supported by the experienced professionals as external faculty from India and abroad. The students are admitted through a rigorous screening process that includes CAT score, group discussion and interview. IITD MBAs are known to do well.