McKinsey & Company – InsideIIM Internship Inventory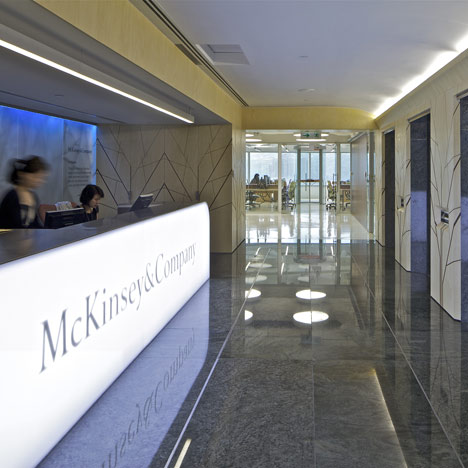 Before we begin with this company analysis, for MBA aspirants who are not privy to the features of the Consulting domain, it is recommended that you acquaint yourself with the same. Resources you can use to do this are:
McKinsey – Who they are, What they do, Why they do it
McKinsey is a global management consulting firm based out of the United States. Established in 1926, the MBB* firm has gone on to become one of the most (if not the most) reputed and influential management consulting firms in the world. Although consulting firms do not reveal the names of their clients, it is said that all big corporations of the world have worked with McKinsey at some point or the other. They have worked with clients from diverse industries such as Agriculture, FMCG, Financial Servies, Healthcare, Media & Entertainment, Social Sector and even Governments of various countries.
*(MBB refers to the three big companies in management consulting: McKinsey & Co., Boston Consulting Group, and Bain & Co.)
McKinsey says on their official website, "We are a global management consulting firm that serves a broad mix of private, public and social sector institutions. We help our clients make significant and lasting improvements to their performance and realize their most important goals. With nearly a century of experience, we've built a firm uniquely equipped to this task."
McKinsey has offices in 70 countries. In India, it has its offices in Bangalore, Gurugram, Chennai and Mumbai. They also have a McKinsey service centre at Trivandrum, and McKinsey Knowledge Centers at Gurugram and Chennai.
Learn how to Land Your Dream Internship from Successful PPO holders from Top Recruiters. 

Register for the latest weekly webinar here.
The McKinsey & Company Gurgaon Office –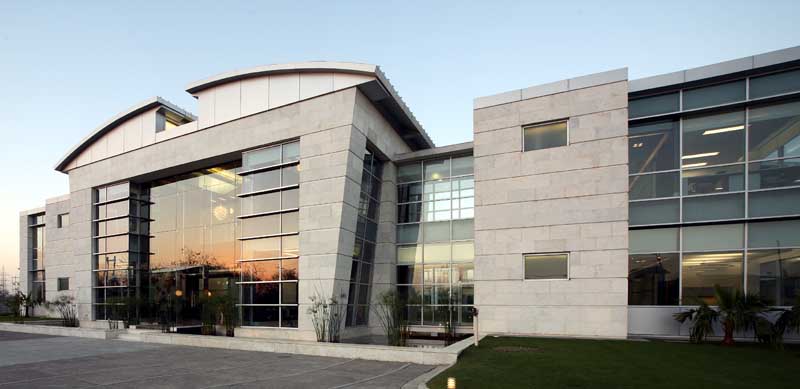 Top Management
McKinsey India
Gautam Kumra: Mr Kumra is the Managing Director of McKinsey India. He is an IIT Delhi and IIM Ahmedabad graduate and has been working with McKinsey & Co. for 23 years. Mr Kumra took over from Noshir Kaka in 2017 and is the founder of the McKinsey Leadership Institute.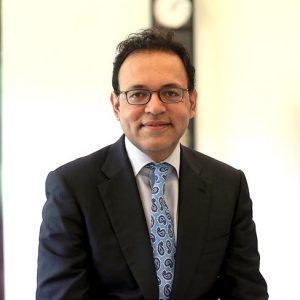 McKinsey Global:
Kevin Sneader: Mr Sneader is the Global Managing Partner of McKinsey & Company and is a graduate of the Harvard Business School. He joined the firm in 1989 and succeeded Mr Dominic Barton as the Global Managing Partner.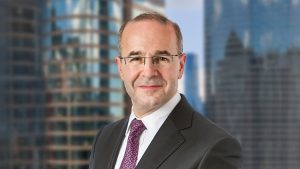 (Click here for the profiles of McKinsey India's Senior Partners and Partners)
Brief History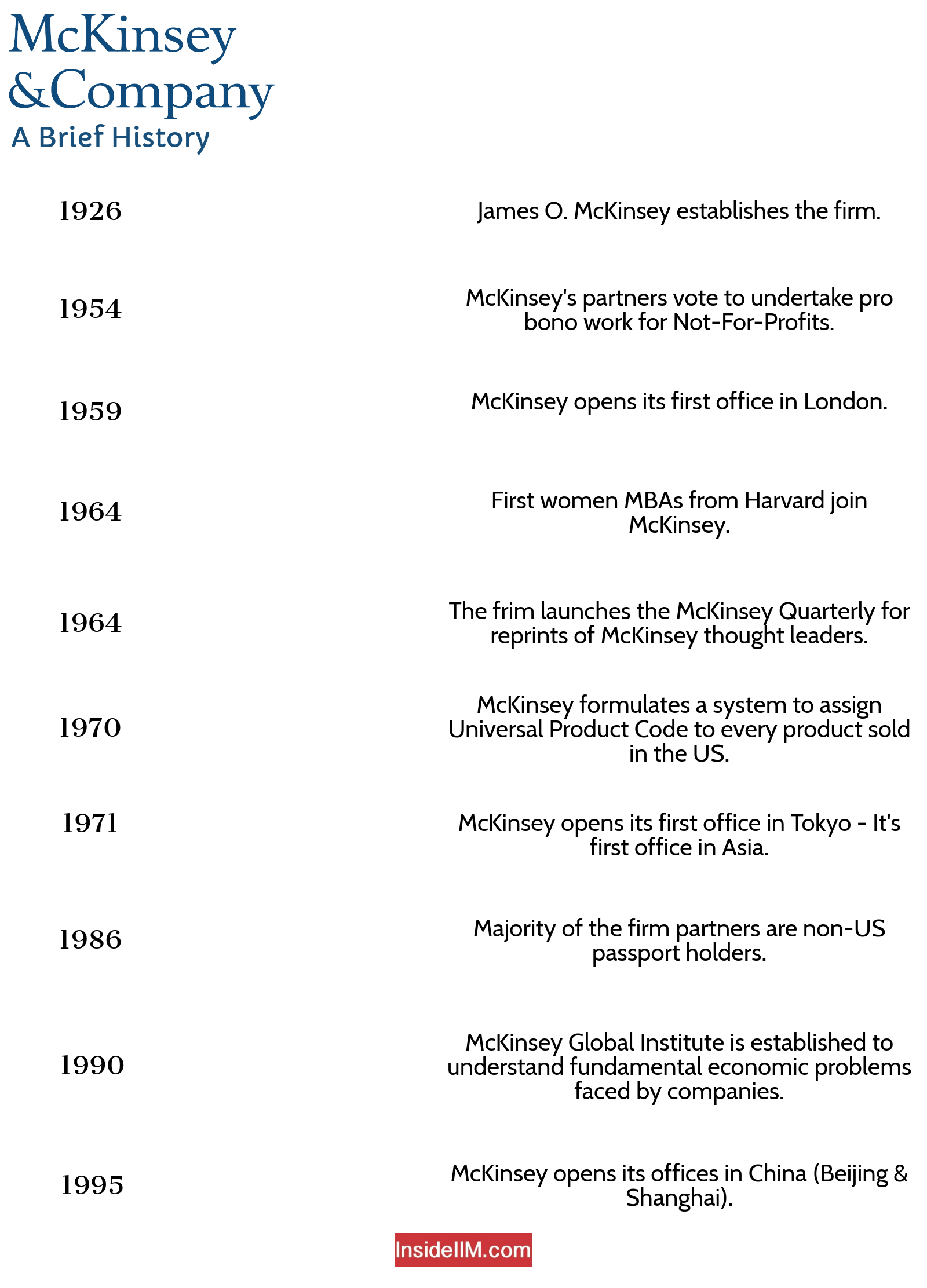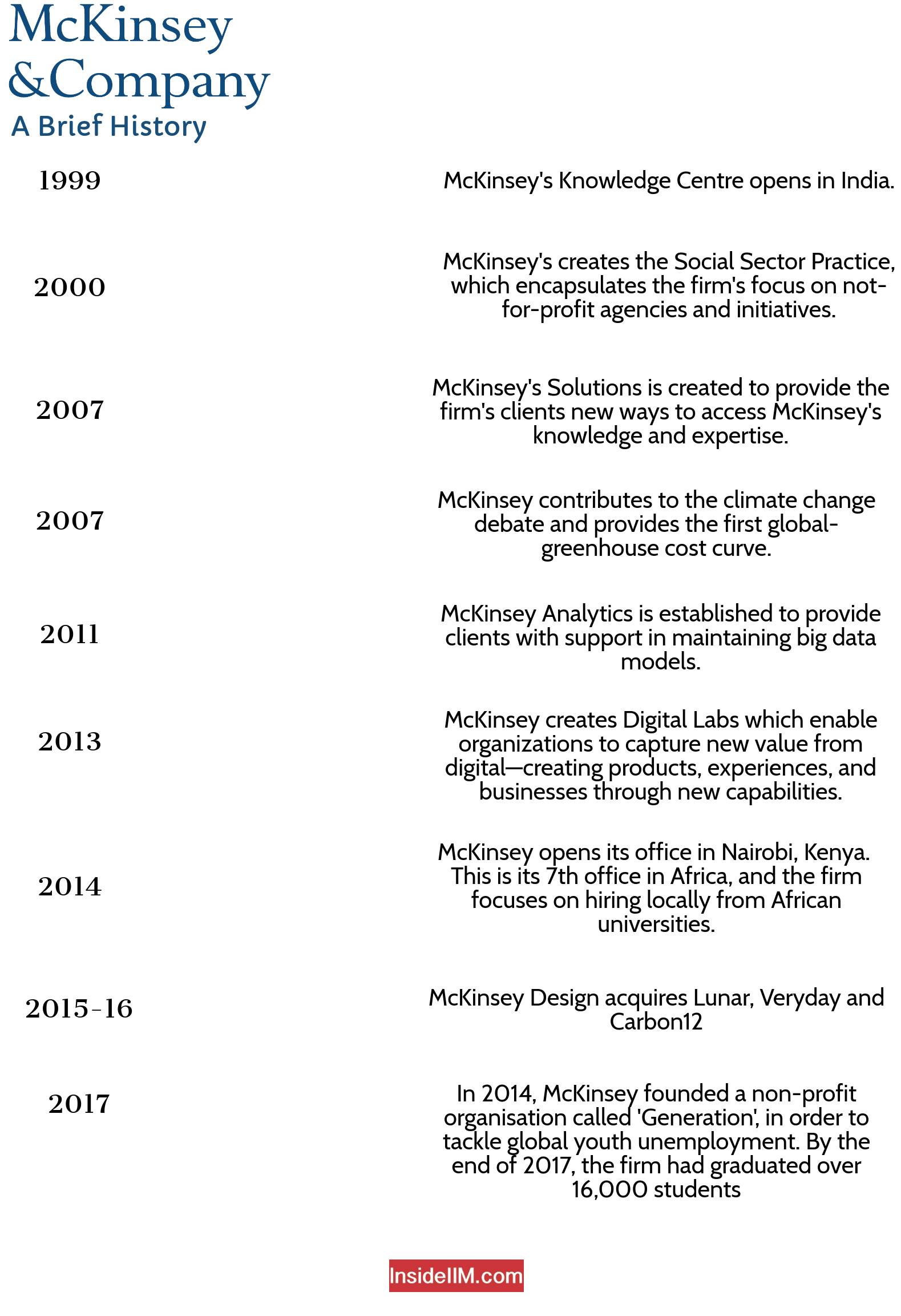 Brand Recognition
Consulting firms do not advertise their services or market themselves. Due to a non-disclosure agreement (NDA) that the firms have with their clients, they cannot even reveal the names of their clients. Therefore, these firms rely on thought leadership and research publications to sustain and increase their market presence. For instance, McKinsey has a separate section on their website called the McKinsey Insights, which consists of McKinsey's analysis of business trends and insights on business management.
There is also a dedicated McKinsey Insights mobile application to provide easy access to their publications. Similarly, the 'McKinsey Quarterly' is the firm's quarterly magazine for managers and business leaders. It combines articles by McKinsey consultants, the Global Institute research publications, as well as articles by the Partners and Senior Partners on trending business issues. They also have a mobile application called McKinsey Quarterly Fifty-Fifty for the same.
A printed copy of the McKinsey Quarterly is provided to clients before the digital copy is published. For acquiring clients, McKinsey and Company rely on their alumni network. The firm boasts of 33,000 alumni spread across 120 industries. Therefore, the McK alumni at the helm of these companies recommend considering the firm's services to solve their business issues, and this is how the firm utilizes its strong alumni connect.
InsideIIM's Annual Recruitment Survey also shows that McKinsey has always been a part of the top-3 most desirable Consulting recruiters:
2017

2016

2015

2014

2013

Current Students

Alumni

Current Students

Alumni

Current Students

Alumni

Current Students

Alumni

Current Students

Alumni

McKinsey & Company

1st

1st

2nd

1st

1st

1st

1st

1st

2nd

1st

The Boston Consulting Group

3rd

2nd

1st

3rd

3rd

2nd

2nd

2nd

1st

1st

Bain & Company

2nd

3rd

3rd

2nd

2nd

3rd

3rd

3rd

3rd

2nd
From the above table, it is clear that both current students and post-MBA professionals are inclined towards McKinsey as a recruiter, and perceive it as a more promising firm for advancement in their careers.
Careers With McKinsey
According to their official website, McKinsey is looking to hire a problem solver— someone who is proficient in developing hypotheses, collecting and analyzing data, drawing conclusions, and making recommendations. They must be intellectually curious, asking and answering questions others don't, and testing solutions others haven't thought of trying. McKinsey & Company hire only from the premier management institutes of the country, which for India are IIM A, B, C, L, I, K, ISB Hyderabad XLRI Jamshedpur, JBIMS and FMS. The firm hires MBA candidates as Junior Associates. Usually, those who join as Summer Associates with the firm end up getting PPOs. Those with significant years of work experience (3-4) can join the firm as Associates. One can be a part of one of the two career tracks that McKinsey has to offer:
Generalist Consultant – You become a consultant for clients from all industries. One may specialize in a few industries in the course of their careers.
Practice Consultant – You join as a Consultant with a particular specialization, and offer services to clients relevant to your expertise.
It is said that 'The Firm' is a CEO factory, with a USA Today report stating that 1 in 690 McKinseyites will become the CEO of an organization. Some McKinsey alumni who went on to become CEOs are:
Sundar Pichai, CEO of Google.
Rajan Anandan, Vice-President, Dell India Pvt. Ltd.
Manish Maheshwari, CEO, Network 18 Media.
Arnab Datta, Global Head, Standard Chartered Bank.
Kartik Sheth, former-CEO of Airtel (Data and Devices), current CEO of Wynk Limited.
Prateek Bhattacharya, deputy-CEO, Lodha Group.
Ananth Narayan, CEO, Myntra (former Director at McKinsey)
Ashish Goel, Founder-CEO, Urban Ladder.
In general, the firm is one of the most desirable recruiters, which can be attributed to factors such as the variety of projects and exposure to wide range of areas, work environment, travel opportunities, work culture, and package offered (MBB firms usually offer some of the highest packages on campus).
Campus Selection Procedure
For campus selection, McKinsey has one of the most rigorous and challenging processes. This has earned it the top place in Glassdoor's Top 25 Most Difficult Companies To Interview For.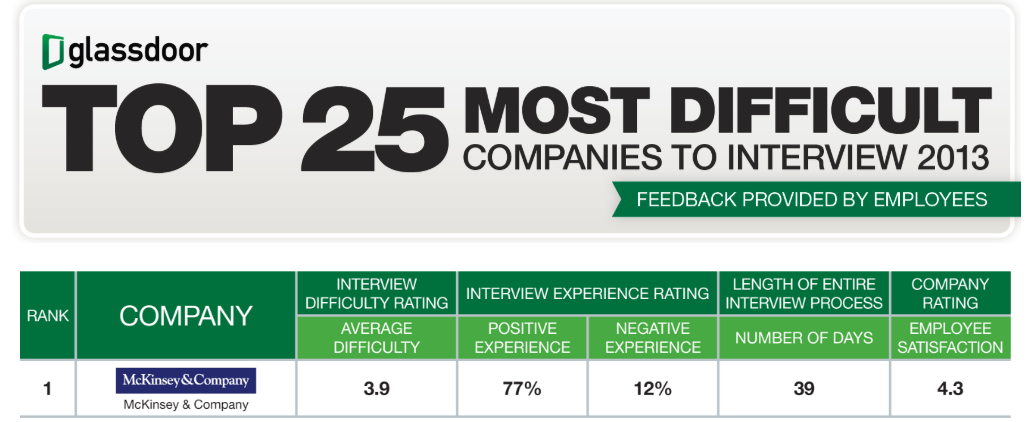 The selection procedure is a mixture of interviews with Partners and Engagement managers, as well as case studies and relevant questions. The interviews may vary, with some interviews being more case-intensive than others. After the CVs are screened by McKinsey, the further processes are split into two rounds:
First-Round – Personal Experience Interview, which is a mixture of a PI as well as case studies. The interview will usually be conducted by Senior Associates and Engagement Managers.
Second-Round, a.k.a., Batch-Days – You will be required to fly down to the McKinsey office, followed by an interview similar to the first-round that will be conducted by Senior Partners and Partners.
Most of the questions in Consulting interviews are based on guesstimates, which check your problem-solving abilities and approach. One must focus equally on the technical as well as the HR questions, since the firm is looking for the required gravitas, leadership qualities and soft skills, along with an analytical and *MECE method of thinking. In McKinsey parlance, you need to "peel the onion" i.e., have an in-depth understanding of the case given to you, and break down the problem into small segments for better analysis.
*MECE stands for – Mutually Exclusive, Collectively Exhaustive.
A key insight is that during the interview process, the questions one asks are as important as the answers that one gives.
For some great insights, read here about some McKinsey interview experiences.
Work Culture
Considering McKinsey hires only from distinguished management institutes, it is tacit knowledge that you will be working with a team of highly efficient, analytical and intelligent consultants. Some suggest that all McKinsey Consultants can be classified into the 'ENTJ' category of the Myers-Briggs Test.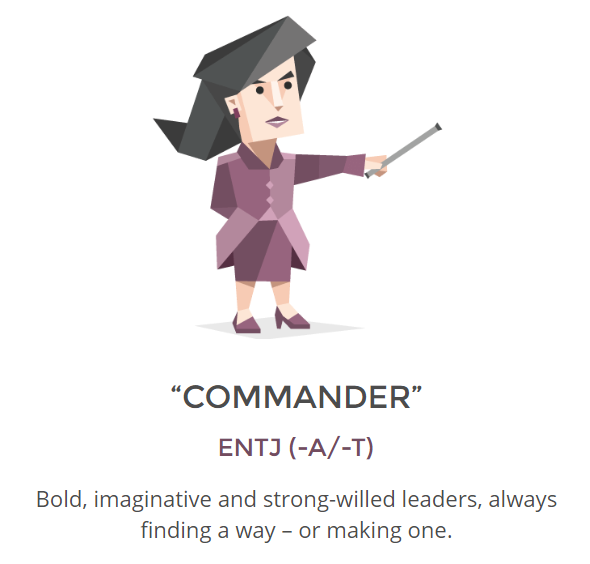 Furthermore, you get the opportunity early on in your career to interact with C-level managers and rub shoulders with top executives of renowned companies. The learning curve is one of the steepest in a Consulting role, and this provides unparalleled learning opportunities. There are frequent performance reviews and feedback systems in place to provide an up-to-date analysis of your performance. As a McKinsey consultant (or any Consultant), there is a lot of travelling involved, usually 3-4 days in a week. One gets to stay in 5-star hotels (think Starwood, Hilton, Marriot, Taj) and visit various countries and cities. But that is one facet of the role. Consulting, when looked at from a holistic point of view, is a very demanding job.
"In response to introducing myself, and hearing where I worked, someone said to me – "Oh yes, McKinsey. Full of people who used to be interesting." And this hurts because it reflects a kernel of truth." – Former McKinsey Engagement Manager
A Consultant spends anywhere between 60-70 hours working in a week (depending on the type of project and the work culture). The travel also becomes taxing after a while, and the glamour wears off. Add to that the competition at the workplace, stress from the client side and the infamous "Up or Out" culture at McKinsey (you improve and advance or you leave), the stress levels can elevate to a great extent in the life of an McK Consultant.
The Glassdoor review for McKinsey India is a testimonial to this as well. It is evident that once you join McKinsey, you can forget about any kind of work-life balance. But this trend is uniform across most Consulting roles, so this fact is already well known to those who have decided on being Consultants.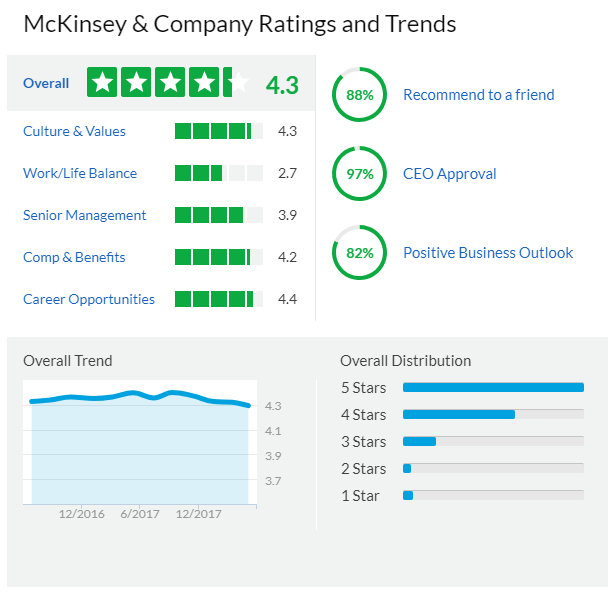 While the work-life-balance ratings do not put the firm in great light, the contrast in other parameters is astonishing.  Clearly, "the McKinsey way" is of paramount importance and dwarfs any work-life balance related concerns.
Further Reading/Viewing:
A candid interview with Mr Kevin P. Coyne, a Harvard Business School graduate and former McKinsey Worldwide Strategy Practice Co-Leader, who worked with the firm for 28 years. Here, he describes his life at McKinsey and reminisces about his mentors, the mistakes he made, and the values he learnt while at McKinsey.
The McKinsey Way – Ethan M. Rasiel
This book highlights what McKinsey teaches its consultants, and how it trains them to think in "the McKinsey way." The above link is to the PDF version of the book.
Interviewing with McKinsey: Case study interview tips by McKinsey management consultants.
You can also refer to the
McKinsey & Company YouTube Channel
for CEO interviews, information on McKinsey careers, and the firm's global practices.
Take a look at our company profiles of:
Land your dream internship with ONLY 3 hours of prep time. 

Check out our Internship Interview Prep masterclasses here
- Marketing
- Finance
- Operations
- HR

You can buy individual courses or get all of them in a Bundle at 25% discount. 

To know more, click here.