MDI Gurgaon – King Of Kings

My best experience at the campus so far has been participating in the King of Kings (KOK) inter-section sports event as a part of the creatives and publicity team – and let me tell you, it was nothing short of a high-profile family drama! Emotions ran high, we cheered our batchmates till our throats were raw and cracked really bad jokes, laughing uncontrollably on them because that's what happens when one is on two hours of sleep. But the most memorable experience for me was to design our batch t-shirt. The designing process started with a group of people sitting up till 4AM and coming up with a design which was, let's just say, not very creative for a creatives team. Even though I appreciated the work of my selfless batchmates, as a team, we decided on not going ahead with their idea. Quite obviously, this was not appreciated and I before I knew it, I was sitting in front of Adobe PhotoShop and designing the first thing to go on the t-shirt – the logo – myself. What I didn't notice was that I forgot to correct the resolution of the previous logo. After putting in 3 hours of coming up with something presentable, I had to trash the logo and work on something else. The t-shirt vendor was tired of hearing our CR's 'excuses' about the delay (of around a day!) in sending the design. But with the help and support of my amazing batch-mates, I was able to push myself and we as a team were able to complete the design and roll it out within a couple of hours! And the appreciation we got for it later from seniors and batchmates from other sections, was the most fulfilling thing I have faced on campus so far. I would completely attribute all this to the environment I've been a part of at MDI – rarely do we find an environment to be as encouraging, as constructive and as boosting as the one I have seen here!
ABG BRAND I WOULD WORK FOR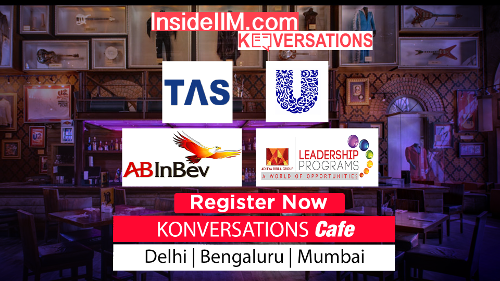 If given a chance, I would love to join the Aditya Birla Fashion and Retail Ltd. family! I feel that working with India's No. 1 fashion and lifestyle entity will give me an opportunity to be a part of a large and growing business that boasts of including the entire retail spectrum, from fast fashion to luxury clothing. What is most inspiring is how a brand that is completely Indian from the roots is continuously winning market share and the love of consumers far and wide (enjoying a customer base of more than 10 million people). Working for ABGFRL will give me a platform to add value to the recently merged businesses, help revolutionize the HR function using disruptive tech, streamline and optimize HR processes and maintain a healthy, conducive environment for our employees to grow in!