MDI – A Place Where Magic Happens

The day when I decided to join MDI
After much of the discussions with everyone around me, I finally decided to join MDI and start my MBA right after my B.Tech. It's not even a month since I left my engineering. So in the heart, I was still an engineer aspiring to do my MBA as a fresher. I was actually very nervous and excited at the same time. So a day before joining, I booked my train and left for the two year journey which was supposed to change my life forever.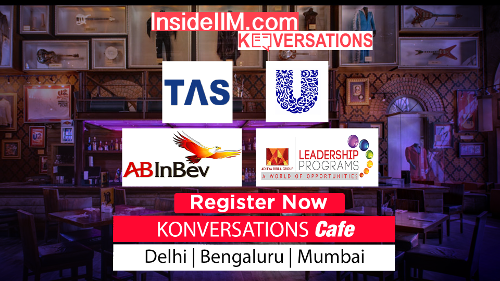 First day at MDI                                                   
After coming to Gurgaon I stayed at one of my friend's place for the night and since the reporting time at MDI was 10 am, I left early after trimming my beard (not shaving). I reached outside the Gate No. 2 of MDI and there I asked one of the guards to tell me about the reporting venue and then he said those two magical words: CHANGE MASTERS
A day before my 'about to be' roommate at MDI texted me and coincidentally he was my senior from NIT Warangal 2015 batch. As soon as I reached CM (Yeah that's what we call it) and reported there I put my luggage in my room and waited for my roommate to come. After an hour or so, we met and decided to take the inventories such as cooler and other things from outside. Most of the day went by just getting to know the people around me and buying regular stuffs.
Present Day at MDI
So today is the last day of KOK (section wars). It's been a month since I first entered into this college and I don't think anything has created such an impact over me in such a short time. I contested for elections and lost miserably 😛 (but managed to change few perceptions about me). I have explored things about me which I never thought I had the capability of doing. My one of the best friend at MDI; Jitesh Mittal (Mittal Ji) named me Pandit Ji and there are some people who don't even know my name but they call me Pandit Ji. I have already made some good friends here; Mittal Ji, Aayushman, Vamsi, Madhav, to name a few. In past few days, I have explored my dancing skills, my case study skills and learned to manage time. Sleeping has become a luxury and subjects have become more practical and interesting. I learned to try new things because you never know where you may excel. MDI has changed me completely and for better. The best part is that even with huge academic rigour, you will enjoy your MBA here not only culturally but also academically.
What an Idea Sirji 
As an employee of ABG, I want to work for Idea Cellular under ABG group. Since the parent company is ABG, it will give an immense opportunity for professional growth. Idea is a DIY company (Do It Yourself) and it has very less outsourcing of functions as compared to other telecom companies which provides the employees of Idea Cellular an edge over others in terms of knowledge. Idea under ABG is a great company with robust outlook and since my childhood I have been seeing the marketing strategy followed by it and it has always inspired me to get associated with its marketing team and get into the other side of the advertisement.