A Memorable Classroom Experience In B-school – Vaibhav Singh, IIM Udaipur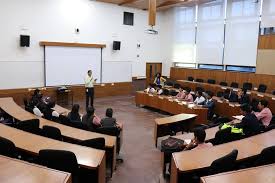 Indian Institute of Management, Udaipur a dream which comes true for me to pursue my Alma matter from college which stands on the foundation of an academic and research institute with world-class faculty as well world-class facilities at the campus.
For every student, college and hostel are the most memorable and best days for his/her life, and people consider this experience for there whole life as the best days of their life. It's almost one year when I first enter this college and attended the first lecture for XYZ. The class was scheduled to start at 9:00 AM and I thought that like engineering college faculty would come after 9:00, but when I reached there faculty was already present there with his presentation loaded in-class laptop, and his teaching assistant was distributing study material to every individual. At sharp 9:00 AM professor ask the student to settle down and class started at the time. Since it was first class at IIMU and every student was excited about this, and at the same time, they want to get the feel of this entirely new and most awaited event of their life. Professor started with his introduction and course outline for his subject. Each class has well define pre-read and course materials. Since it was our first lecture, he gave relaxation on the pre-read as well as class entry timing part, was strictly serious about the class preparation and participation from all student. In very first class he started cold calling and asking about the case. It was the different experience for me when I compare with my B.Tech college pattern, Here every class is planned, and professors are strict and follow it very seriously.
For this class, we got mail from PGP office to bring the laptop and its compulsory for every one to bring their laptop, but one student did not bring the laptop to class and was disturbing another student and was very uncomfortable and wanted this class to get over.
Professor ignores its activity for a couple of times, but he was disturbing the class, Then professor stop in between and ask him to explain the case and he was unable to describe the same and told that he hasn't read the case. It has triggered the threshold level of professor, and he starts lecturing the whole class. This was the first incident of my B-school and is also most memorable for me.
Which ABG Company I would like to work for and why?
Given a chance to work in Aditya Birla Group, I would like to work for Idea Cellular. Because I have almost five years of work experience in telecom domain and I think that I understand this sector very well. There is a lot of consolidation happening in the telecom sector in India, and it's a challenging time for this business. With experience and management skill, It would give me extra benefit to learn more about this sector and also its competition.  Moreover, with increasing smartphone penetration in India and government also focusing on digital India, there's a lot of opportunities for Idea and me to grow in this segment.