A Memorable Classroom Experience At IIM U – Darpan Saxena, IIM Udaipur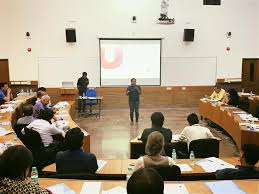 The essence of a residential program like the MBA is in interacting, networking and forging strong relationships. But guess what? Till about 3 months back I did nothing of that sort at all.
Class participation is a battle, which I never fought. Never dared to take the initiative of opening my group presentation in the class.
I exuberate confidence, yes I do, but of a different kind. I am sure of myself, that I will do great, but I find it hard to define. I have a speech impediment. I stammer while I speak and this is how I dealt with my MBA life.
I had never been scared of being on stage, and that's because I never had the fear of being ridiculed. Probably, that's the reason why I never felt shy about delivering monologues in the class, when asked to. It wasn't, spontaneous, rather forced all the time. I know that I have to speak, and practice, and how can I not, it will be such a crime!
But every time I did speak in class or in presentation, I always found it a Herculean task to put two words together. Most of my presentations in Marketing, my favourite discipline, seemed to be less about an assertive marketing strategy and more like an apologetic marketing suggestion.
What hindered my speech always was the baggage that I carried. Darpan is a stammerer, I knew, and I lived up to that reputation each time.
Then came by this one fine day, when I had to act in front of the class in a play. It was for the Human Resource Management course, for which my group to recreate a scene of a socially awkward employee. I fit the bill for this scene, I thought. And so I took the initiative to perform it. This was the protagonist, and he was supposed to have a good number of dialogues. I had a good amount of confidence that I would pull this off.
Then came the day when this had to be enacted. My group came together on the stage, ready to perform. Mine was the first dialogue of the play, with a sense of the character that I was in, I went deep into thinking what Mahesh, which was the name of my character, would feel in this moment, in this scene.
Just when I thought I had successfully felt Mahesh, I rattled the first dialogue. From the first word till the last, the dialogue was on-point, no stammering and full style. But I was too engrossed in the character of the senior employee to reflect back on it. I kept on enacting out my part effortlessly, I was told later. Scene after scene, I delivered a performance that was full of expression and grace.
Soon we got done with our last scene and there was I, standing in front of the classes, soaking in the applause. That was the first time I had spent 10 minutes talking in front of classes, delivering complex dialogues and not stammering for a moment.
What did I realize that day?
I realized that often you need to forget who you are, what are problems have been, and just out there and live up to the role you are playing at that moment. You could be a son, a daughter, a boss, a subordinate, a buyer or a seller.
At the end of it, the question is, can you justify the role you are in? Can you deliver what you need to deliver and in the manner in which you need to deliver? Can you let go of your biases and prejudices and see the world through a different lens?
This was my unique classroom experience at IIM Udaipur, and trust me, it was magic!
Which group of Aditya Birla would you like to work with?
I would love to be a part of Aditya Birla Fashion and Retail Limited. While, yes, the company is going financially strong with a terrific annual growth rate, the bigger reason for me to feel inclined towards this company is the kind of brands it manages.
I have had a rich experience in marketing and product management in my previous work experience. I also blog about the same on my blog superheuristics.com and I am sure that I would be able to work effectively and grow well in a product management or brand management sort of a role.