An Inspiring Story of how SPJIMR students are Touching Lives of the Underprivileged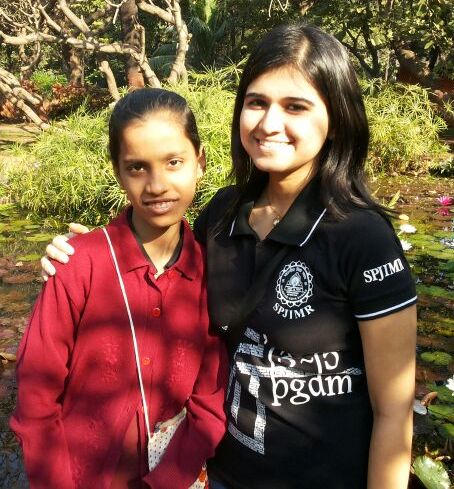 SPJIMR balances academic learning having a global outlook with social sensitivity in order to groom its students into truly global leaders with a unique perspective and take on things. It has three learning innovations that it has incorporated through its coursework: Science of Spirituality with learnings from the holy Geeta; DOCC- Development of Corporate Citizenship – a six week rural internship in various villages and towns across India and Abhyudaya- a year-long mentoring process where each student mentors a bright, underprivileged child. These three programmes which run year long during the first year of the two year flagship programme have been developed with the idea of incorporating a keen sense of right and wrong in order that managers can make key decisions that impact the various stakeholders keeping the larger purpose of business in mind.
Abhyudaya- which is Sanskrit for "welfare and development for all" is a one year long mentorship programme in which each student of the first year mentors a student belonging to class VII-IX. These kids belong to the underprivileged section of the society and hail from slums in the vicinity of the college. They are bright, they are aspirational; they have a thirst for knowledge, growth and a zest for life. They have a spark in their eyes and a lilt in their voice but what they lack is a role model who can guide this spark, nurture it and mould it into a focus that help these children to take hold of their lives. Most of them have semi-literate parents who want their kids to have a better life but who may not always be in the best position to guide them. This is the need-gap that SPJIMR strives to fill through Abhyudaya.
Abhyudaya begins by carefully profiling each and every student of the first year in terms of their educational background, languages known, hobbies, skills and interests. Having done that it maps the students to each sitara (as these kids are lovingly called) to each student based on common ground such as languages spoken, hobbies and so on. Some of the sitaras have been a part of this programme and have had mentors before from the senior years; some of the sitaras have been newly added to the programme. There is an elaborate ceremony "Hastantaran"- or the "Ceremonial Handover" which is done and the sitara is handed over to the next mentor.
We have traced the paths of some these bright, young sitaras through the eyes of their mentors and here is what some of them say.
Akshay Udaykumar, 24, PGDM-Marketing
Sitara– Deepali More, 15, Class X
"Deepali cleared the National Talent Search Examination-one of the toughest competitive examinations testing the students at Science, Maths, Social Sciences and General Knowledge. More than anything else in the past year which has been so full of so many different kind of experiences, this one has been the best." Akshay Udaykumar has dedicated a better part of last year mentoring and at times in his words "goading" his mentee into sitting for this prestigious examination. Weekends were spent in analyzing her progress in various class papers and some weekends in a carefree game of carom just to relieve her of the stress. Her father- the sole earner in the family is a gardener and Deepali is the apple of his eye. He wants her to do well in school, get educated further, stand on her feet and have a better life than he has had. For them Abhyudaya has transformed their child from the shy, reserved girl she was three years back to a more confident, more self assured person motivated enough and driven enough to realize her goals.
"I hope that I have helped Deepali, however much I could. But Abhyudaya has certainly helped me. I could connect with a person who has lived an entirely different life from what I have, a much more difficult life but with so much enthusiasm. I can say that my entire first year I have looked beyond "cool Friday nights" to weekends with my sitara' shares Akshay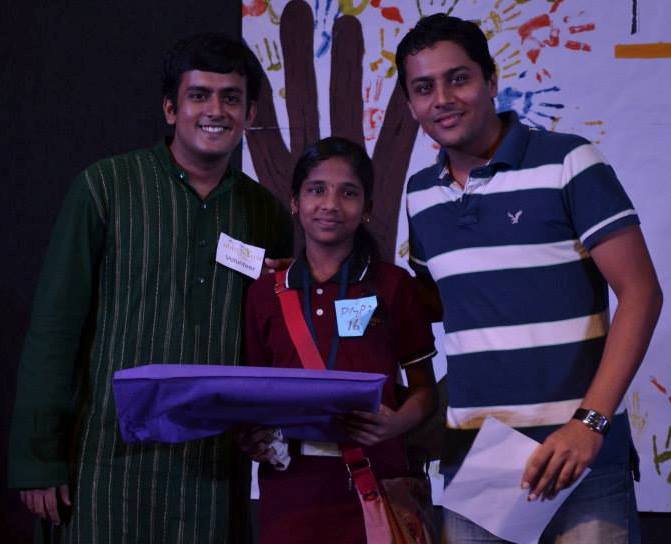 Atasi Giri, 24, PGDM-Operations
Sitara– Sayali More, 12, Class VII           
"My weekends were fun filled and packed with games, English lectures and listening to Sayali rehearse for her Elocution competition which both Sayali and I were determined that she wins". Sayali did win the Elocution competition where she 'waxed eloquent' in English no mean task for a girl who has very little exposure to this language at home and for someone whose background would make this a very imposing task. National Talent Searches or Elocution competitions, the Abhyudaya sitara does it all with single minded devotion and unbridled enthusiasm. The mentors goad, encourage, inspire, bully or lead by example but they want what is best for their mentees. "I am a teacher, an elder sister, a friend and an inspiration all at the same time," says Atasi, "The feeling is overwhelming but what I realize is the level of responsibility goes far beyond what any of those relations entail and that is what drives me to be sincere in my relationship with her, brutally honest, unprecendentally tender and pragmatic when the need arises"
Sayali lives with her parents, grandparents, an elder sister and a younger brother. Her mother who works as a maid is extremely particular about her childrens' education with her elder sister pursuing a degree in commerce and Sayali also increasingly focusing on her academics. She is confident that Sayali shall do well in her academics but she wants her to be equally empowered and strong in the face of the world. She insists that Sayali focus on learning English as it will definitely give her an edge over others.
Kashica Bhagat, 24, PGDM-Finance
Sitara– Siddhi Sawant, 13, Class VIII
When asked about what she wants to really be Siddhi shyly replies that she wants emulate her mentor Kashica. On probing, she replies that what she really wants is to ace her examinations, dance gracefully and have many friends- a spitting image of her mentor a topper at SPJIMR who knows several forms of dance and is popular among all her friends. Kashica has worked really hard on her sitara right from coming up with a well constructed mentoring plan with timelines and performance parameters which would help her Siddhi mainly to greatly improve her English speaking skills, perform consistently well in her academics and learn to engage people including students of her age, teachers, family, relatives and so on in conversations. "The best learning comes through people", Says Kashica, "I know that if I tell her to sit straight for six hours every day in her house and study she will. She looks up to me and therefore she will do that.  A smart girl like her will even ace her tests if she keeps this up. But somehow totally isolating yourself like this will not really add value to your life. It will not make her genuinely productive and contributory to herself and to her family and society. I want her to be confident enough to go up and speak to people – learn by listening, observing and engaging. That's the best kind of learning."
Siddhi's mother knows how much her impressionable teenage girl needs a strong influence and an inspiring presence in her life. Her job as an all day house maid at various families doesn't leave the mother with enough time to be there for her child. Kashica's presence is a foil. She helps her come up with a timetable for her studies, and definite targets. She is always there at the other end of the phone. "My daughter doesn't need a tuition teacher. What she needs is someone who will believe in her and someone who will rightly understand what she needs and will guide her to get it, not get it for her"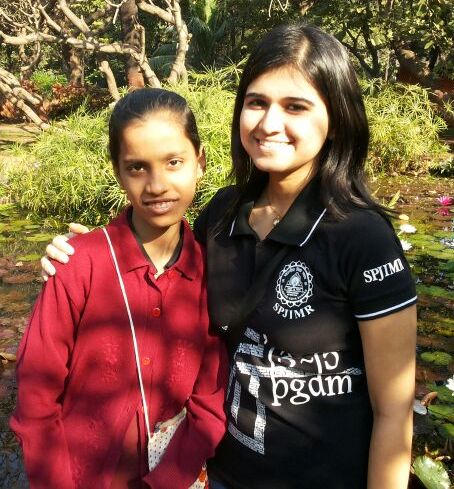 Pratima Parab, 25, PGDM-Information Management. Coordinator-Abhyudaya
Sitara– Avantika Kokate, 12, Std VII
Pratima is a part of the Abyudaya Core Committee which means that in addition to carrying out her own mentorship stint, she has to coordinate the entire programme. This entails daunting responsibilities which include keeping track of the mentoring process, arranging for mentorship workshops, feedback sessions and other activities to sustain the academic rigour of the programme, working closely with the Abhyudaya office to arrange for facilities (such as extra English lectures, birthday gifts, picnics and programmes) as per the feedback from the mentors. This year quite a few new initiatives were undertaken such as – introduction of an electronic diary, personal guidance for mentoring by engaging experienced alumni, also a community ethnography project was undertaken for the entire batch of 233 students – the idea was for Abhyudaya to map the needs of each and every mentee at a holistic level including not just education but health, social parity, etc and to so that they could make recommendations which would help mitigate urban poverty. "The entire programme as a coordinator was hectic but immensely rewarding," says Pratima, "As students we have never been in a position where we would be directly accountable for molding a child's future and that itself is a huge responsibility. In addition to mentoring Avantika I had to streamline the entire mentoring process for each and every of my batchmates, to listen to them if they came across a difficult situation with their mentees and provide solutions. But as a team, we managed and I can only say that I learnt immensely myself from this experience. We hope to take the program to other B-schools as well."
About Avantika she has lots to say. A first timer at the Abhyudaya programme, Pratima is her first mentor and they share a strong bond. She helps her with her English and Maths lessons and watches movies with her. An avid sportsperson and a marathon runner, Pratima encourages Avantika to keep her hobbies on her list of priorities. "At her age, yes, she needs to study and work hard to get into a good college, to get a proper education. And I fully support her in that endeavor", says Pratima, "Having said that, hobbies are also important – to de-stress, to develop a strong overall personality and at times, they make an excellent alternative career option. Avantika loves dancing and drawing. So I encourage her to keep up at it by participating in various events and competitions. After all work and no play makes Jack a dull boy."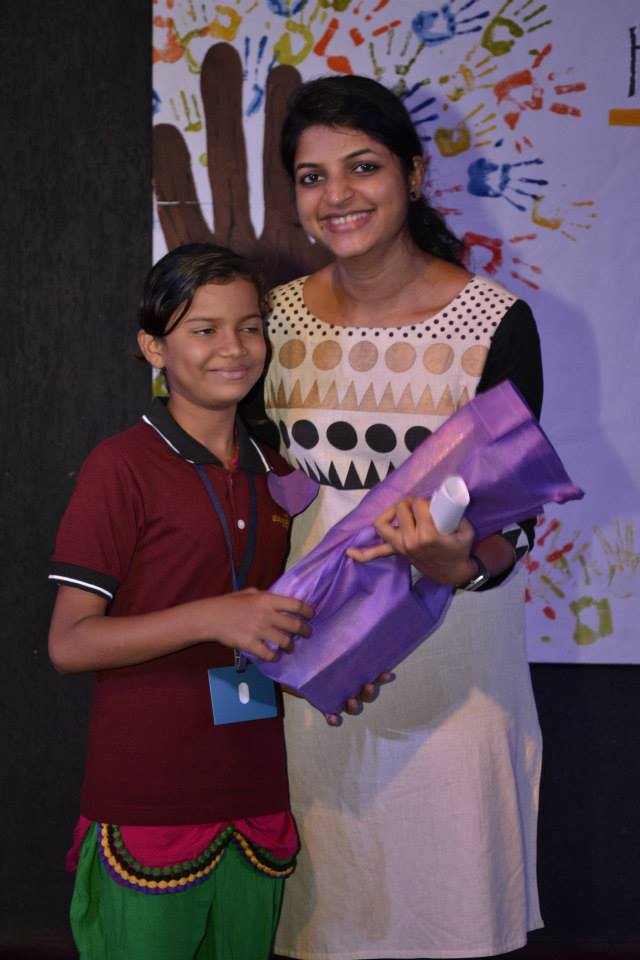 The Team that made it happen this year: Abhyudaya core committee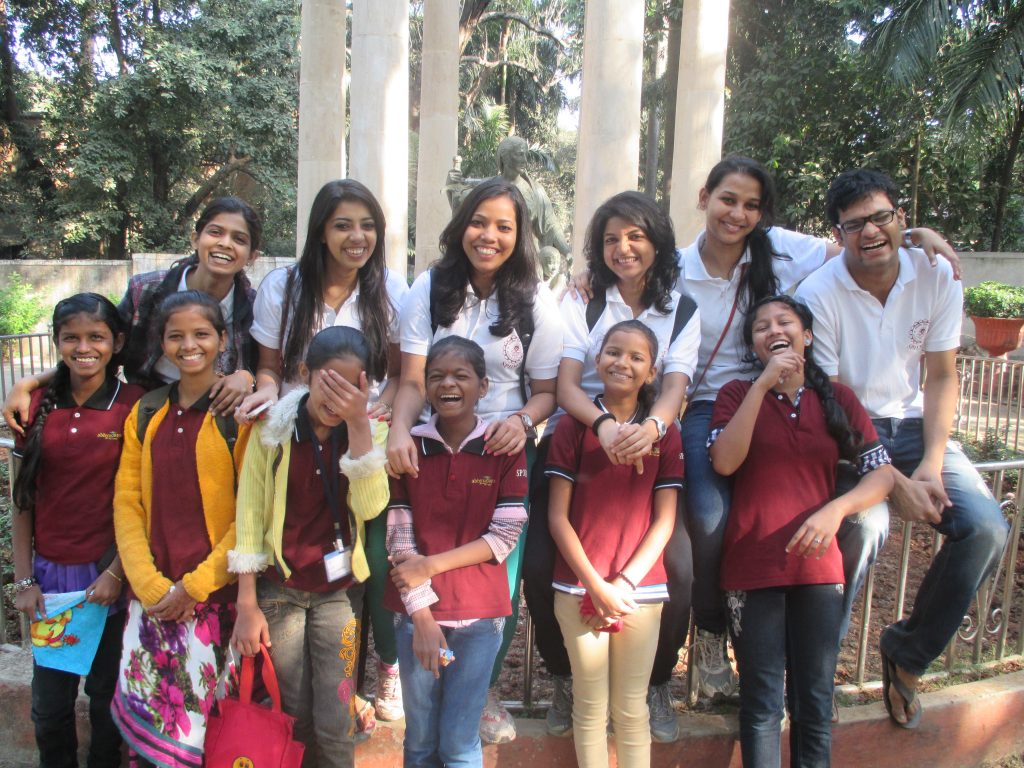 -Sonal
Sonal is a Chemical Engineer from ICT Mumbai currently in her 1st year at SPJIMR. She has worked for C Tech Corporation, a specialty chemicals company. Travelling and writing short stories & human interest articles interest her.  She has served as the editor for ICT's non-technical magazine.
Follow her on sonalsapale.insideiim.com