Mera Safarnama – MDI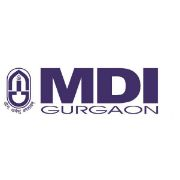 My journey at MDI so far has been a roller coaster of emotions. The learning opportunities here are immense and present in every little aspect of life. Albeit the most important learning was that there is no off time. You live 24 hours a day 365 days a year. I learnt this during my time as a volunteer for KoK our sports fest.
As part of the central scheduling team, I was required to help create a schedule and implement it. However, it was a huge task as a lot of people were playing multiple sports which led to frequent requests to change or alter the schedule at ungodly hours. I would get calls at 4 or 5 in the morning asking for a schedule change for next morning matches. I would then coordinate with other sport volunteers to make changes to the schedule. What added to it was the fact that I also took part in the event myself playing 4 sports besides also officiating in the basketball and cricket matches. This was a real testing yet fun filled period of my life at MDI.
Aditya Birla Group is one of the most prestigious business houses in the country. It is the dream of every person in the corporate world to work in an Aditya Birla Group company. If I were to work in such a company I would pick Ultratech cement as my winner. UltraTech is a global pioneer in the cement industry and a market leader. Its brand value and ethos separate it from the rest of the crowd. What makes UltraTech really stand out though is its industry. Its primary customer is the real estate and infra sectors. With the current government hellbent on concentrating its resources on developing infrastructure and investing in large scale projects the sector doesn't seem to see a downturn anytime soon. Also rising income allows people the luxury of constructing their own homes which further boosts the sector. Considering the fact that raw materials for the cement industry is not really affected by various factors the cost remains more or less similar. UltraTech is a large scale business enjoying the fruits of economies of scale. If I get into UltraTech it would be a dream come true for me as it is one of the best companies under the umbrella of one of the most prestigious business houses that is Aditya Birla Group.