Most Preferred Banking & Finance Recruiters – Part III – InsideIIM Recruitment Survey 2014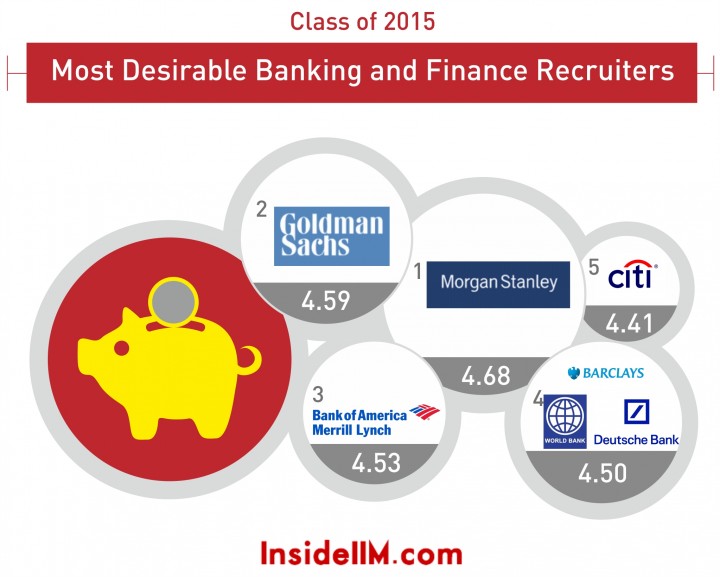 After several years of reigning at the top of career preferences among all B school students and aspirants, banking and finance is finally losing some of its sheen. Most students prefer sales & marketing, consulting and even general management over this domain (See the results of the InsideIIM Recruitment Survey 2014 on most preferred domains). However, because of the extremely high salaries for investment banking roles at a few blue chip global MNC banks, the banking and finance domain continues to retain some of its allure. These roles are generally filled only from the best of the best campuses (IIM A, B, C), and they definitely attract the best talent available.
This is part III.  This part looks at the most desirable Banking & Finance and Consulting firms among business school students in India among our 3 segments of respondents.
(a)  Industry Professionals
(b)  Class of 2015 (Final Placements due Jan-March 2015)
(c)   Class of 2015 (Summer Placements due Sep-Nov 2014) & MBA Aspirants
The InsideIIM Recruitment Survey 2014 is based on nearly 900 genuine and clean responses.
Banking & Finance
The respondents in the class of 2015 who selected Finance as their preferred domain and Post-MBA professionals who are working in this domain were asked about their preferences about working in each company on a scale of 'Most Desirable', 'Highly Desirable', 'I'm Confused', 'I do not wish to apply' and 'I have never heard of this company before'.  A mean score was calculated where Most Desirable is scored as 5 and I have never heard of this company is scored 0.
MBA aspirants and 1st Year MBA students – Class of 2016 were asked to simply rank their top 5 companies in Banking and Finance. A weighted scored was calculated assigning weights of 10,6,4,2,1 for the 5 ranks.
This methodology was used because different segments have different levels of information about the companies in this sector. Industry professionals are bound to have a good idea about the companies in their domain (growth prospects, work environment, compensation etc). The Class of 2015 would be having slightly less information,  but would still have a good idea based on knowledge of starting salaries, experiences in summer internship (information on the types of roles offered), alumni feedback, the company's activities on campus etc. On the other hand, the Class of 2016 is likely to have very little good information – they are bound to be guided by popular media reports, brand perception and the like. A lot of them don't even know the difference between investment banking, relationship management and treasury operations. The results need to be seen in this context.
Results for Banking and Finance
Post MBA Industry Professionals
Top five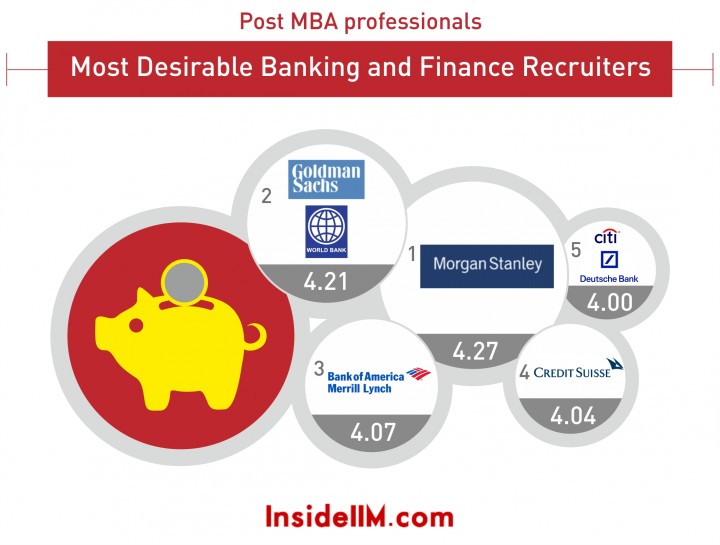 Top ten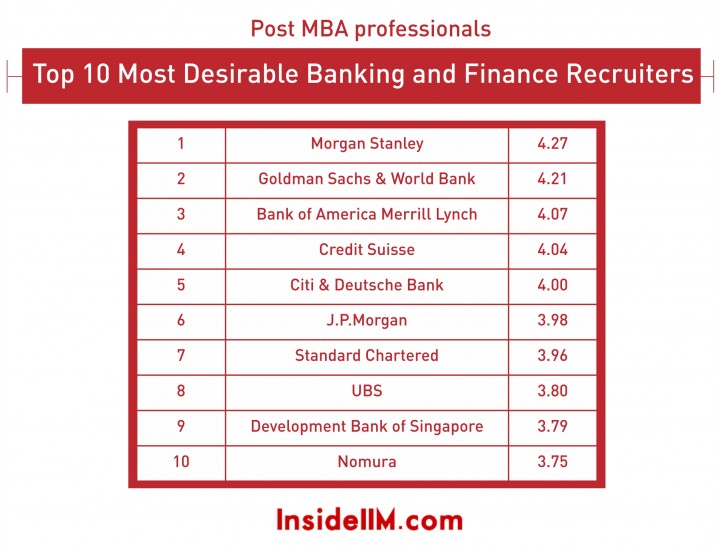 Historical Trends in Top 10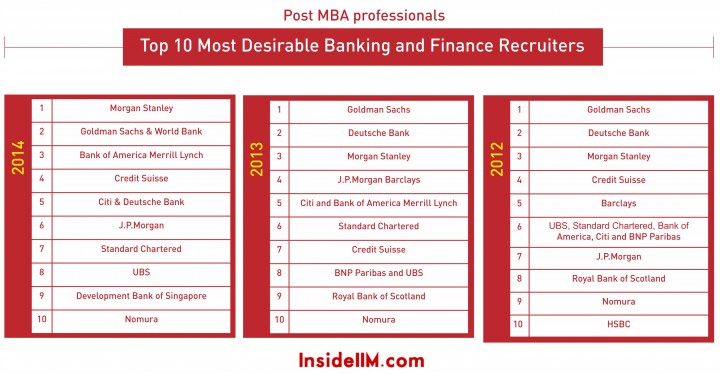 The big story is that Morgan Stanley has managed to unseat Goldman Sachs from top position among industry professionals this year. World Bank joins Goldman Sachs at second position, and Bank of America Merill Lynch continues its steady climb into the rankings, reaching third place this year. Credit Suisse re-enters the top five and Deutsche Bank and Citibank are at joint fifth place.
The following trends are noticed when we look at three year data:
Gainers: Morgan Stanley, Bank of America Merrill Lynch, Development Bank of Singapore
Losers: Deutsche Bank, Barclays, HSBC.
Top Indian Banking and Financial services recruiters – Post MBA Industry Professionals
No Indian firms feature in the top 10.  However, this year we bring you the top 5 among Indian firms.
Top 5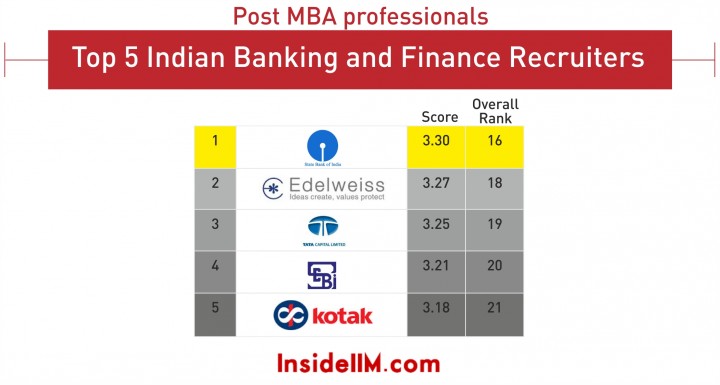 Historical trends – top 5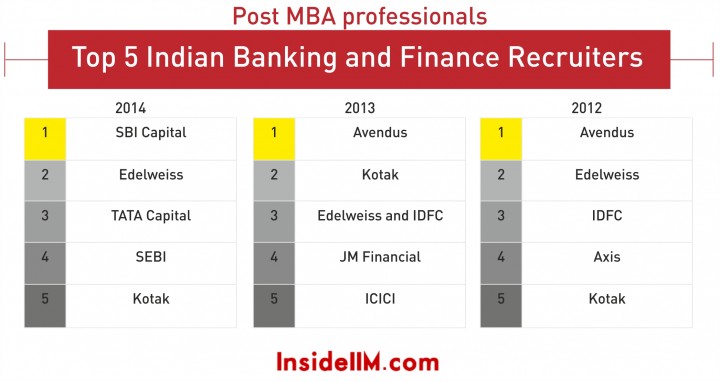 This is quite a sea change from last year – when Avendus, Kotak, Edelweiss, JM Financial and finally ICICI Bank rounded off the top five Indian companies in this domain. Avendus is not in the top five, nor is JM Financial. SBI Capital has surged to first place, followed by Edelweiss Capital, and new entrants Tata Capital and SEBI in the top five.
Class of 2015
Top 5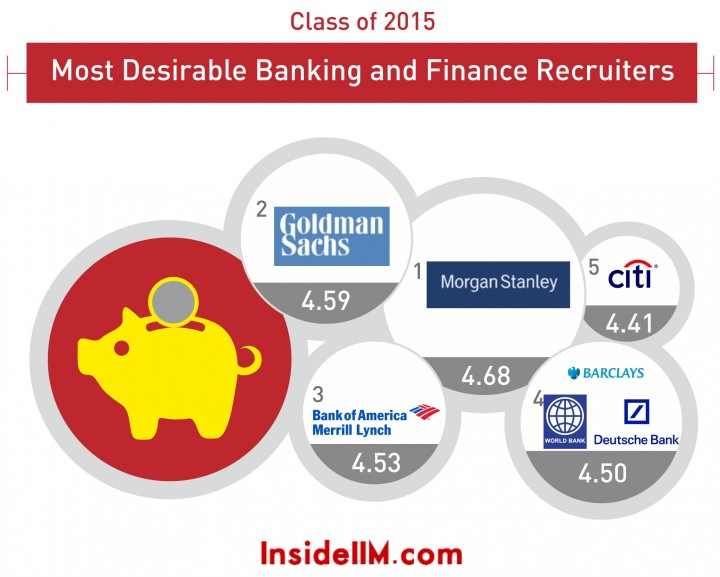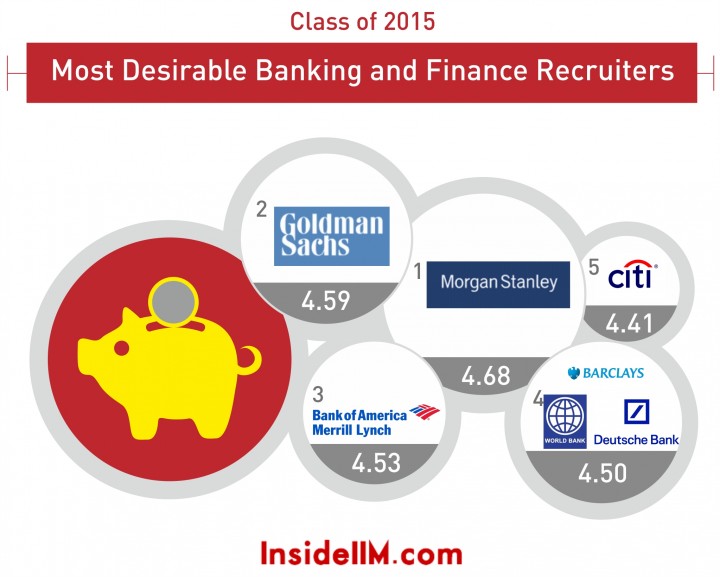 Top 10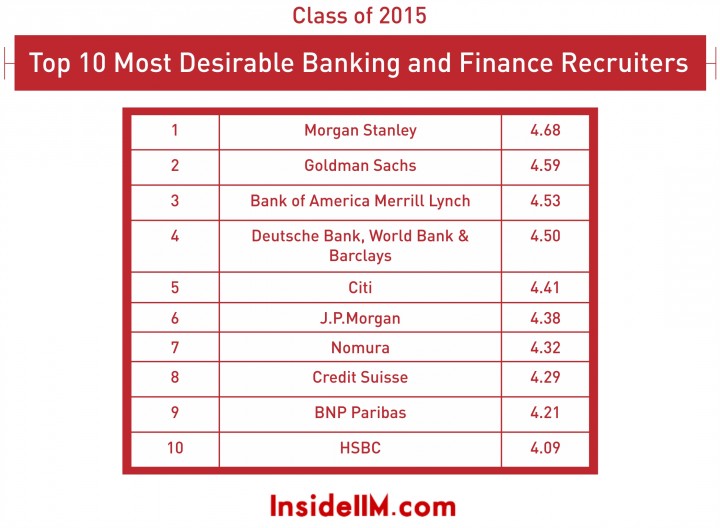 Historical Trends in Top 10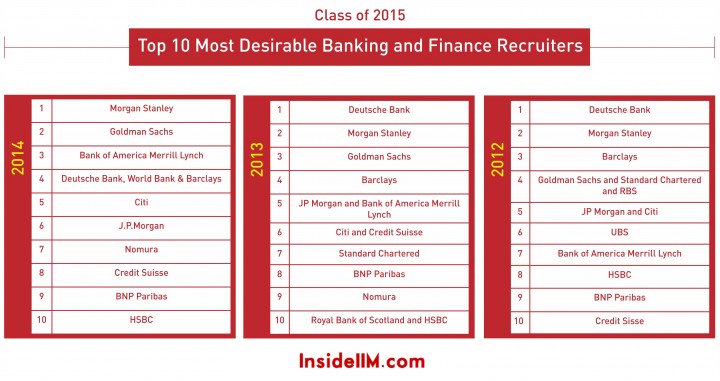 Again, Morgan Stanley has taken big strides in this segment of respondents as well, to emerge at the top of the list. Bank of America Merrill Lynch has also done well in the results to reach third place. Deutsche Bank, UBS, Standard Chartered and Barclays have seen their positions slip.
Gainers: Morgan Stanley, Bank of America,
Losers: Deutsche Bank, UBS, Standard Chartered, Barclays.
Top Indian Banking and Financial services recruiters – Class of 2015
Top 5
Historical Trends – Top 5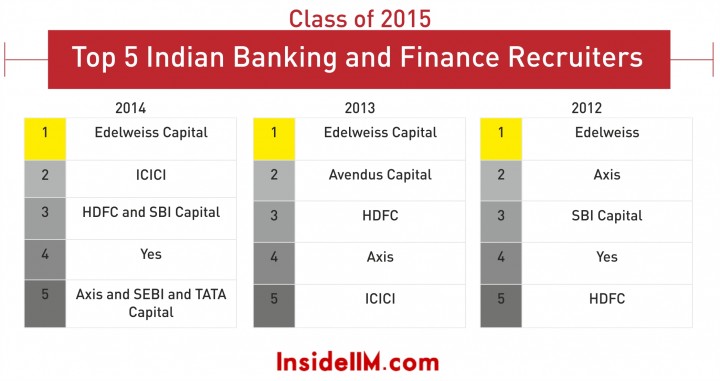 Again no Indian firms in the top ten, but the list of top five Indian banks for the graduating batch of next year is again topped by Edelweiss (we saw the same result for the class of 2014 in last year's survey). It is followed by ICICI, HDFC Bank, SBI Capital and Yes Bank.
On an overall basis, SBI Capital seems to have made good progress in students' rankings, while Avendus Capital has slipped out of the top five.
Class of 2015 and MBA Aspirants
Top 5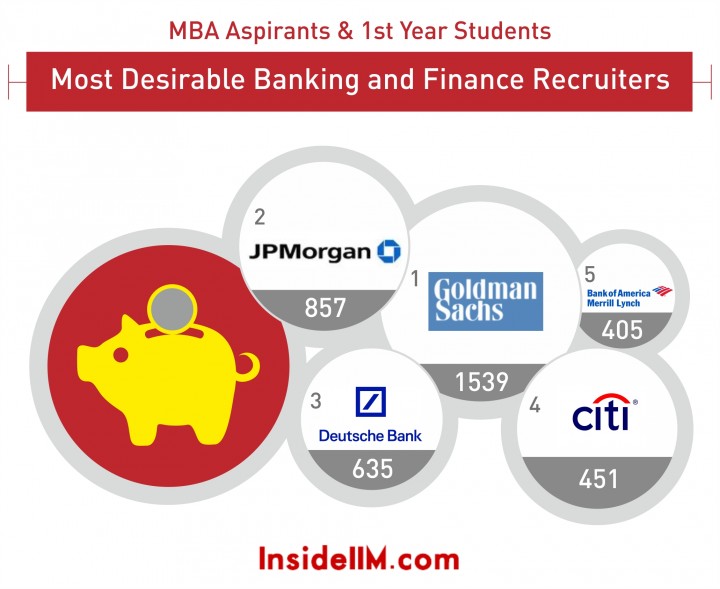 Top 10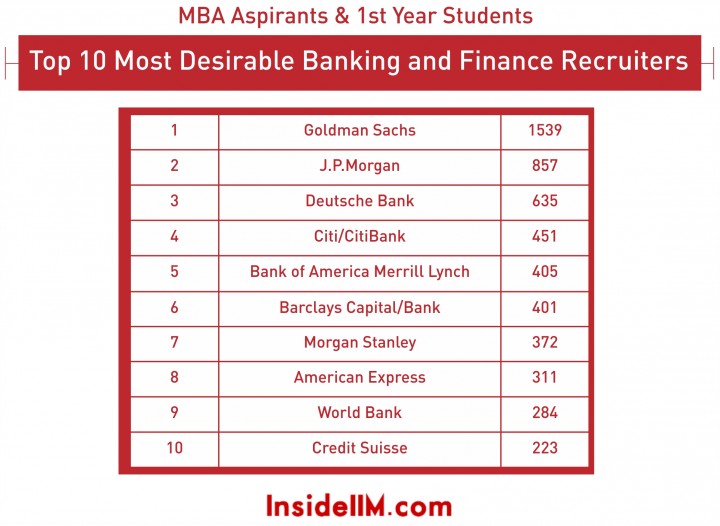 Historical Trends in Top 10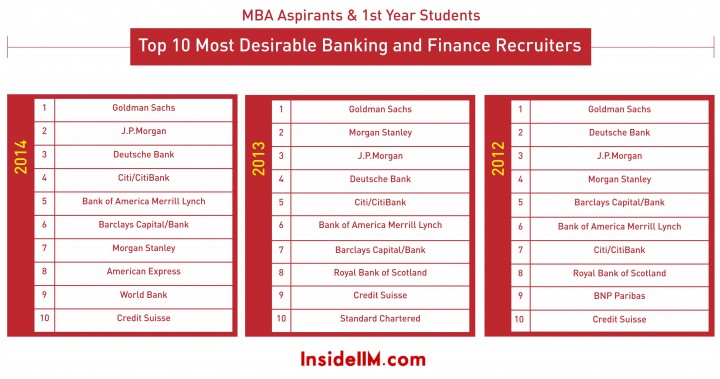 This section is purely going to be about brand perception. There is very little knowledge about roles, compensation or even specialties of each firm. For e.g. many respondents here are unlikely to know which banks have corporate and retail banking divisions and which banks are solely investment banks. Plenty of students wouldn't even know the difference between the two.  This is basically a proxy for the most familiar prestigious names in banking and finance.
Goldman Sachs seems to have a grip on the popular imagination. It has topped the rankings for this category for the last three years. Morgan Stanley has lost ground in this category, slipping from 2nd place last year, to 7th place this year.  European banks continue to do well in this category, with Deutsche Bank holding down a 3rd position, and Barclays 6th.  But still, in this category, the gainers continue to be American Banks.
Gainers : Citibank, JP Morgan, Bank of America, Deutsche Bank
Losers : Royal Bank of Scotland, BNP Paribas, Morgan Stanley.
Top 5 Indian Firms – Class of 2015 & Aspirants
Top 5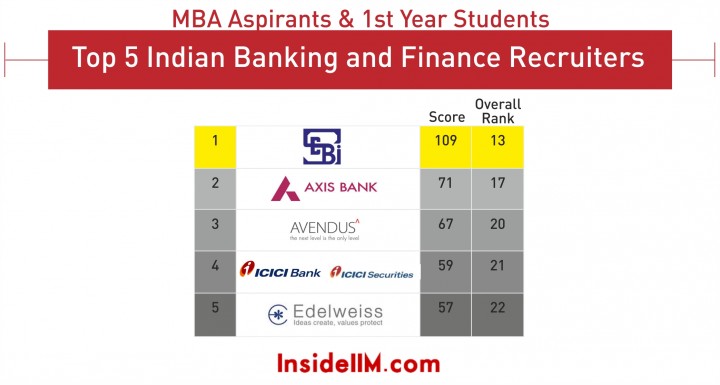 Historical Trends – Top 5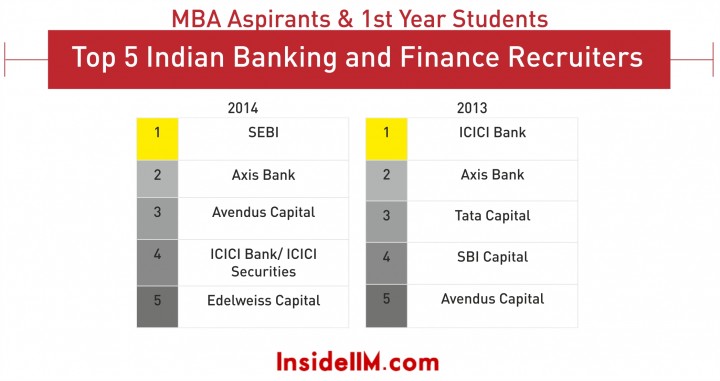 We observe that SEBI tops the list of Indian firms, for the Class of 2015 and aspirants, and that too by a really wide margin. Although SEBI has done well in the other two categories of respondents too (in the Indian firms category), its performance here really catches the eye. So does the difference in SEBI's rating among aspirants and industry people. Is it that people covet the tag of having worked at a regulatory institution, and prefer to do a short stint rather than spending a very long portion of their careers there?
Summary
Morgan Stanley stands out because of selective hiring and quality of profile, American banks trump European peers, and SEBI shows why it is regarded as one of India's best public institutions.
The analysis reflects differences in the perception of respondents based on the level of information available to them. Indian companies have been treated much more favourably by MBA alumni and 2nd year students (who have realistic expectations) as compared to 1st year students and MBA aspirants. Among the 1st year students and MBA aspirants, rankings are based purely on perception, and the list of favoured recruiters is basically a list of recruiters with the strongest brand awareness. Goldman Sachs has consistently topped this category for the last three years.
Among alumni and second year students, Morgan Stanley has clearly achieved a great deal over the last two years. Morgan Stanley now tops the list of banking recruiters in both the categories. While Goldman Sachs has managed to maintain its position, Deutsche Bank has slipped and Bank of America has risen. One thing that stands out for Morgan Stanley is that it is extremely selective in recruitment and offers only investment banking profiles. Goldman Sachs, JP Morgan and Deutsche Bank offer profiles which are middle office or support profiles to client facing desks elsewhere in the world. These are on offer on most campuses except IIM ABC (although the slowdown has meant that even IIM ABC are competing for these roles now). These roles are still prized over other banking roles (relationship management roles with domestic banks etc) because they allow for occasional foreign travel and offer the promise of a move to a front-office role in the future.
If you look at the data from second year students and alumni, there is a clear case of American banks rising in the rankings and European banks falling in the rankings. This had been business trend as well; the American banks have had a better recovery from the recession as compared to European banks, what with the uncertainty surrounding the Euro, to start with. European banks were also the target of harsh punitive measures from American regulators. Over a period of time, if the fortunes of European banks improve, we are certain their rankings will also recover.
The strong performance of SEBI in the recruiter rankings is further proof of the strength of one of India's three best public institutions (Supreme Court and RBI being the others).
Read the earlier parts of the InsideIIM Recruitment Survey 2014 here below:
Part I – Most preferred work cities, loan statistics, costs of a MBA and more
Part II – Minimum Salary Expectations, Best Pre-Placement Talk, Job Satisfaction and more
You can read the results of the Recruitment Survey 2013 here