Most Preferred Banking & Finance Recruiters – Part III – InsideIIM Recruitment Survey 2015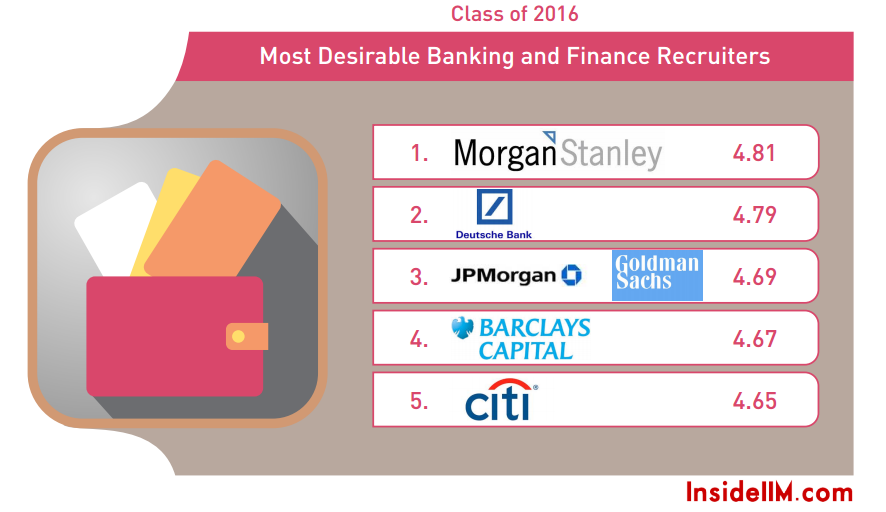 The past editions of the InsideIIM Recruitment Survey have always given a notion that the halcyon days for the investment banks are over. This year's survey, however, serves as an inflection point for the very same connotation because although, the BFSI industry has not received the top billing from the respondents, one can see a major improvement in its overall ranking. It primarily owes its success to the rather sanguine outlook ascribed to it by two categories, viz. MBA aspirants & 1st year students and post-MBA professionals. The relative scarcity of on-campus finance roles may be reasoned as the prime driver for the lower ratings received by the BFSI sector from the Class of 2016, wherein no bank apart from Morgan Stanley features among even the top 10 firms.
Part III of the Recruitment Survey looks at the most desirable BFSI firms among business school students in India among our 3 segments of respondents.
(a)  Industry Professionals
(b)  Class of 2016 (Final Placements due Jan-March 2016)
(c) Class of 2017 and MBA aspirants
Methodology
The respondents belonging to the Class of 2016 and post-MBA professionals were asked to simply classify each company into one of the 5 categories: 'Most Desirable' (score: 5), 'Highly Desirable' (score: 4), 'I'm Confused' (score: 3), 'I do not wish to apply' (score: 2) and 'I have never heard of this company before' (score: 1). Using this data, a weighted score for each firm was computed, which in turn was used to obtain the ranks of the firms in the two afore-mentioned categories. On the other hand, MBA aspirants and 1st year students were simply asked to select their top 5 banks. Based upon the ranks allotted in the previous step, each bank was assigned a score ranging from 5 (first preference) to 1 (fifth preference) [a score of 0 implied that the bank did not feature in the user's top 5]. A weighted average of the same was carried out to allot a composite score to each bank.
A segmented method has been utilized for the different respondent segments in order to minimize the information asymmetry entailed herein. While post-MBA professionals are bound to have a deeper understanding of their chosen domain primarily due to first-hand experience, 1st year students & MBA aspirants would base their views upon media reports and other publicly disseminated information. In fact, the latter category would in all probability not know even the intricacies of the different roles offered under the umbrella of the broad domain. The Class of 2016 would essentially possess a level of understanding intermediate to the two categories mentioned earlier. Thus, the segregation should abet in making the results more cogent.
BFSI
Post-MBA professionals
Top 5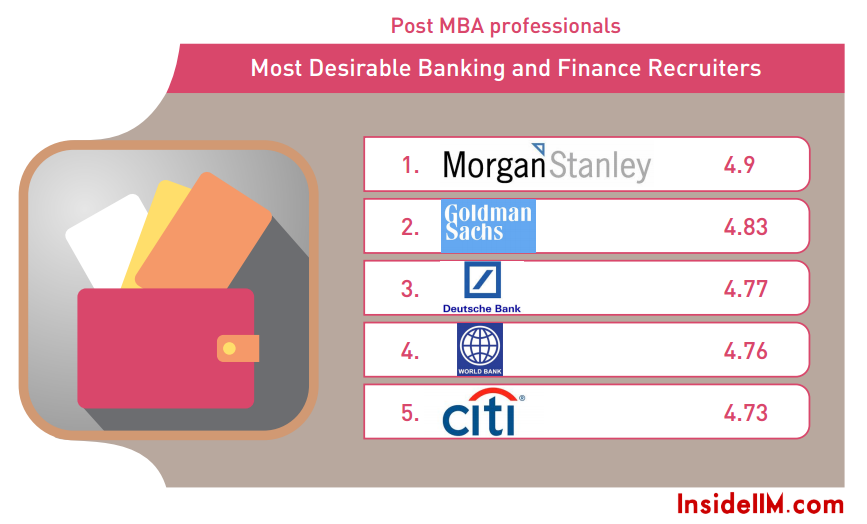 Top 10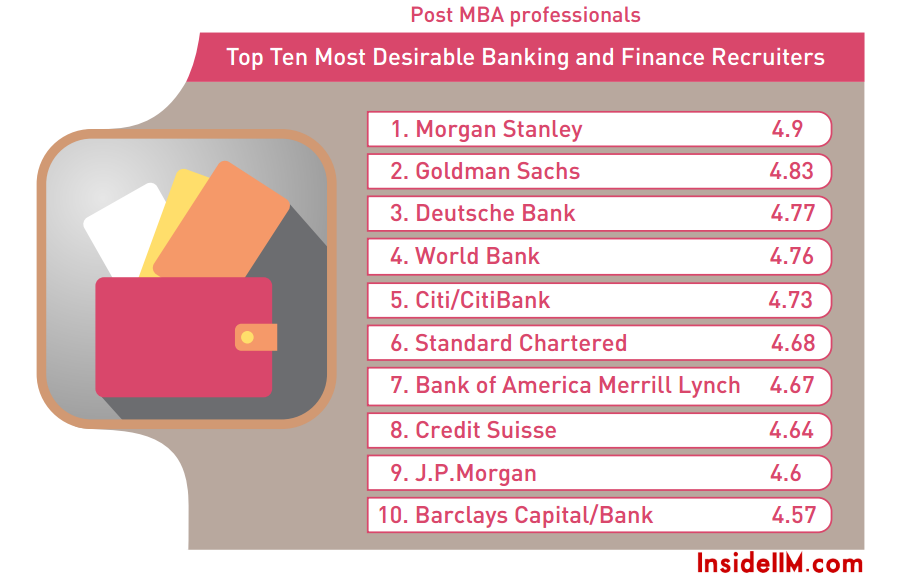 The big news is that Morgan Stanley has managed to retrieve some of the long-lost honour of the vertical by managing to not only top the BFSI-specific list for this respondent category, but also topping the overall list for the same. In fact, four banks (Morgan Stanley, Goldman Sachs, Deutsche Bank and World Bank) have managed to break into the cross-sector top 10 list with Morgan Stanley and GS ranked ahead of McKinsey, thereby steering the BFSI sector to the top billing. Apart from this, those ranked 8 to 10 last year (UBS, DBS and Nomura) have made an exit from this year's list.
Recent trends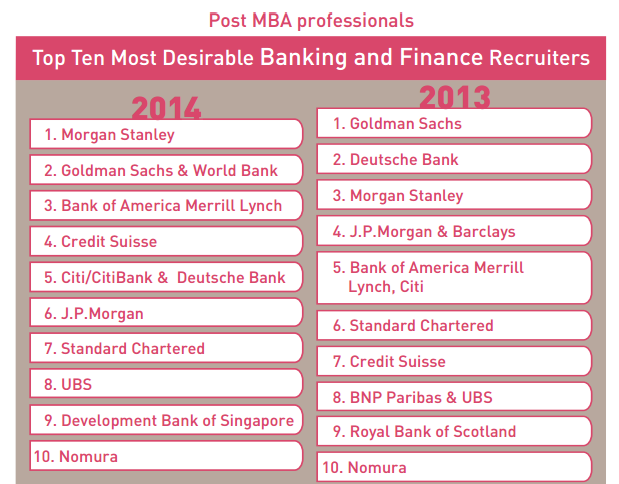 Top Indian Banking and Financial services recruiters (Post-MBA professionals)
Top 5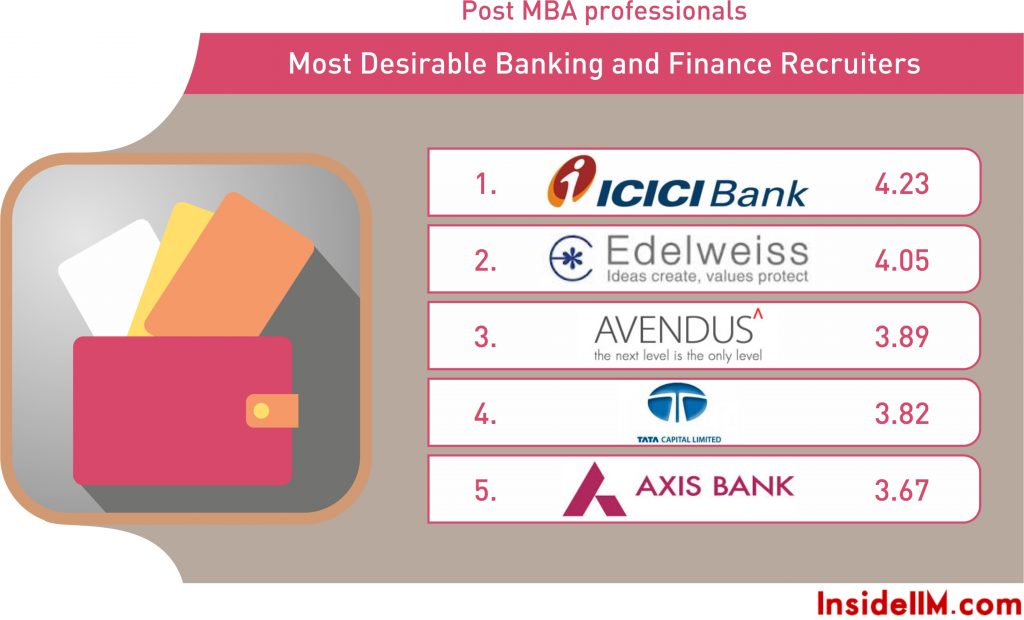 As far as Indian banks are concerned, not only has ICICI managed to make a comeback to the top 5 in the list for Indian banks, it has done so in style by capturing the top spot. Apart from this, Avendus and Axis are the new entrants while three banks including last year's topper (SBI Capital) has made an exit.
Recent trends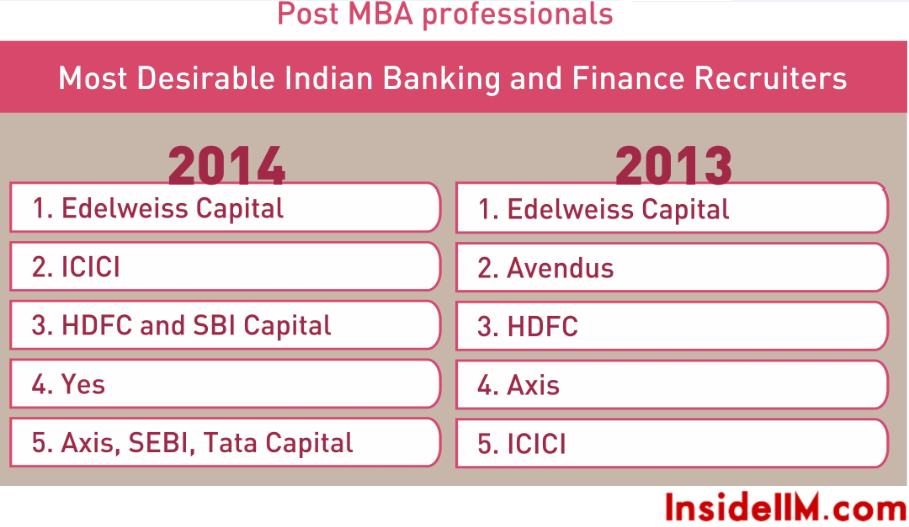 Class of 2016
Top 5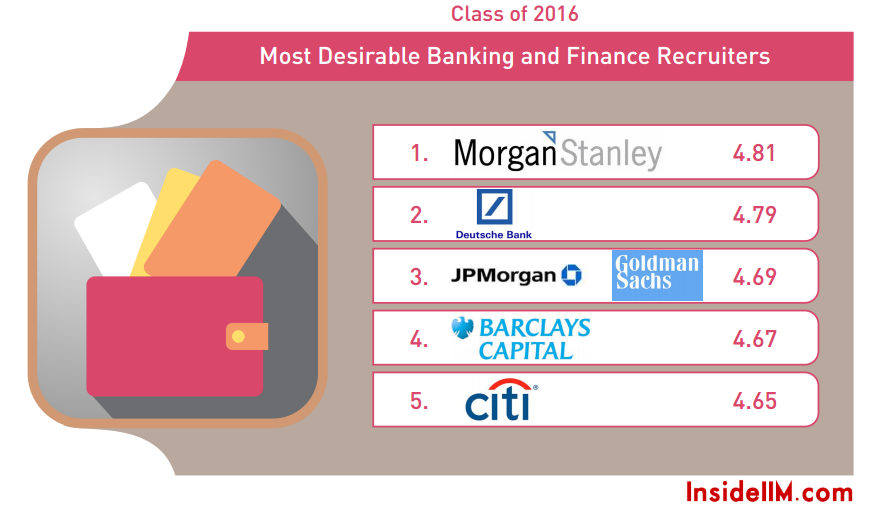 Top 10
Morgan Stanley, by virtue of its relatively higher selectivity and the stark absence of the "back-end work" tag with regard to its Indian office, continues to top this list, in tandem with the past two editions. Deutsche Bank has proved to be a resurgent juggernaut by climbing up to the second position of a list, whose first two editions it had topped. While BofA's ascendance over the years has been meted with a set-back owing to a decline from third (last year) to seventh, HSBC has made an exit from the top 10 this year.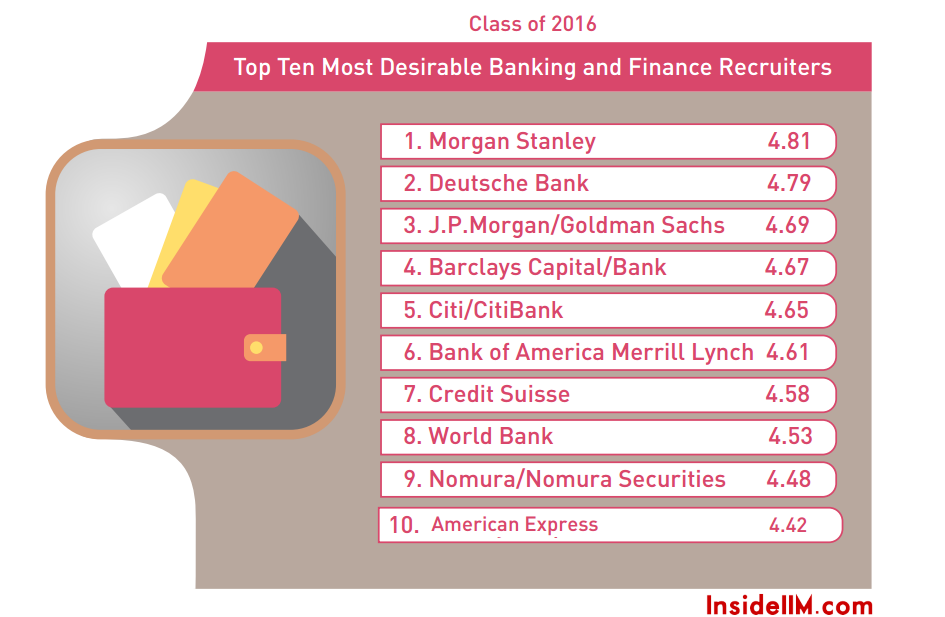 Recent trends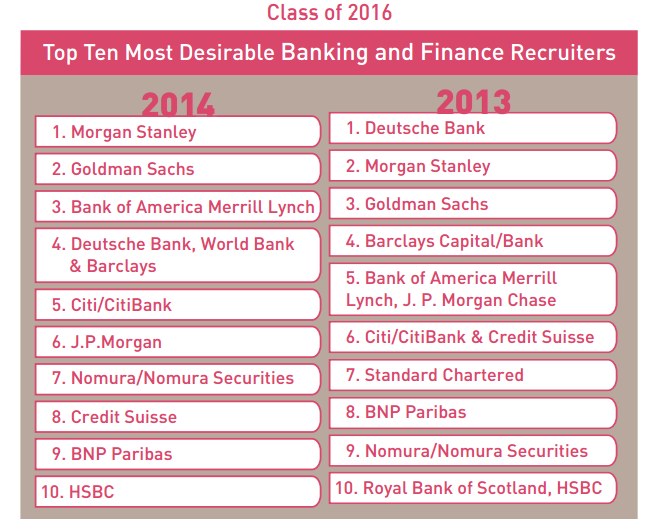 Top Indian Banking and Financial services recruiters (Class of 2016)
Top 5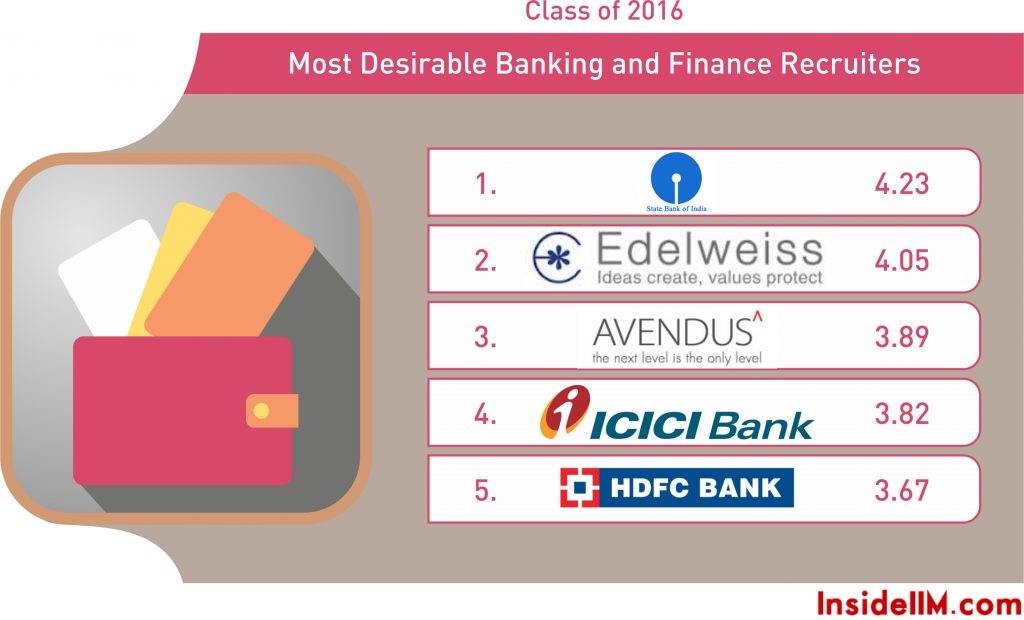 Although no Indian bank has featured even in the top 15, SBI Capital has improved its standing since last year by climbing to the first position. While last year's top 3 find a place among the top 5 this year, the others (Yes Bank, Tata Capital, Axis Bank & SEBI) have unfortunately not made it to the top 5 this year.
Recent trends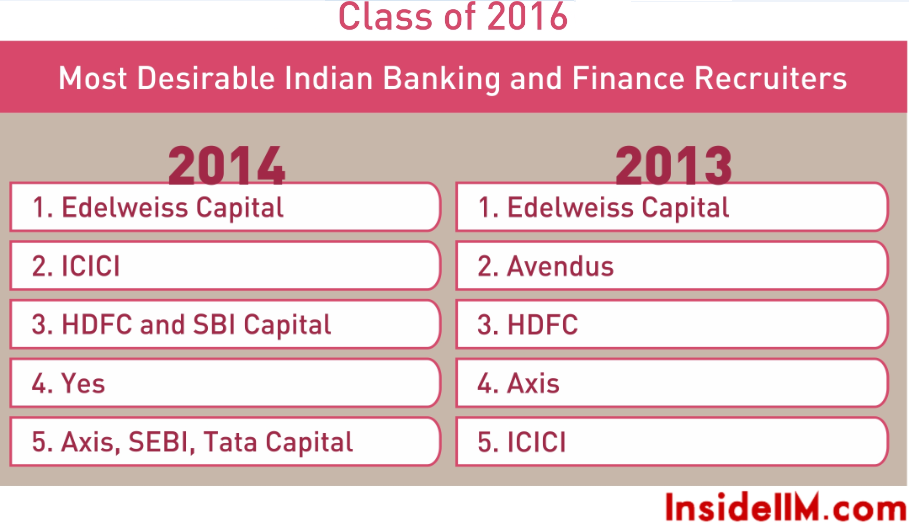 MBA aspirants & first year students
Top 5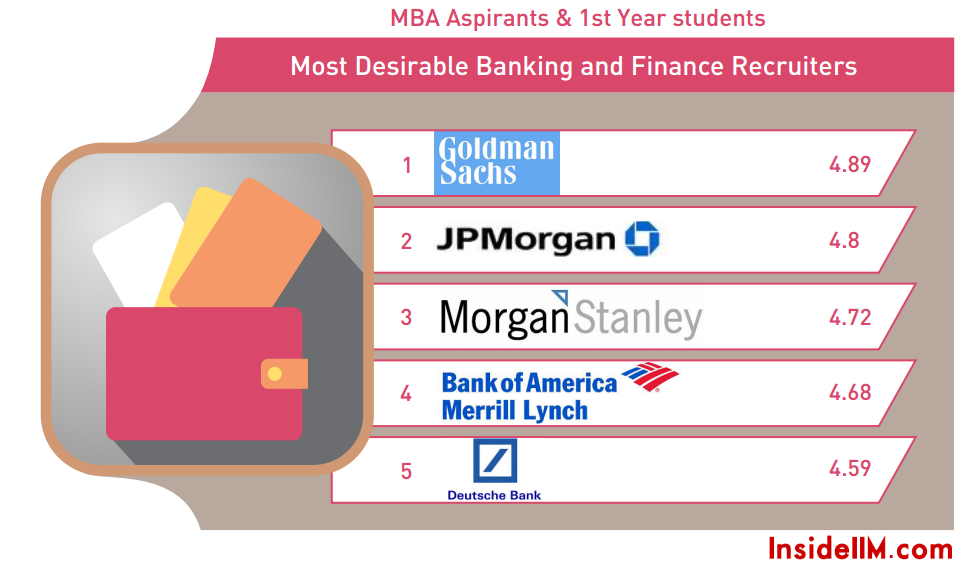 Top 10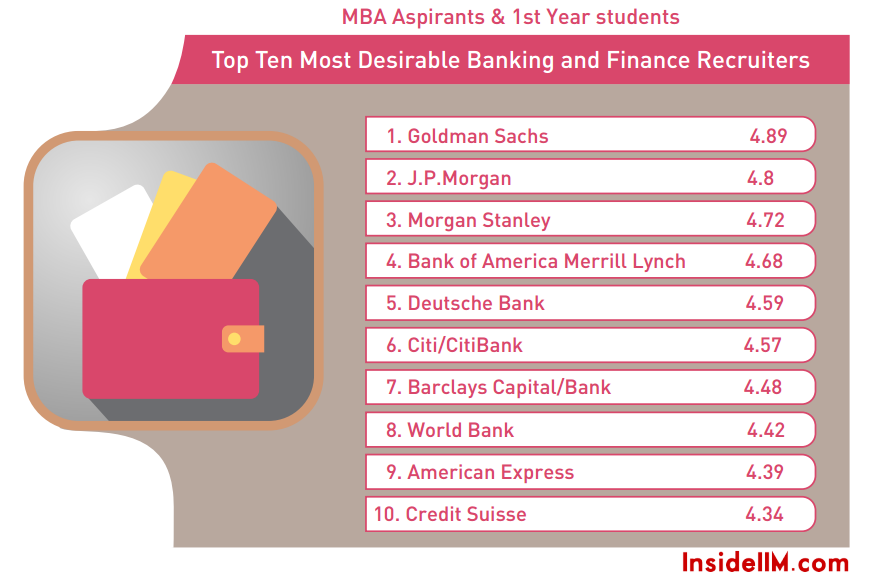 Goldman Sachs continues to carry on its magical streak in this list by capturing the top rank this year as well. Furthermore, GS has managed to secure the second rank in the composite rank-list for this category as well. Given that the ranks in this category are primarily dictated by perception, this achievement bears testimony to the fact that GS has, over the years, been successful in harvesting stronger brand equity for itself than its peers. Apart from this, Morgan Stanley has proved to be the biggest winner this year by climbing 4 spots to acquire the third position in the list. None of the firms who populated the list last year have made exits this year.
Recent trends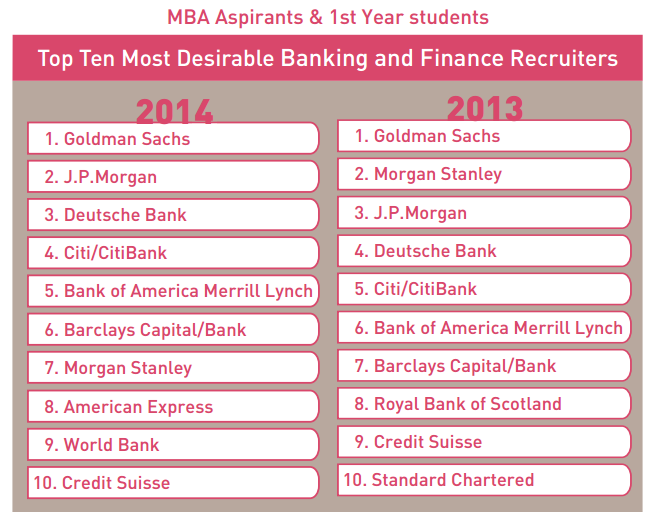 Top Indian Banking and Financial services recruiters (MBA aspirants & first year students)
Top 5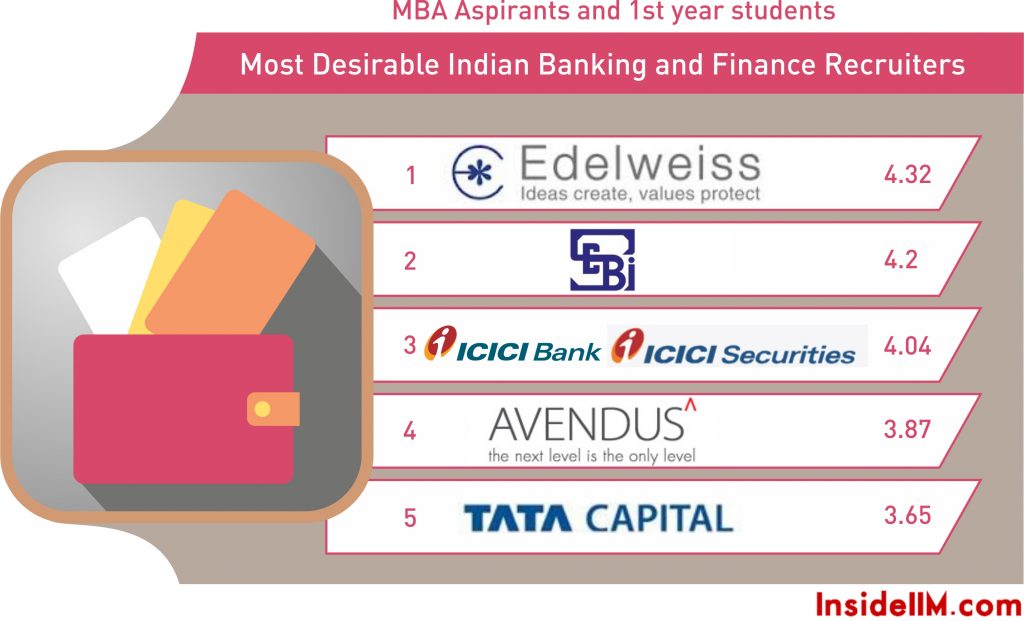 Although none of the Indian banks feature among the top 10, Edelweiss Capital has managed to close out the gap by being rated marginally less than Credit Suisse (tenth spot). While Tata Capital makes a comeback to the top 5 list of Indian banks after quite a while, SEBI's strong showing highlights the favour it enjoys among the general milieu despite being a public institution.
Recent trends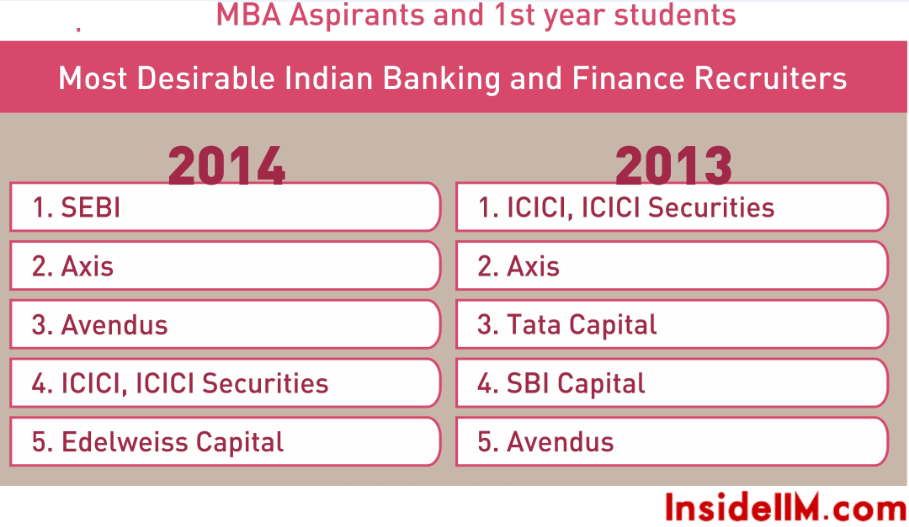 Summary
In tandem with the trend witness in the previous editions of the survey, the American banks have once again managed to steal the thunder of European banks. Although the preference shown towards bulge-bracket MNC banks is quite ostensible, post-MBA professionals in particular have also rated several Indian banks very highly. This bears testimony to the fact that one's expectations become much more realistic as they gain experience. Another interesting feature which one ought to note with regard to Indian financial institutions is that SEBI has won favour with exactly the very segment it was relatively less favoured by last year, and vice versa.
Morgan Stanley's steady ascendance to the top for both post-MBA professionals and the Class of 2016 proves that people not only attach value to Morgan Stanley's high selectivity but also have taken into cognizance that it is one of the few investment banks to offer full-fledged front end roles in India. Although Goldman Sachs and Deutsche Bank have fledging operations in India, the rather unfavourable "mid-office" and/or "back-office" tag associated with them has contributed negatively to their overall brand equity with regard to the two "matured" respondent segments. However, Goldman Sachs' unyielding top billing with MBA aspirants and 1st year students proves that it clearly has the strongest brand recall value.
For Part I on Preferred Work Cities, Loan Stats and Cost of an MBA go here
For Part II on Minimum Salary Expectations, Job Satisfaction and Preferred Domains go here
(This is the 4th edition of our annual survey. For the previous 3 editions, go here)