Most Preferred Sales & Marketing And Technology Recruiters – Part V – InsideIIM Recruitment Survey 2014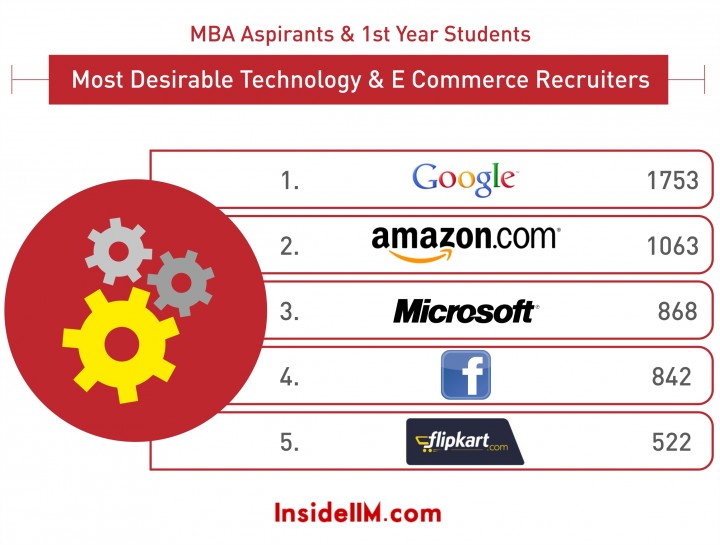 This is Part V of the survey results which looks at Sales & Marketing and Technology domains.
Sales and marketing has consistently been the most preferred domain for the graduating batch for the last three years of the InsideIIM Recruitment Survey (Class of 2013, Class of 2014 and Class of 2015). The top firms in this domain, are therefore, bound to be dream companies for the largest number of candidates. One of the reasons this domain is most popular is because it is within reach for most of us. Unlike front-end investment banking and strategy consulting roles which are the preserve of a few exceptional students, sales and marketing profiles are more accessible to a wider audience. Ultimately, every job involves a little bit of selling one way or the other – this is something that people realize as they go along.
Technology companies are fast becoming favourite recruiters on campuses. From 2013, we started looking at most preferred recruiters in the technology domain across segments of respondents. The technology domain doesn't feature too high in the list of most preferred domains, but this is because most people tend to conflate technology with IT service companies. On the other hand, technology product companies like Google, Facebook, and Amazon have made massive strides and are now some of the most popular recruiters on campuses across categories. Indian companies like Flipkart, Zomato, SnapDeal and old warhorses like Microsoft are also adding to the excitement.
Let us see who are the most preferred recruiters in the Sales & Marketing, and Technology domain.
Method
The class of 2015 (who selected either of two domains above as their preferred domain) and Post-MBA professionals (who are working in that respective domain) were asked about their preferences about working in each company on a scale of 'Most Desirable', 'Highly Desirable', 'I'm Confused', 'I do not wish to apply' and 'I have never heard of this company before'.  A mean score was calculated where Most Desirable is scored as 5 and I have never heard of this company is scored 0.
MBA aspirants and 1st Year MBA students – Class of 2016 were asked to simply rank their top 5 companies. A weighted scored was calculated assigning weights of 10,6,4,2,1 for the 5 ranks.
Post MBA industry professionals are bound to have a very good idea of profiles and roles at different companies, since they have been part of the industry. The Class of 2015 would be having less first-hand information, but would still have some idea based on their own summer internship experiences, feedback from alumni, on-campus activities conducted by the recruiters etc. On the other hand, first year students and MBA aspirants would be having very little knowledge about profiles and roles at companies, and their responses would be based mainly on brand perception.
Sales & Marketing
Post MBA Industry Professionals
Top 5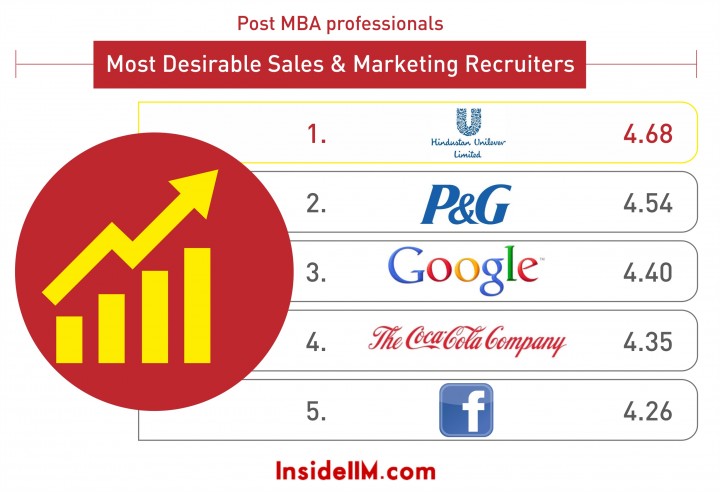 Top 10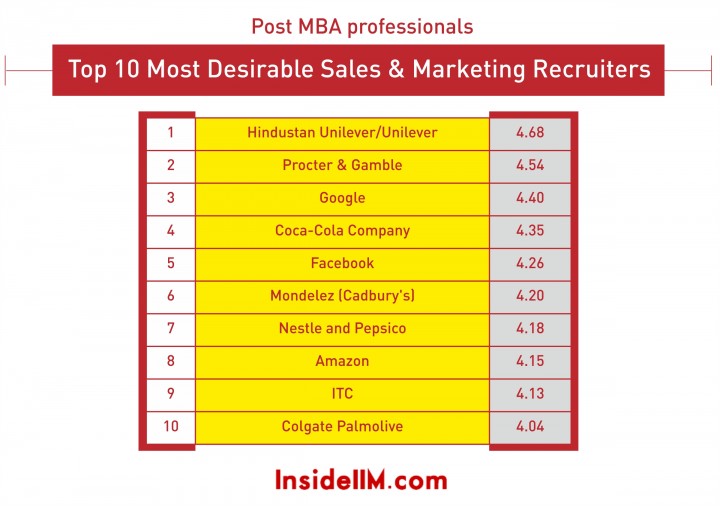 Historical Trends in Top 10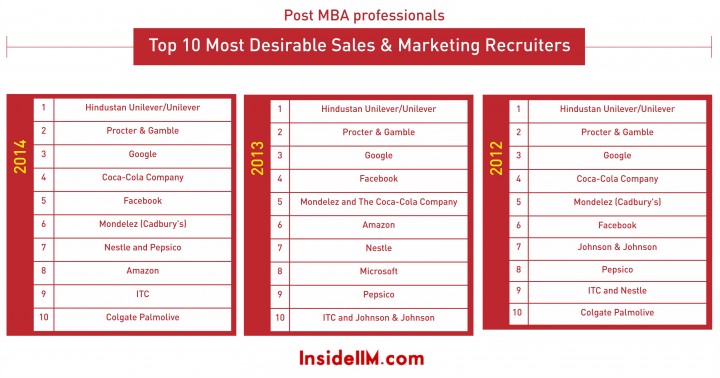 The top three Sales and Marketing profiles have remained unchanged over the last three years. HUL continues to rule the roost, followed by P&G, and Google. Coca Cola is another company that has done well consistently. FMCG companies dominate the sales & marketing space, as expected. The only exceptions are technology companies Google, Facebook and Amazon which offer marketing roles. The only Indian firm in this list is ITC. We had a remarkable observation here at InsideIIM, that almost every product we use for our daily chores is made by a foreign FMCG company. It is therefore, not surprising to see that foreign FMCG companies are the most popular for sales and marketing profiles.
Class of 2015
Top 5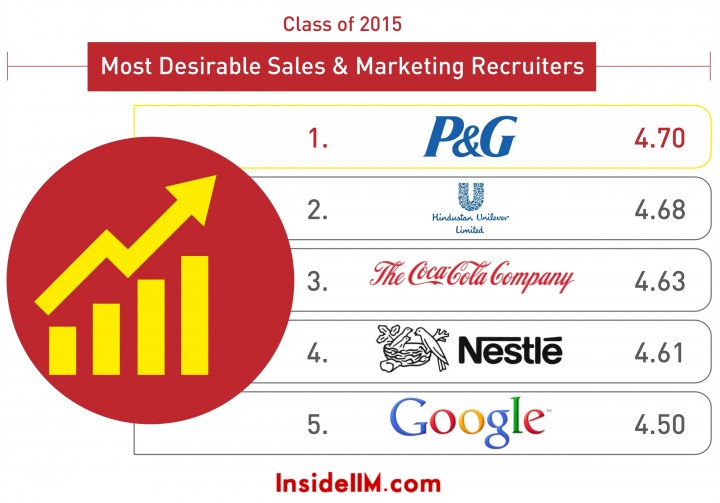 Top 10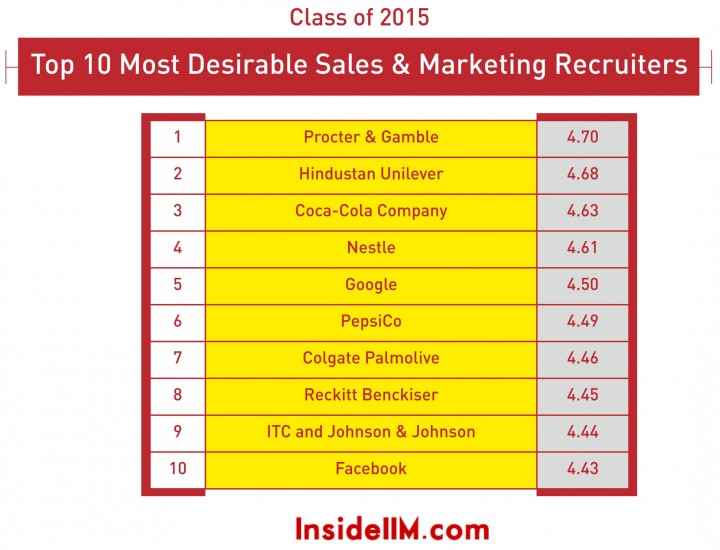 Historical Trends in Top 10
The big news is that P&G has managed to unseat HUL from the top spot among the class of 2015, albeit narrowly. The top three remain unchanged from last year. ITC has slipped a few notches in the rankings. Google and Facebook are the only non-FMCG companies in the list, but their performance is less impressive than in the alumni category.
Class of 2016 and MBA aspirants
Top 5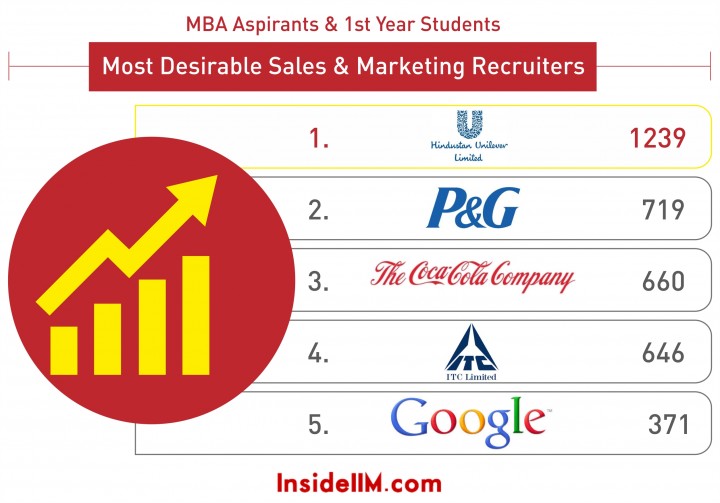 Top 10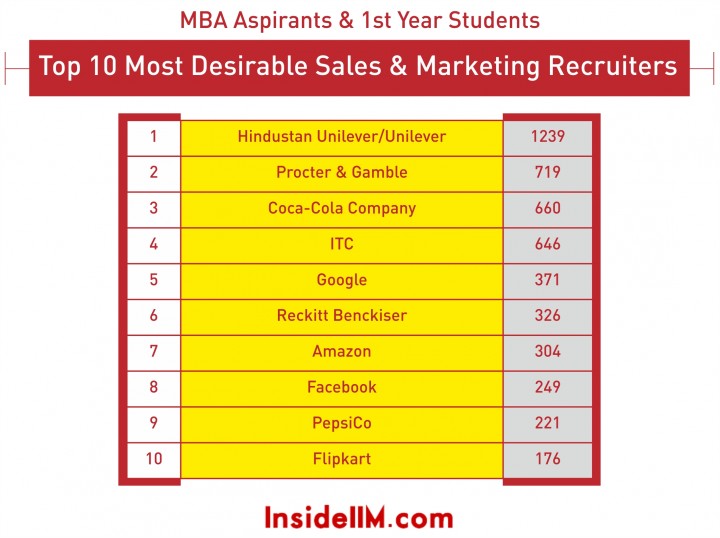 Historical Trends in Top 10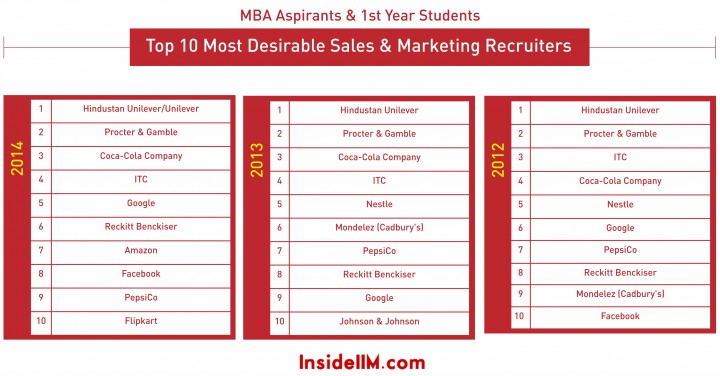 HUL is a clear winner in this category, putting daylight between itself and the others. The top four remain unchanged from last year. ITC has consistently done very well in this category for the last three years. It somehow seems to lose popularity among 2nd year students and alumni. Over the last three years, Nestle has fallen off the top ten and Flipkart has made an entry into the top ten.
Technology 
Post MBA Industry Professionals
Top 5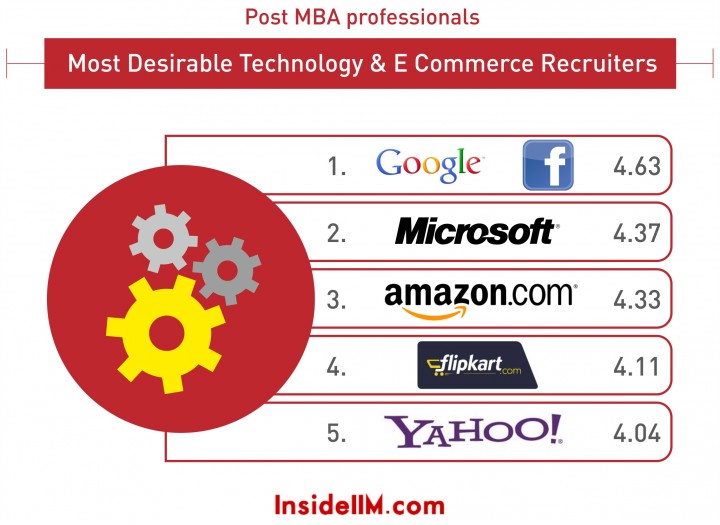 Top 10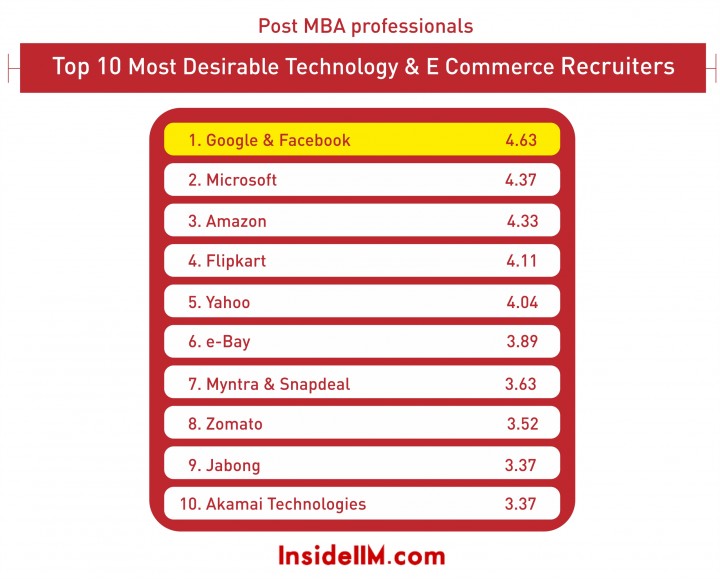 Historical Trends in Top 10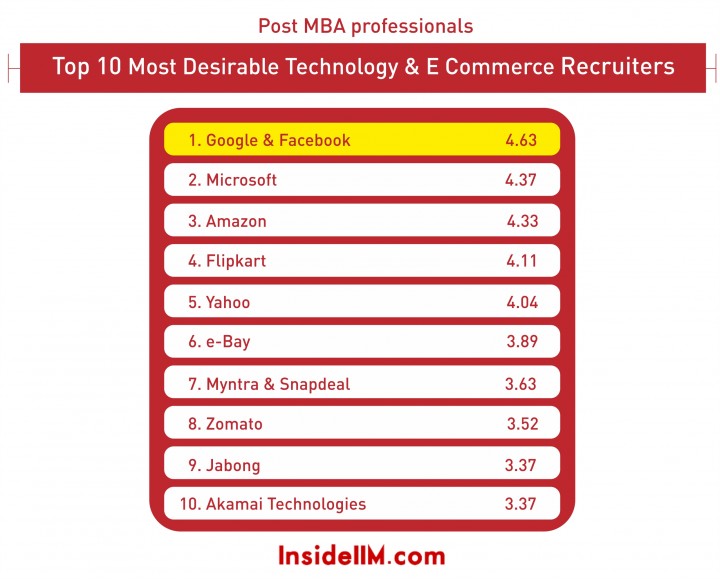 The business rivalry between Google and Facebook seems to go on without conclusion, and the same story is being played out in the recruiter rankings. Both firms are joint-toppers of the list. Google had topped this list last year as well, and for Facebook, this is a step up from third place last year. Microsoft continues to retain second spot, followed by Amazon. Flipkart has made it to the top five this year. Yahoo and e-Bay follow up after that. This year sees the entry of four Indian technology product firms – Snapdeal, Jabong, Myntra and Zomato into the top ten. It's pretty clear that Indian firms are beginning to create some real excitement.
Class of 2015
Top 5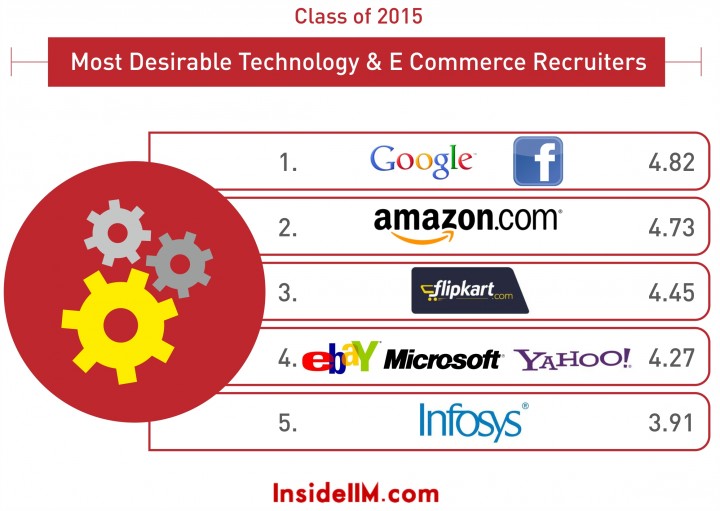 Top 10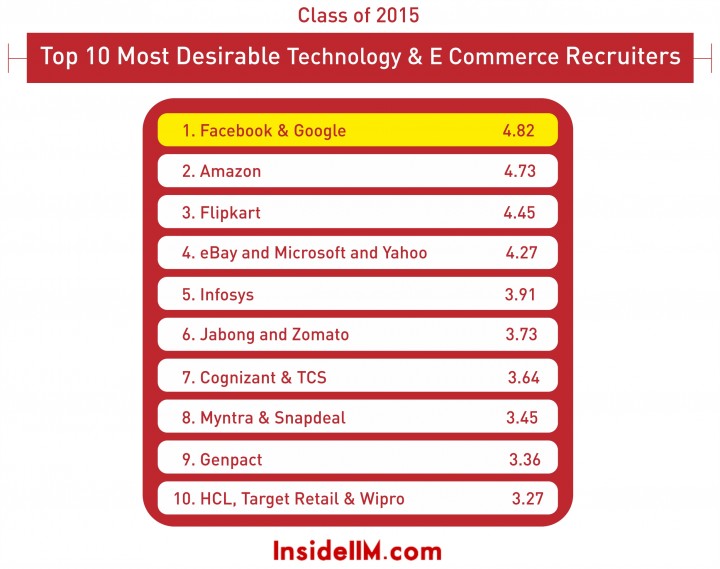 Historical Trends in Top 10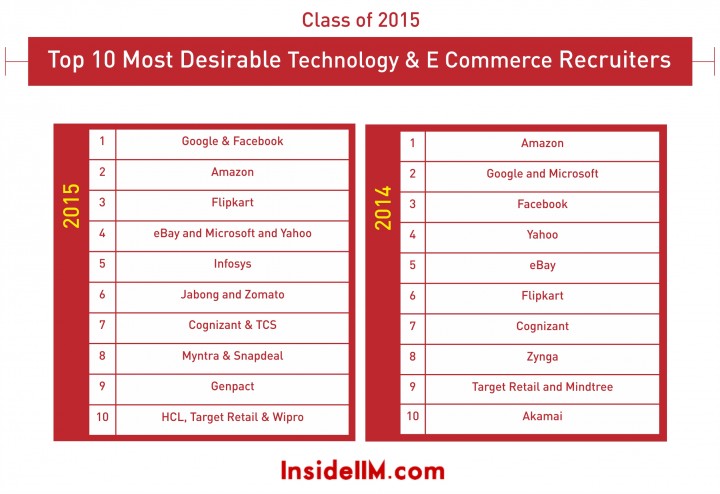 Again, Facebook and Google dominate this list with joint-top spots. Quite a co-incidence, as well as a strong indicator of their popularity for the years to come. These two companies have displaced Amazon from top spot. Flipkart is third, ahead of even the mighty Microsoft. Jabong, Snapdeal, Myntra and Zomato all make the top ten, as does Infosys, Cognizant and TCS.
Class of 2016 and MBA aspirants
Top 5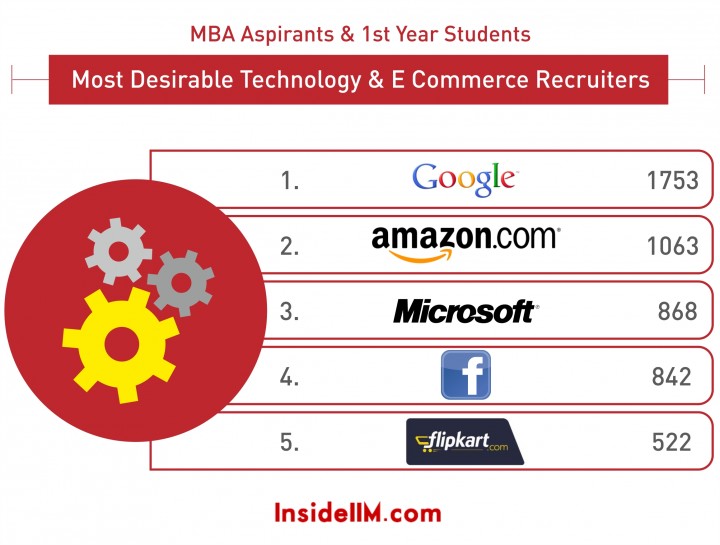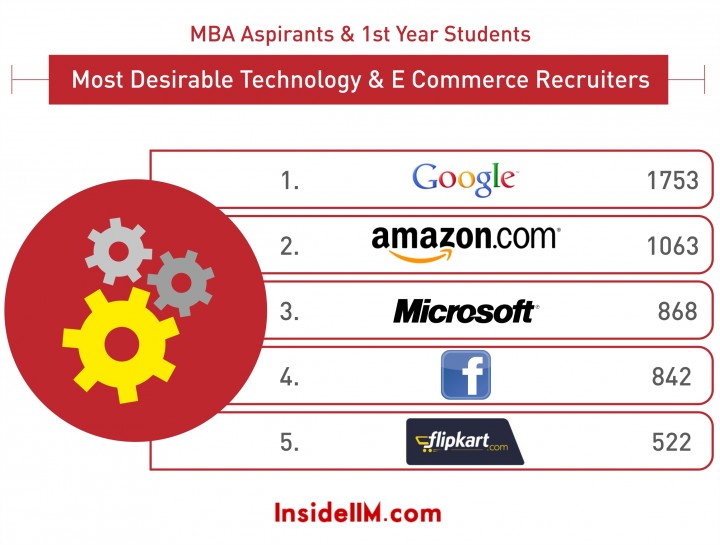 Top 10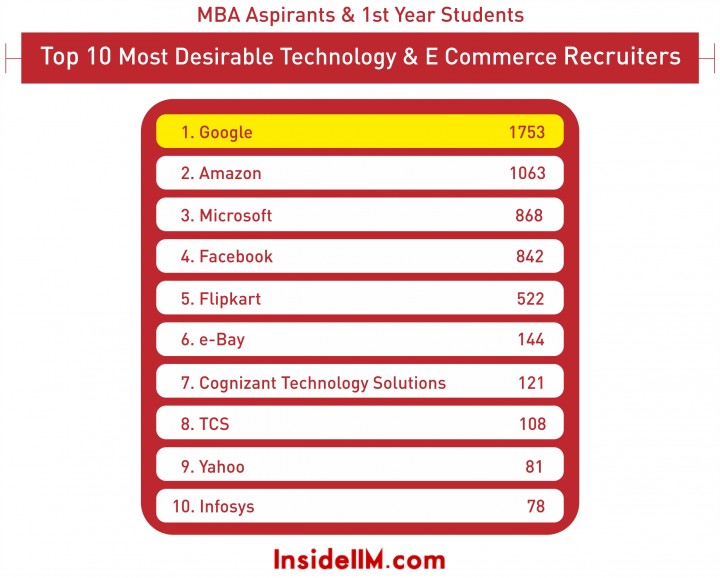 Historical Trends in Top 10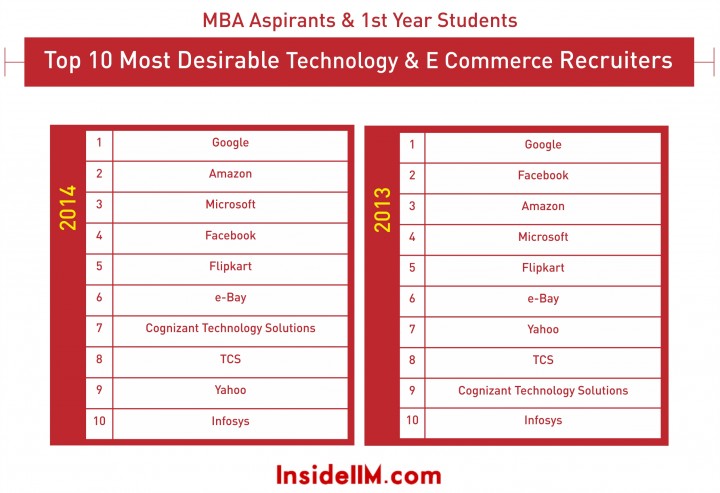 As we said earlier, this section' response is about brand perception. Clearly Google is streets ahead of the rest in this department, enjoying top spot all by itself, by a wide margin. The list of top ten firms is exactly the same as last year, with some minor reshuffles within the list.
Summary
FMCG companies rule in the sales and marketing space. HUL, P&G, and Coca Cola are the best performers among FMCG companies. In one category of respondents (Class of 2015), P&G has actually beaten HUL narrowly. ITC does well among aspirants and first year students, but seems to lose out in the other categories. The FMCG companies are going to face increasing competition from the likes of Google and Facebook – whose marketing profiles have become increasingly popular over the years. FMCG remains an evergreen career, with well-defined management trainee programmes punctuated by constant campus engagement activities by companies. It is also easy to move out of FMCG into other industries, while the reverse is rather more difficult.
With two years' data on technology companies, we can observe some trends – one is that Google has amazing brand power among all categories. Google and Facebook are engaged in a war for talent and right now, they seem to be on an equal footing with each other. Amazon and Microsoft continue to be popular. But the big story this year is the rise of the Indian technology product startup. Flipkart has been in the top five among all categories of respondents. Companies like Jabong, Snapdeal, Myntra and Zomato have also made their entry in the top ten (for alumni and class of 2015).
All in all, we see these sectors (sales & marketing, and technology) becoming even more popular in the future. The fixed salary component at most of the top companies above is comparable (in some cases more) to other sectors considered more 'lucrative'. Most of the companies above have very low attrition rates, they provide stability and are also perceived to offer better work-life balance. In the Marketing space, companies work very hard to manage their reputation as employers and attract the best talent. The effort behind it is visible and is duly acknowledged by students as seen by the results of this survey. You will see more when the dream companies results come out tomorrow in part VI.
Read the earlier parts of the InsideIIM Recruitment Survey 2014 here below:
Part I – Most preferred work cities, loan statistics, costs of a MBA and more
Part II – Minimum Salary Expectations, Best Pre-Placement Talk, Job Satisfaction and more
Part III – Most Preferred Companies in Banking and Finance
Part IV – Most Preferred Companies in Consulting and General Management
You can read the results of the Recruitment Survey 2013 here