Mr. Rajkumar, KIAMS Alum, speaks about his Career in Banking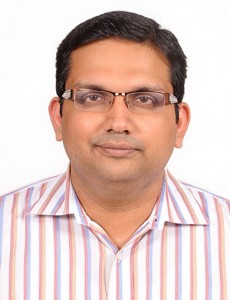 Mr. Rajkumar Vijayakumar, KIAMS alum from Batch 2006, has built a strong career in the banking industry over the past eight years. He got his campus placement with the prestigious ING Vysya Bank. Having worked over a substantial period as the relationship manager for the bank in Kerala, Mr. Rajkumar felt all set in taking his career to a new direction. That's the reason he moved on to Dhanlaxmi Bank, and after a successful stint there, joined AXIS Bank in November 2011. He has consistently climbed up the ladder in the tricky banking sector, which in itself speaks a lot for his efforts and determination.
Today, Mr. Rajkumar works for the third largest bank in the country and handles the portfolio in Kerala SME proposals. After being in the banking industry for many years, what is it about his job that he enjoys the most? "I am mostly involved in the examination for sanctioning loans based on collateral security," he tells us. "This work is very different from finance in the corporate world. But, there is a lot of thought involved in maintaining the right balance and achieving the right parameters. Your practical experience comes into play, and most of the loans we have offered haven't gone bad."
However, one has to realize that the banking industry is target-driven, which includes its own set of challenges. Mr. Rajkumar though has a simple philosophy to cope with the pressure: "For me, the most important mantra is to not think about the targets. If you get daunted by the target, you will never achieve it. I break down the targets according to different quarters. When you break it down, it doesn't seem too overwhelming." And, smiling, he adds, "You need to have a plan for how you want to proceed. If something goes wrong, you should have a backup."
Mr. Rajkumar's simple but effective strategies give you the impression that you are speaking to a man who has gained tremendous insight into the banking sector. Present day students can only benefit from his take on the changing scenario in the banking industry. He offers his valuable inputs, stating, "After Nationalization, banking has gone way beyond collecting deposits and lending money. There is a wide array of products, including insurance, which brings in a lot of money." He further encourages students to gain experience in big banks in the private sector or some of the major nationalized banks for valuable exposure.
From his words you can tell that Mr. Rajkumar has always been passionate about Finance. In fact, he worked with UAE Exchange, handling transaction and accounts of their products before joining KIAMS. He believes that things took off on another level after his academic stint at the institute. "The third trimester in particular was helpful for my aspirations because we had a program called Management of Bank& Insurance Companies," he reflects. "It was mostly taught by professionals who had experience in the field. That was truly helpful."
Talking about KIAMS takes Mr. Rajkumar down memory lane. And, he admits that though he hasn't been back to the institute, he stays in touch with his batchmates through social media. He also feels a bond with current students at the institute, for whom he has thoughtful advice: "Banking might seem boring, but it is a good career option. You have to be adaptable and flexible because managers keep changing, just like banking norms. There are several opportunities for you but it's important to build your network once you are in the profession."
KIAMS Harihar & Pune
OUR STRONG TRADITION OF EXCELLENCE CONTINUES! We live in the world where winner takes it all and there's no place for the second best. Not only do you have to beat intense competition, you have to be at the top of your game and race ahead of time. The forethought of our Director is evident today and his vision is refelected in our main aim: "At KIAMS we aim to provide an outstanding education, academic, social and extra curricular, which give opportunities for all students to excel, thus developing their ability to benefit themselves and others." You need to step up and take on the challenges, consistently hone your skills to be at your best. At the same time you need to keep yourself refreshed and rejuvenated to stay motivated and focused on your goals. Nestled on the banks of river Tungabhadra, is a 6 acre setting that promotes all this and more. Welcome to KIAMS, where idyllic setting meets intense learning atmosphere. A place where you will feel inspired to think creatively, and where the scope of your mind will be broadened so that you can unleash to its optimum potential. A BRIEF PROFILE Kirloskar Group Of Companies, one of the largest industrial conglomerates in India, has been growing and enriching lives for more than a century now. KIAMS was conceived as a training institute and knowledge hub in 1991. It was envisioned as a learning centre where Kirloskar Group Managers shared their expertise, experience and kept up with the latest concepts and movements in Management. In 1995, the training institute was opened to managers all over the country. ACTIVITIES • Management Development Programs - training and consulting education for industry executives • Consultancy - in India and abroad • Research