Musings From A Freshers' Party At An IIM
Parties do happen in cities but when it does in IIMs they do create a buzz among the Fresher's to get the refuge from the hectic schedule and forget deadlines and their so called sacrosanctity. The party goes beyond every deadline and our fresher's party at IIM – Ranchi is no exception.
What goes behind the party is not acknowledged often but IIM Ranchi does value the hard work put in by the senior batch.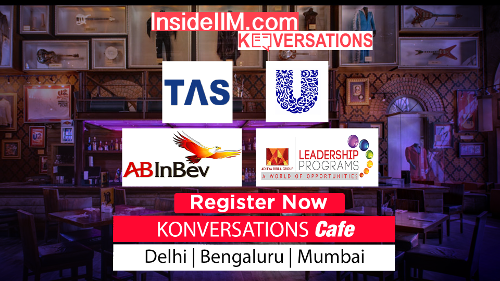 While seniors were busy hunting for a venue, juniors had their own sartorial worries to put a good show for the very first time in front of the whole batch and the seniors. Needless to say but girls and few beauty conscious boys in specific played treasure hunt and explored the city this way otherwise our buses ply on one single route and don't give us such luxury.
Even nature conspired that day to make the event romantic and it yet again rained and we romantic souls rejoiced and were never deterred by nature's more relentless love for us. Treading through the bogs and diving in the networking bogs with senior could be manifested at every square foot of the open lawn.
Not letting juniors know about the venue was a big excitement and was like boarding a bus of life with not sure on destination. Seniors took us to the venue and to our amazement, it was a big size luxuriant lawn with an attached hall to host the event. Juniors somehow could manage reaching after time but no punitive measures taken, rather they were the gate openers. Some lazy ones or who were overly conscious to go public had the luxury of money to reach venue on their own. Host were the late comers for the first time but they are seniors, yeah! You are right, no questions asked. Juniors creatively utilised time to it's consummate potential. What else can you expect out of bunch of college goers to do! Selfie time! Selfie, groupfie in every corner was clicked and somehow was posted timely over facebook to let the other MBA aspirants know what they are missing sitting outside. It was an attempt to fetch them to MBA for the greater good.
Seniors finally arrived and ironically host was dearly welcomed by the freshers who were done with everything possible to do and left with thoughts hovering their mind and making plans and looking out for something which MBA goers dearly want for the party night. To loose themselves in the breeze of RANCHI. I know your thoughts have gone up to the peg of dancing numbers.
Taking the reins of the event and hosting the Mr. Fresher and Ms. Fresher was something we anticipated. But the built up story needs revelation- anonymous confessions gone public over Facebook and nomination for the Mr and Ms Fresher were done a day prior to the event and elected nominations floated thereafter. Coming back to the night, the competition was fierce and no one after reaching wanted to give up but rather prove their mettle in front of 400 people. The first round was to show the talent – the X factor followed by the second round of candidate endorsement. Our Mr. Fresher Pratik Munghate and Ms. Fresher Lozua Genevieve nailed it with their talent prowess and endorsement fetch from the seniors.
After that everyone grooved to the dancing numbers in the open lawn with starters being served to have the element of inaccessibility. We who have belled the CAT knows it how to strategise when the going gets tough to reach food stalls through the tranche of the bog. We did pretty well and had enough to satiate our hunger.
Vividness could be manifested everywhere and it infused us with energy to work hard when we reached back hostel.
Ankit Chitkara
Hey! Folks. This is Ankit from PGDM 2017-19, IIM Ranchi. I'm the Junior Executive Member of Media and PR cell and I have planned to put forth my thoughts into the public domain and to share my experiences of being in an IIM. Many aspire and only few make it, so that's why I want to cover inside events and bring it out to you to inspire to work hard to reach at this wonderful platform to explore multiple dimensions in life and career. I have ventured into writing few days back and I want to share the fun and frolics of IIM Ranchi. I wish you like it and read.