My Experiences In China – Anubhav From IIM Shillong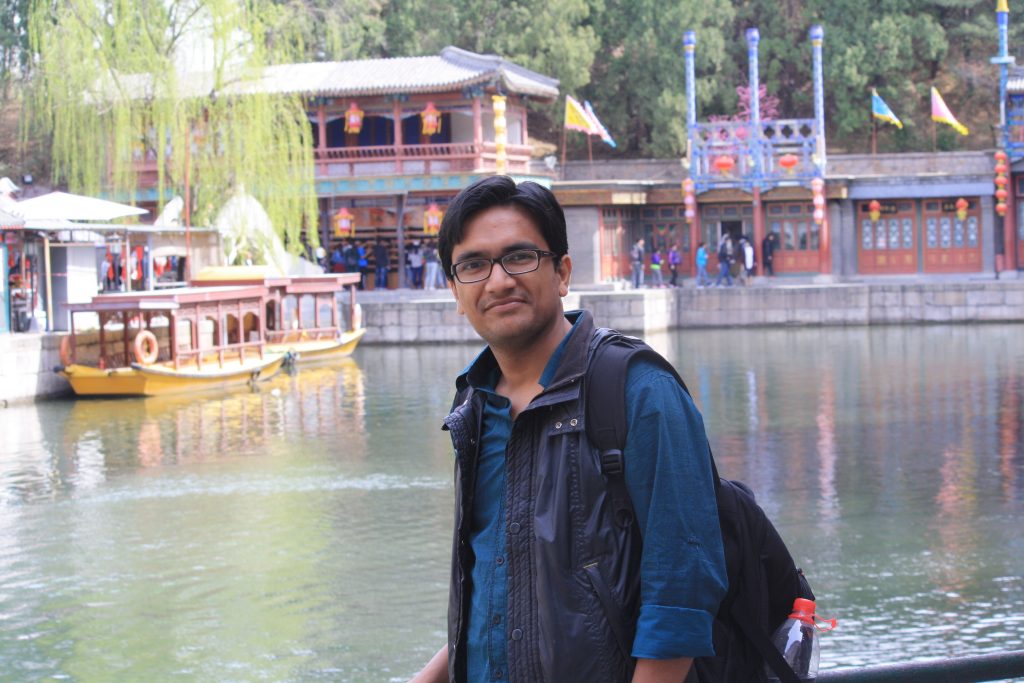 China was a new, different, unpredictable country for me to understand while looking at it from outside. My first understanding about China was that it is a closed country, not easy to survive, one cannot have a book of set rules to do business with Chinese people, no democracy, highly polluted nation, one child policy and what not.
Sitting in the classrooms of IIM Shillong, we initiated our efforts to know more about China – people, language, culture, business, economy, political situations, relations with India – and our perceptions started to take different shapes as we went further in studying these. As I started studying about China, news of slump in the Chinese economy also became important in the world's economic scenario. It was said that China is going to fall very soon since its tremendous growth over the last couple of decades was unsustainable and they have overused all kind of resources. We saw it no less than the truth since a country whose GDP was growing at constant rate of about 10% for last 10-15 years, suddenly fell to 6.9%. Also, the Indian media took it as an opportunity to prove that India is going to overtake China very soon since Indian GDP growth is sitting at 7.5% which is more than China. Indian economic leaders also gave a slogan – "China's Pain is India's Gain" and we felt really proud by being ahead of another developing economy, which is known to be one of the superpowers of the future alongside India.
After having studied about China for almost 5 months, I had gained some knowledge about China – language, how to conduct oneself, food, culture, behavior – and landed in China for four months with an aim of test our preconceived notions about this nation. With each passing day, all our perceptions started to give a different perspective altogether. Who says that it's a closed economy, people are amazingly welcoming here, they are ready to help you at every point of time and go to a large extent to make sure you get what you want. The 'One Child Policy' has already been taken care of, necessary and appropriate steps for fighting the problem of pollution are in place and general public is walking hand in hand with the government for the purpose.
The most commonly used term – GDP, if compared with India, is 5 times more than that of our country. Therefore, the percentage facts show just the half-truth and it's important to know the complete picture of the same. The slowdown of the GDP in China is intentional and is a part of the country's five year plan because they are now looking for a sustainable growth by learning from their own mistakes of exhausting resources to a high extent. China, though known to be developing, did not look any less than a developed one. Whether you talk about the physical infrastructure, organized cities and villages, bullet trains, railway stations, airports or the technological infrastructure such as wide use of IT enabled services, hospitality, etc. I could not find much difference between China and the developed nations.
After spending two months in the beautiful seashore city of Qingdao and short visits to places like Beijing, Jinhua, and the ancient village of Siping, I can very well say that the perceptions that we had before coming to China are not totally true and I could feel that there are lot many things about China which one can only understand after staying in the territory, knowing people personally, creating Guanxi by interacting with them, travelling throughout the country, exposing ourselves and by being vulnerable.
I love my country from the bottom of my heart and would like to see it on top of all over the world. When I happened to think on the lines of "China's pain is India's gain", I could not find any reasons to believe the same. What I could observe was that instead of thinking about the loss of China and looking at it as opportunity of India's growth, India needs to focus on its own strengths. India needs to identify and study the timeline of China – how China was able to generate so much growth, what mistakes did they commit, how they are trying to resolve their problems and much more and scholars can do the most effective way job for the same. Therefore, empowering scholars from various fields like management, social and political scientists, technology, etc. needs to be one of the important step that we can take as a country.
Programs like Make in India, Skill India, Stand Up India, Start Up India, Clean India etc. are already started to serve this purpose, however, the appropriate implementation of such programs is all the more important. It's not about copying each and everything from China, it's more about understanding what is appropriate and what not for India.
Anubhav Singhal
PGPEx 2015-16, IIM Shillong
———-
Read everything else about IIM Shillong here.