My First Two Glorious Months At IFMR – Chinmay Bindal, IFMR GSB Krea University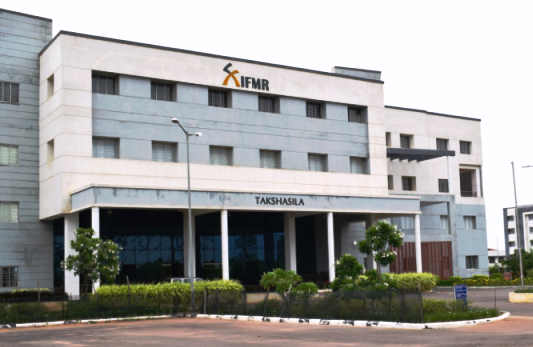 Friday, 1st June 2018.
The day I left my corporate life behind, the day I prepared myself to be a part of a colossally successful B-School joining back as a student, and the day I promised myself to learn as much as possible, make new friends and give it all to succeed in what I planned. 2 Months have passed by and I can tell you, I already had it all in my little journey I have had so far and it's been amazing to see what an MBA from IFMR does to you! Some came with parents and some traveled alone, and as soon as the hostel allotment ended, we met our new unknown roommates with some very good Hostel facilities. And in a whisker, new friends were made in the dining area of the simple yet wonderful IFMR food serving our college has.
On 4th June, we had the inauguration ceremony in what turned out to be a wonderful experience for all of us through some of the most interesting speeches I have ever heard. Speakers such as Mr. T.A. Verghese who is the global business HR head for TCS, Mr. Vikas Gupta who works as M.D-Talent, Deloitte Consulting India Pvt Limited, Vice-Chancellor of Krea University Dr. Sunder Ramaswamy, and our own Acting Resident Director Prof. Kamal Ghosh Ray Sir and Dr. Vinodh Madhavan, PGP Chairperson, they all emphasised upon what skills do we need to have in future and how to go about building it. And this was followed by 3 Days of an unusual and a fantabulous induction. Generally, Induction is to know your college and your teachers better but this time it was all about rejuvenating us, it was all about meditating and getting our brains clear as to what and how we need to achieve what we have planned for.
Then started our classes, I initially thought that the classes would be boring but when the faculty started talking with the passion they have for their courses, the knowledge sharing went to a different level and the sessions became interactive. And getting through QABD course (Quantitative Analysis for Business Decision) amongst the other courses became one of the many exciting challenges we faced with determination.
After a little while, the icebreaker session came with seniors letting us know how good they are not only in Studies but all another extra-curricular one can think of. Again, after a few days we had all fun and intimidating Fresher's Party and I can without a second thought claim that it was one of the best events I had ever witnessed. Dance, drama, bands, songs, and surprising elements, it had all.
Now in this span of 2 Months, I already have learned to learn from my peers, I have learned to sleep less and work Smart, and I have learned what the corporate world demands but most importantly I have learned how to be myself. And with what I have witnessed so far in this months, I can surely say that the next 2 years will be the best days of my life.
And this is IFMR for me.
Chinmay Bindal
1st-year MBA student at IFMR Graduate School of Business, Krea University
IFMR Graduate School Of Business, Krea University
Established in 1970, IFMR Graduate School of Business, Krea University is a leading business school with the objective of moulding ambitious young men and women into competent and socially responsible organizational leaders in a global setting. IFMR GSB is fortunate to have pre-eminent faculty members, most of whom have Ph.Ds from well-known institutions in India and the United States.