My Internship Experience at Coca-Cola – Anish Barjatya, MDI Gurgaon
Coca-Cola is truly a dream company to work for! After passing a tough selection criteriafrom MDI Gurgaon, I was one of the select 21 students from the top 8 B-Schools in the country. It was a matter of pride as this was a chance to intern for the biggest and the most recognizable brand in the world, a company that is 130 years old, and present In 208 countries.This internship has been an adventure for me and definitely a source of envy for my friends.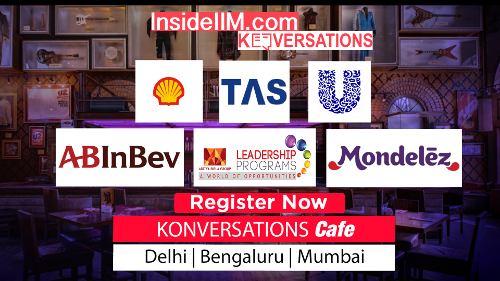 Brands such as Coke, Thums Up, Sprite, Fanta, Limca , Maaza etc are brands that we have loved as kids, and are household names. The respect, the brand love, and the following that Coke has world over can only be felt once you are inside the company. From "Thanda Matlab Coca-Cola" to "Open Happiness" to "Taste The Feeling", it's great to learn that every person in this country has been touched by Coca-Cola in some way or the other. Entering the Coke Office on the 1st day, we were greeted with spectacular goodies, a lounge especially created for the interns, a personalized wall picture of each intern, and welcome messages throughout the office.
The start couldn't have been more welcoming! The induction week organized by the Human Resources team, lasted for over a week, and included visiting bottling plants, attending the Support My School(SMS) CSR Initiative, doing Market Visits, and numerous sessions by Coke's Senior Managers, Vice Presidents, and the CEO himself Mr. Venkatesh Kini. That's how seriously Coke took this internship program! All this was intercepted by lot of fun activities, banter, and informal interaction with the employees. It was incredible to note that all the employees at Coke were on the same page in terms of the seriousness shown for the MANTRA Internship program, as it was called. Coke treats its interns just like any other employee and that for me is a big differentiator with other companies. No wonder that the company probably has the best mix of culture, people, and opportunities in the industry.
It was surprising to know that Coca-Cola in India has only about 200 employees, due to the unique franchise led bottling model. This model enables every employee in the Coca-Cola company to be a leader in their own rights, and take responsibility from an early age. This helps a person grow quickly both personally and professionally. I have had a similar experience during my 2 months as a Mantra Intern in Coca-Cola. Working in an FMCG company, in a Marketing/Operations project has given me a 360 degree perspective of how consumer companies and businesses operate.
All interns are given live projects , highly critical to the company's business and of high value. The amount of freedom, ownership and authority on the project that I received was simply too good to be true! Coke has trusted in me by investing a huge amount of time, money in terms of top class facilities of hotels, conveyance , food etc. and effort through my guides and other stakeholders involved in the project; something which is hard to get during a 2 month MBA internship in India.
There have been some great moments during my internship both personally and professionally. Few of them have been mentioned below.
As an intern, getting a chance to visit markets with none other than the Vice-President of Franchise Operations himself, Mr. Bhupendra Suri was a great experience, and interacting with him made me understand that one must continuously learn in corporate, no matter at which stage in your career you may be. Also, with the help from my guides,pitched my project ideas to the Franchise CEO in my project location market to get approvals for doing a pilot study. This enabled to me get a great exposure and It was really exciting to show the benefits of my project ideas to the franchise. Also, was given freedom to work with a marketing agency to create my own sets of Point of Sale Merchandize to execute in the market and check consumer behavior aspects. Seeing your ideas come to life is a truly spectacular feeling! All this ofcourse was not possible without the direction and guidance from my guides from time to time. Mr. Ravinder Bhatia, Director in Coke was my guide, and it was an honor to learn from him. He always had time for me and my project and was keen to discuss all possible ideas and weigh the pros and cons. He also pushed me to my limits in terms of thinking bigger, and breaking down all perceived challenges. Will forever look upto him !
Coke is full of colour and zest ! Friday Funda is one of the ways that Coke employees get pampered with. Every Friday, employees get free Coke products to take home and enjoy with their friends and family. Thanks to the awesome HR Team, I also had the chance to get FreeVIP IPL Tickets, Meet Star Cricketers of Gujarat Lions, meet Celebrities, Attend Coke Studio, take part in Social Media Contests, and relish Coke products while in office. This is not the end yet. In the last week, all the interns gather together in the office from their respective project locations. There are some great parties thrown by Coke, and all interns get their Personal Audio Visual shoots done by none other than LeoBurnett !
The experience at Coke has certainly been both highly rewarding and fulfilling. Winning the social media contest amongst the interns, and getting selected for the top projects at Coke made the experience even better. It's worth mentioning that the project presentations of the top projects are evaluated by none other than Coca-Cola India CEO Mr. Venkatesh Kini himself and the Board Members. 😀
Quite Simply, for me, Coke is the best company to intern with, with a high degree of intrapreneurship and professionalism combined with lot of fun and energy ! These 2 months were the best 2 months of my professional life!